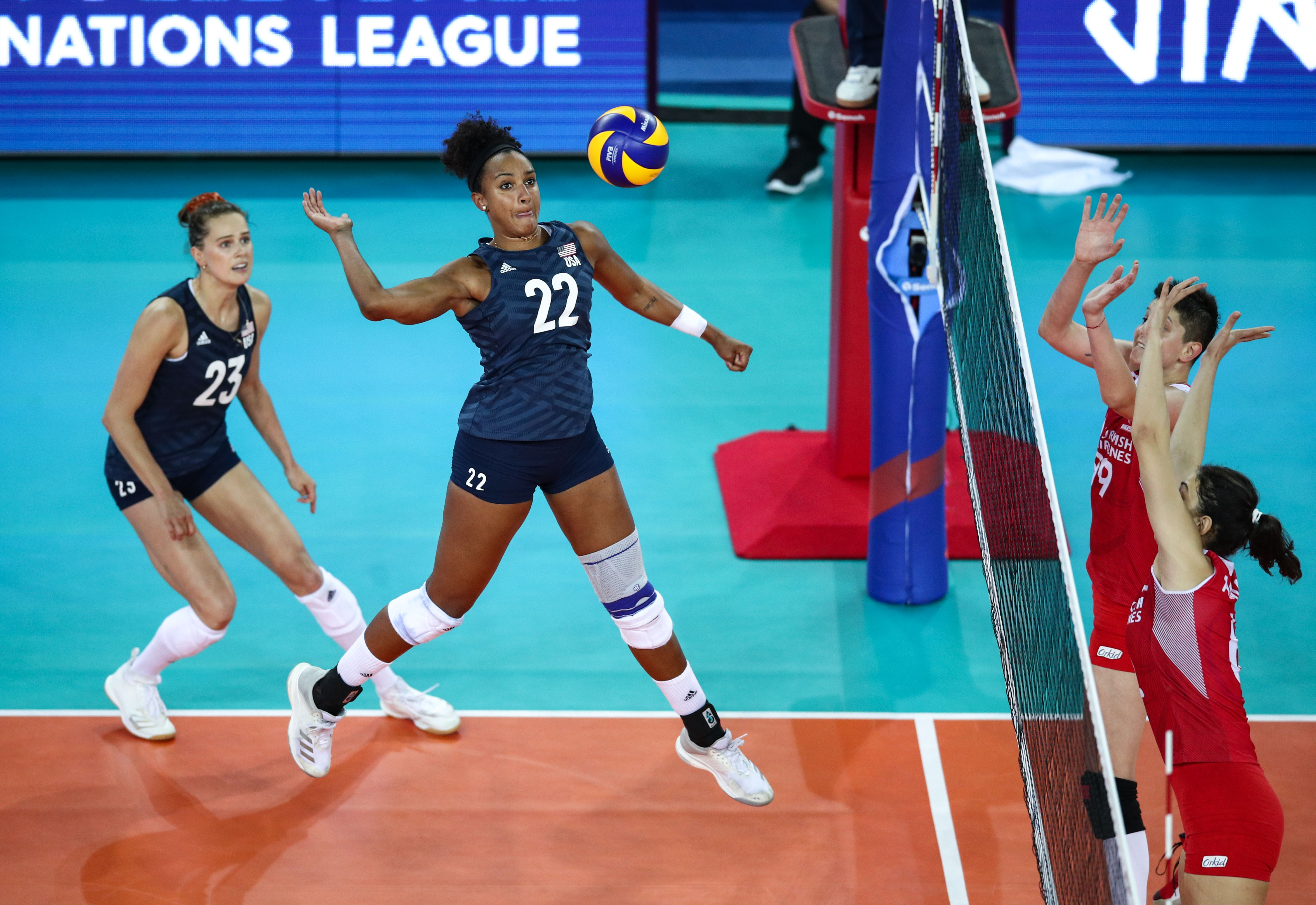 The United States women's national volleyball team will host three other international squads in a round-robin event in Wichita, Kansas, as part of the FIVB Volleyball Nations League tournament, a key preparation event to the 2020 Olympic Summer Games in Tokyo.
The June 9–11 event will be the only domestic tournament for the U.S. before it competes in Tokyo. It will host Japan, Turkey and Belgium at Charles Koch Arena on the Wichita State University campus.
"Next year's FIVB Volleyball Nations League Week 4 will be a huge one," U.S. Coach Karch Kiraly said. "We will be approaching it as one of our last chances to prepare for the Tokyo Olympics."
The United States is ranked second in the world while Japan is ranked No. 7, Turkey is No. 12 and Belgium is No. 19. The U.S. and Japan have clinched spots in the 2020 Olympics; Turkey and Belgium will be in a January qualifying tournament in the Netherlands.
"This is an amazing opportunity for Wichita both in exposure for the city and incredible entertainment for locals and we're beyond thrilled that Wichitans will have the chance to see the U.S. women's national team compete at Charles Koch Arena before they head to the Olympics in Japan," said Brian Hargrove, executive director of sports development for Visit Wichita.
The Nations League is a 16-country league that is played worldwide. The top five countries through the end of round-robin play, plus host China, will advance to the Nations League finals July 1–5. The U.S. women have won the past two Nations League titles. Its other matches during the round-robin format will be in Brazil and Serbia in May, and in China and Germany in June along with its Wichita weekend.
Match Schedule (All Times Central)
June 9: Japan vs. Turkey, 4 p.m.; USA vs. Belgium, 7:30 p.m.
June 10: Turkey vs. Belgium, 4 p.m.; USA vs. Japan, 7:30 p.m.
June 11: Japan vs. Belgium, 4 p.m.; USA vs. Turkey, 7:30 p.m.