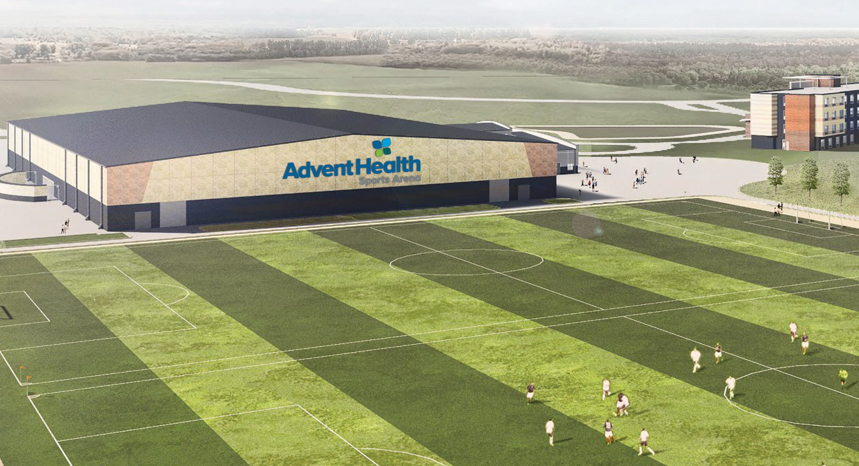 The Wiregrass Ranch Sports Campus of Pasco County has sold the naming rights to its indoor arena to AdventHealth after an agreement was reached between the health-care provider and RADDSports, which runs the sports venue in Florida.
The AdventHealth Sports Arena at Wiregrass Ranch Sports Campus of Pasco County is a 98,000-square-foot indoor facility that will house amateur and youth tournaments and competitions.
"AdventHealth is a quality health care provider and one of the best-known names in the entire state of Florida," said Richard Blalock, CEO and founder of RADDSports. "We couldn't have found a better organization to serve as the primary sponsor of the Sports Campus. It means the thousands of athletes from across the country who will participate in basketball, volleyball and cheerleading events every weekend, as well as the local residents who take part in our programs during the week, will associate AdventHealth with a commitment to staying healthy and active."
The $44 million venue will eventually include a Marriott Residence Inn on site in addition to its indoor arena that has room for 16 volleyball courts, eight basketball courts, a competition cheer studio and cheer competition areas. There are also outdoor competition fields at the complex in Pasco County, which recently rebranded its tourism department as "Florida's Sports Coast." The facility opened in late August with a scaled-back ribbon cutting ceremony.
"AdventHealth is committed to partnerships that amplify the health and wellness of the communities we serve," said Erik Wangsness, president and CEO of AdventHealth Wesley Chapel. "We are much more than a hospital and remain focused on empowering our communities to take wellness into their own hands. AdventHealth Sports Arena will provide a platform for athletes to showcase their skill and talent while working to stay in peak condition."