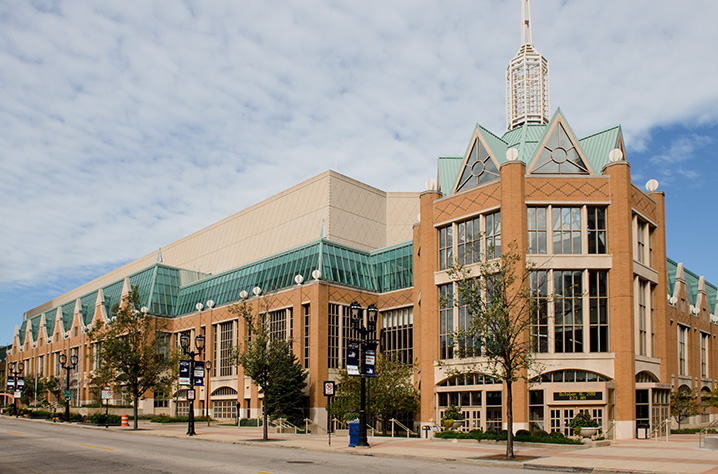 A year after closing its doors at the start of the pandemic, Wisconsin Center in Milwaukee will host its first youth sports event this weekend, as the Wisconsin Junior Volleyball Club hosts the AAU Winter Classic. The competition will be followed up by three consecutive weekends of competition via the Badger Region Volleyball Championship.
"Everything we have done in response to COVID-19 has led us to finally beginning to welcome attendees back to our convention campus in a responsible manner," said Wisconsin Center District CEO Marty Brooks. "Our enhancement of practices and protocols to ensure the safety of our facilities as well as our continued close working relationship with our health department to remain in compliance paired perfectly with our experience-obsessed approach to events. Clients can be confident we are doing everything we can to allow them to have great gatherings while being careful and following guidance from our health officials."
Like many downtown convention centers, Wisconsin Center has been helping during the pandemic and has served as the Milwaukee Health Department's primary COVID-19 vaccination site.
"The Wisconsin Center District has collaborated well with our department and its clients to conscientiously bring these tournaments into its spaces," said Kirsten Johnson, commissioner for the Milwaukee Health Department. "WCD leaders and staff were early adopters of COVID readiness guidelines and were among the first city venues to obtain GBAC STAR accreditation. After reviewing the safety plan provided, we have given our approval for these events, remaining cautious but optimistic."
For the upcoming tournaments, no more than 1,250 people will be allowed inside at a time. Only one spectator per athlete is allowed. And teams will enter 15 minutes before their tournament begins and must leave 15 minutes after their tournament ends. A 30-minute window between tournaments is designed to allow staff to disinfect stations and shared spaces. Wisconsin Center cleaning staff plan to disinfect restrooms every 15 minutes during tournament play and high-frequency air exchange will aim to keep fresh air in the building.
Wisconsin Juniors anticipates about 4,000 attendees over the weekend and more than $1.8 million in estimated economic impact. Badger Region has an estimated economic impact of $1.8 million its first week, $1.6 million the second week and about $1.3 million its third week. Anywhere from 3,000 to 4,000 attendees are expected each weekend for those events, with the same 1,250 limit at any given time.
"Our hospitality community is very excited to welcome Wisconsin Juniors and Badger Region back to our convention center and back to our city for their volleyball tournaments," said Peggy Williams-Smith, president and CEO of Visit Milwaukee. "This will be much needed stimulation for our local economy furthering the city's comeback from this pandemic. Additionally, it demonstrates Milwaukee's ability and expertise in hosting successful events even during a pandemic or hopefully near the end of one. So, future conventions can rest assured knowing that their Milwaukee event will be one of their safest events."