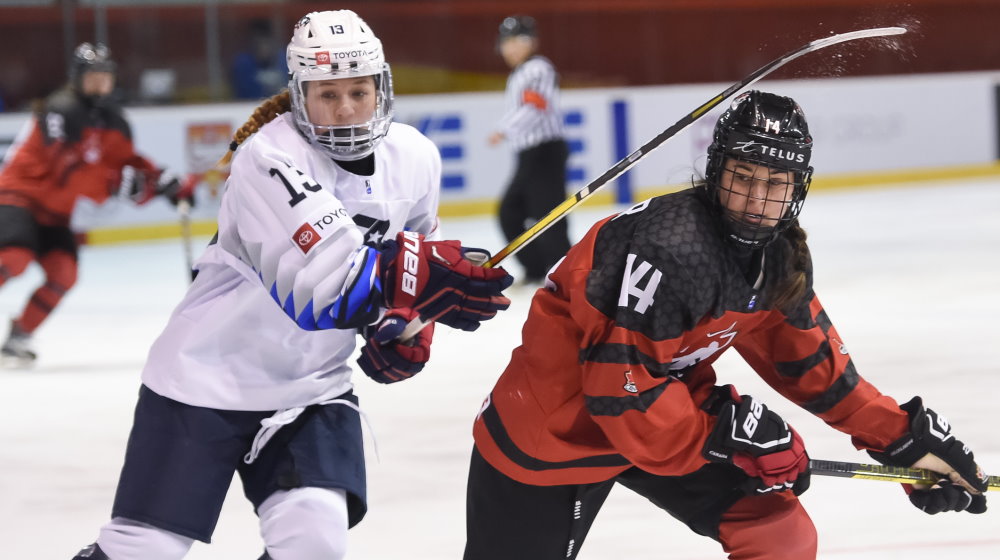 The International Ice Hockey Federation has awarded the 2022 Under-18 Women's World Championships to Madison, Wisconsin, and Middleton, Wisconsin, starting June 6.
The event was originally scheduled in January in Sweden but could not take place due to COVID-19. While Sweden offered to host in 2023 but did not have the opportunity to move the event to dates for this season, the United States will host this year's edition in June.
Group A games as well as the quarterfinals, semifinals and medal games will be at the 2,200-seat LaBahn Ice Arena in Madison, home of the University of Wisconsin women's ice hockey team. The 2,600-seat Capitol Ice Arena in Middleton, home of the USHL's Madison Capitols, will host Group B games and other classification games.
"The pandemic has been challenging for everyone in many different ways, and as a leader in the international hockey community, we're happy to welcome teams from around the world and ensure the U18 Women's Worlds is played this season," said Pat Kelleher, executive director of USA Hockey. "We're thankful to have great partners, and appreciate the excitement and support from the University of Wisconsin, along with Ryan Suter and his team at Bob Suter's Capitol Ice Arena and the Madison Sports Commission."
USA, Canada, Finland and Sweden will compete in Group A while the Czech Republic, Switzerland, Germany and Slovakia will play in Group B. The best two teams from Group A will get a semifinal bye while the teams ranked third and fourth in Group A will play the top two teams from Group B in a the quarterfinals.
The United States has won gold in five of the last six editions (2015-2018, 2020) of the tournament. Established in 2008, the IIHF Ice Hockey U18 Women's World Championship will be hosted in the United States for the third time after Woodridge, Illinois, in 2010 and Buffalo, New York, in 2015.
The IIHF has made several moves and updates for other events;
The Group A games and two quarter-final games of the 2022 World Championship will be played in the traditional Helsinki Ice Hall instead of the previous site, Helsinki Hall, which is owned by Russian-tied interests. The Helsinki Ice Hall has an audience capacity for 8,200 spectators. The IIHF will work with the Organizing Committee to have further infrastructure and facilities added to the Helsinki Ice Hall to prepare it for the teams that will compete there.
The 2022 World Junior Championship in Canada, which had to be cancelled in December, is rescheduled for August 9–20 at Rogers Place in Edmonton, Alberta. Defending champion USA, Sweden, Germany, Switzerland and Austria are seeded in Group A of the preliminary round; Group B consists of host Canada, Finland, Czechia, Slovakia and Latvia. The tournament will start from the beginning and results from December 2021 will not count towards the standings.
Following the reduction to eight teams a new game schedule will be established for the U18 World Championship in Landshut and Kaufbeuren, Germany, starting April 23.
A new host for the 2023 World Junior Championships will need to be determined after the IIHF took the host rights away from Russia. The tournament is scheduled to start December 26, 2022 and "the IIHF Council will take a final decision regarding the 2023 IIHF Ice Hockey World Championship in Russia at its next scheduled Council meeting."