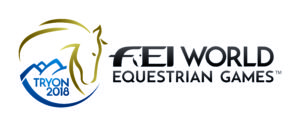 Polk County, North Carolina, population 20,000, is not the most obvious location for an event that will attract 1,000 athletes, 1,500 horses and tens of thousands of spectators—including quite a few billionaires—from more than 70 countries.
But Michael Stone, president of the World Equestrian Games Tryon 2018, thinks it's the perfect spot. "We like to say it's the middle of nowhere but the center of everything," he said.
The biggest event on the equestrian world's calendar, the World Equestrian Games will be staged at the Tryon International Equestrian Center, nestled in the foothills of the Blue Ridge Mountains in western North Carolina.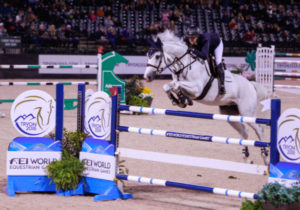 The event is held every four years and administered by Fédération Equestre Internationale (FEI), the sport's international federation. The first games were hosted in Sweden in 1990, and all of the subsequent games except one—2010 in Lexington, Kentucky—have been held in Europe.
The 2018 games originally had been awarded to Bromont Olympic Equestrian Park in Quebec, Canada, but that site bowed out in 2016 because of financial difficulties. That's when Tryon International Equestrian Center, founded just two years before, stepped onto the world stage and secured the bid.
The venue was created by an ownership group led by Mark Bellissimo, who also heads up the Palm Beach International Equestrian Center in Florida and the Colorado Horse Park outside Denver, among other horse-centered ventures.
The World Equestrian Games involves eight disciplines: jumping, dressage (a sort of ballet requiring precise movements by the horse), eventing (a three-day equine triathlon involving dressage, jumping and cross-country), driving (in which the horses pull carriages), endurance (a lengthy course over rough terrain), vaulting (gymnastics performed on a horse's back) and reining (a sort of Western-style dressage that traces back to cattle-working skills). There is also a para-equestrian dressage competition for riders with disabilities.
All those competitions require a wide range of facilities. "We've moved mountains and mountains of dirt" in the two years since winning the bid, Stone said.
Most of the core horse sports venues were already in place, but Tryon added broadcast infrastructure, quarantine barns, catering facilities, temporary stands and much more. Crews leveled a vast field to create a new driving competition venue, which will become polo grounds after the games.
The 1,600-acre site also includes restaurants, shops, about 100 rooms of lodging and a golf course. Future expansion plans include a luxury hotel, condos and apartments and retail.
For the World Equestrian Games, however, the biggest logistical hurdle has been finding a place to sleep for all the athletes, support staff officials and visitors. Organizers expect a total of 500,000 spectators over the 13-day event, with 40,000–50,000 in attendance daily.
Although Polk County has only a couple hundred hotel rooms available, it is 50 miles from Asheville and 75 from Charlotte. Over the state line in South Carolina, Spartanburg is 40 miles away, while Greenville lies another 30 miles down I-85. Those cities have plenty of rooms for all. "It's sort of like a Rubik's cube fitting everybody in, because no one hotel can fit everybody," Stone said.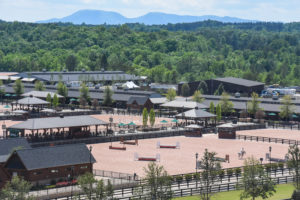 Chris Jennings, executive vice-president of the Spartanburg CVB, said that as of late July hotels in his city had already contracted for 6,000 room nights, with especially heavy demand at the city's more upscale properties, including the Marriott and the AC Hotel.
The horses arriving from overseas—a vast logistical challenge in itself—will land at Greenville–Spartanburg International Airport, while the smaller Spartanburg Downtown Memorial Airport will welcome the many visitors who arrive on private jets. "This is the billionaire's club," Jennings said of the equestrian visitors.
Guests, however, will arrive with bank accounts of all sizes. "It's not a situation where everyone is looking for helicopter pads," said David Montgomery, vice-president of sales at VisitGreenvilleSC. "There are people who are handling the horses, trainers, journalists and just casual fans who are equine enthusiasts."
Those visitors have created heavy demand for hotels at every price point, as well as for private-home rentals through VRBO and Airbnb. And the ticket pricing, Montgomery pointed out, makes games available to "a broad demographic and not just the very affluent."
Tickets start at $20 for certain single events, while a pass for the entire games costs $1,380. As of late July, several events had sold out, and "we expect the entire place to be sold out," Stone said.
Organizers project more than $400 million in economic impact for the region.
In addition to the fans on site, the remote audience will be sizable as well: About 350 million people worldwide watched broadcasts of the 2014 games.
Jennings points out that Spartanburg, which is home to the largest BMW plant in the world, is no stranger to visitors from around the globe. "We're a pretty international community already," he said, and equestrian fans will notice that and come back for future visits. "I think it's going to be a boon for the whole Carolina foothills area."