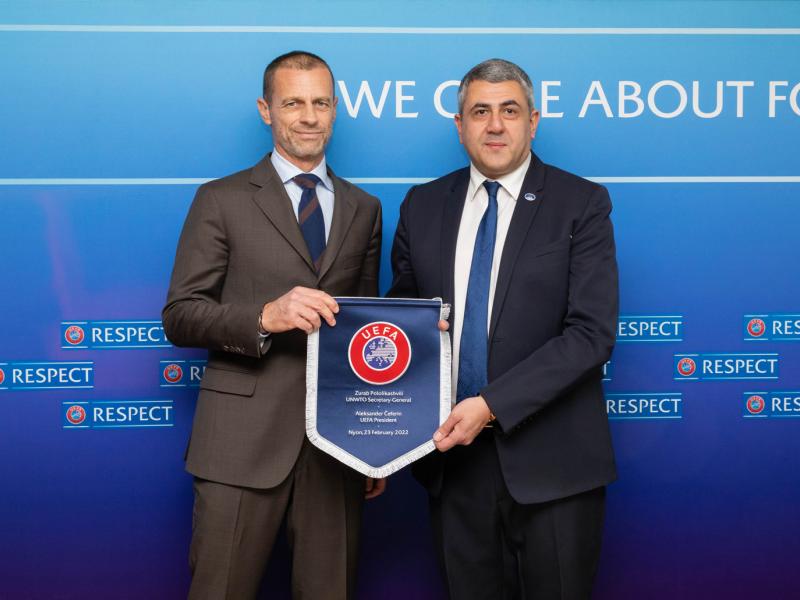 The World Tourism Organization and UEFA, the governing body for European soccer, have announced a new partnership to promote the benefits of sports and sports tourism throughout the continent.
UNWTO Secretary-General Zurab Pololikashvili and UEFA President Aleksander Čeferin signed a memorandum that recognized the values shared by tourism and soccer. The UEFA Foundation will be part of the UNWTO Global Youth Tourism Summit, scheduled for July 2022 in Italy, which is designed to give young people a say in the future of the business.
"Tourism and football are natural partners, bringing joy to many millions with benefits going far beyond vacations or single matches," Pololikashvili said. "Working together, UNWTO and UEFA will build on our potential to celebrate our shared humanity, foster friendship across borders and create experiences and opportunities for people everywhere."
Under the partnership, UNWTO and UEFA will work together to grow sports tourism across Europe, including through facilitating travel and mobility and through promoting the opportunities for jobs and education. The agreement emphasizes the impact of both tourism and sports, touching on almost every part of economies and societies the world over.
"Sports tourism is one of the fastest-growing tourism segments and tourism and football, as the world's most popular sport, uniquely complement each other," Čeferin said. "Sporting events, such as UEFA EURO and UEFA Women's EURO, are making an exceptional contribution to tourism in the host countries. More importantly, football offers teams and supporters a chance to travel the world, discover new destinations and cultures. I cannot think of a better way to learn more about each other, grow together rather than drift apart."