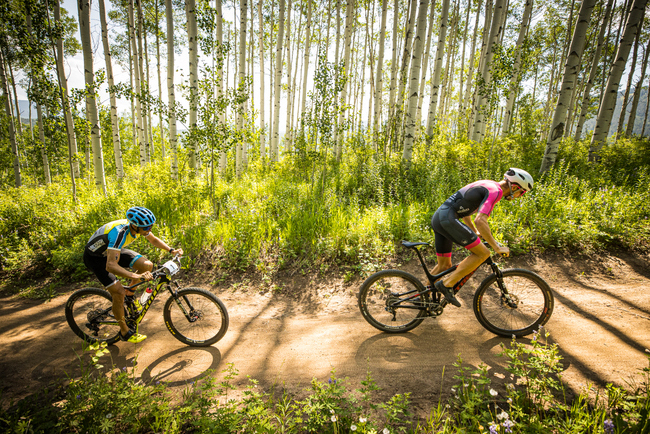 The XTERRA USA Championship off-road triathlon will move to Colorado for the first time to be held with new family-friendly and community-focused events in Avon.
The event will be staged July 15–17, 2022. The move marks the first time the race will be held in the Colorado Rockies, following 12 seasons at Snowbasin Resort in Utah (2009–2021) and eight years in Incline Village, Nevada (2001–2008).
There will be $25,000 in prize money awarded equally to the top 10 elite men and women, plus XTERRA USA Championship crowns to age group division winners. There will also be 51 qualifying spots made available into the 2022 XTERRA World Championship to be held in Trentino, Italy, on October 1.
In addition to the main event, XTERRA plans to host sprint and relay races along with other endurance events including kid's races, yard games, vendor booths, food trucks, beer gardens, and live music at Nottingham Park Pavilion in the heart of Avon.
"We're thrilled to bring the XTERRA USA Championship to Colorado, it's long been a mecca for XTERRA athletes and outdoor recreation," said Steve Andrus, XTERRA's new U.S. tour manager.
The move to Colorado marks a new approach for the organization, which has a global initiative to rotate its championship venues every couple years, or even yearly, to provide new experiences and challenges for participants.
"We are reinventing ourselves in a lot of ways, one is by rotating championship venues, and even more important is our renewed focus on delivering exceptional event experiences for both the participants and the local community," said Andrus. "To that end, we've reached out to our partners in Avon and Beaver Creek to source local musicians, restaurants, sustainability partners and charitable organizations in order to truly make this a neighborhood celebration."
The XTERRA USA Championship is one of 11 events on this year's XTERRA America Tour, each awarding qualifying spots to XTERRA Worlds for both amateurs and professionals. XTERRA Utah is not on the schedule in 2022; however, there are plans to return.
"Utah is my home, it's an amazing place for endurance sports and XTERRA specifically, and the local support we've received through the years from the Utah Sports Commission, Mayor Caldwell, the GOAL Foundation, Snowbasin, and the volunteers has been incredible," said Andrus, who was the event coordinator at Snowbasin for 20 years. "We really can't thank all our friends in Utah for what they've done for XTERRA, for being wonderful hosts, and even better people, and we'll work on getting back there soon."