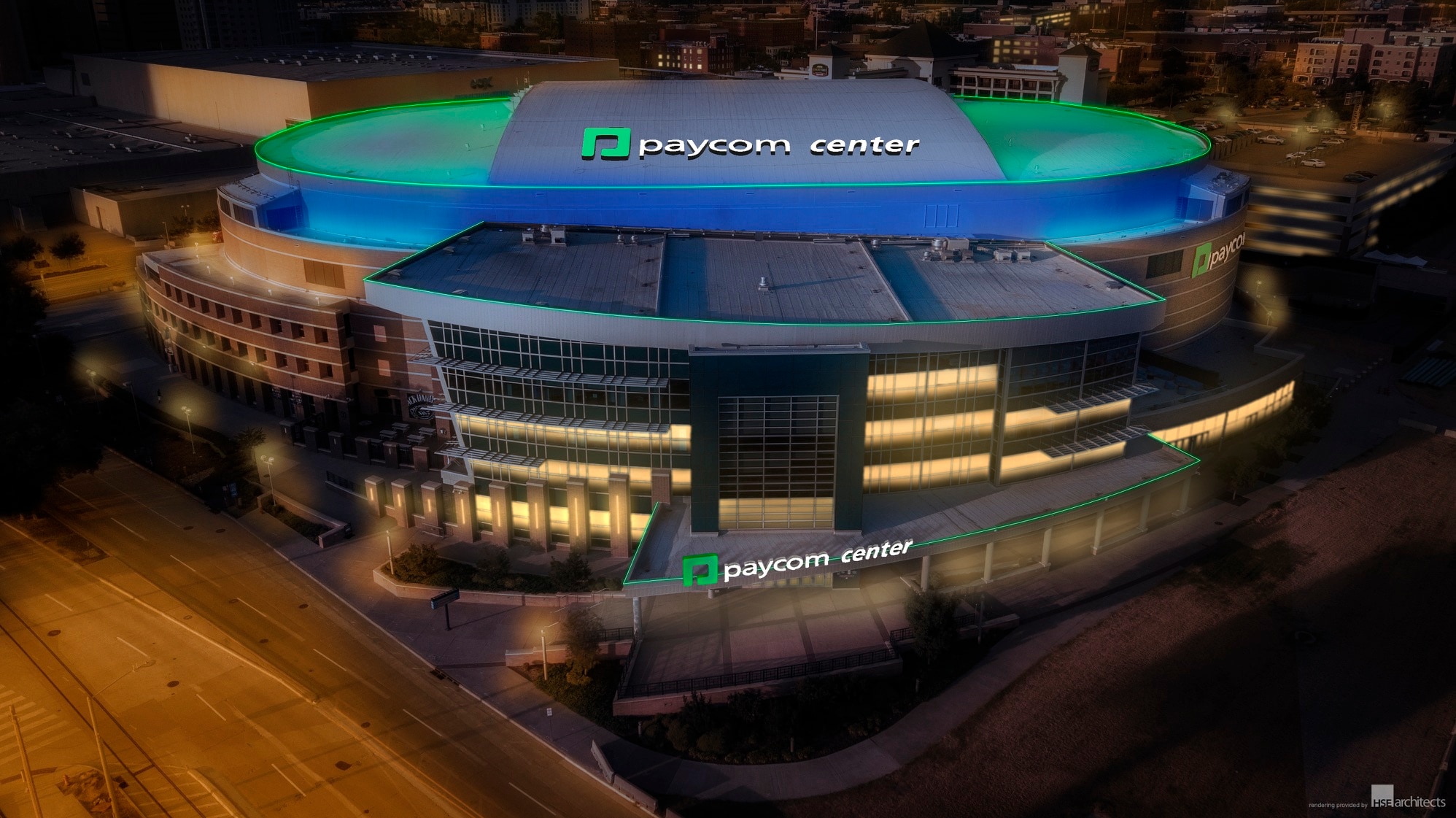 The Oklahoma City Council voted Tuesday to approve final plans and specifications for new seating at Paycom Center with Populous developing a master plan for the renovations to enhance the guest experience at the arena.
The plans were approved as part of the city's Metropolitan Area Projects plan, or MAPS 4. MAPS 4 is a public improvement program funded by a temporary penny sales tax that will raise a projected $978 million over eight years.
The approval includes $105 million for several phases of improvements to the 20-year-old downtown arena and $10 million for improvements to a practice facility on North Oklahoma Avenue. Located in downtown OKC, the home of the Oklahoma City Thunder can hold over 18,000 fans for basketball games and over 16,000 for concerts. Paycom Center is owned by the City of Oklahoma City and managed by ASM Global.
"Investing in our downtown arena more than 20 years ago proved to be a game-changing decision for Oklahoma City," said Oklahoma City Mayor David Holt. "Paycom Center, home of the Oklahoma City Thunder, serves as an economic driver and a top destination for live sports and entertainment. Our continued investment will focus first on fan amenities and we're excited about the new features the facility will offer to residents, visitors and event organizers."
Initial improvements will include replacing seats in the lower, middle and upper bowls of the arena from 19-inch fabric seats to 21-inch seats faux leather seats that offer taller backs and cup holders for a more comfortable guest experience.  Additional upgrades between now and 2028 include a new scoreboard, enhanced upper-level concession areas and signature bar, and technology and infrastructure improvements.
"These targeted efforts will help define the next generation of entertainment in Oklahoma City," said Chris Semrau, general manager for ASM Global OKC. "We look forward to modernizing the venue and elevating experiences for the guests, tours, and teams at Paycom Center."
To avoid disruptions to major events and the NBA schedule, additional upgrades will be completed through a multi-year approach. The downtown arena was built debt-free as part of the original MAPS program that passed by Oklahoma City residents in 1993 and opened its doors in 2002.
"We are able to make progress quickly on the MAPS 4 Downtown Arena project because it's an existing, city-owned facility with an established and engaged operator," MAPS Program Manager David Todd said. "This is the 20th year of operation for Paycom Center, and guest amenities, like new seats, are the highest priority among all anticipated phases of work."