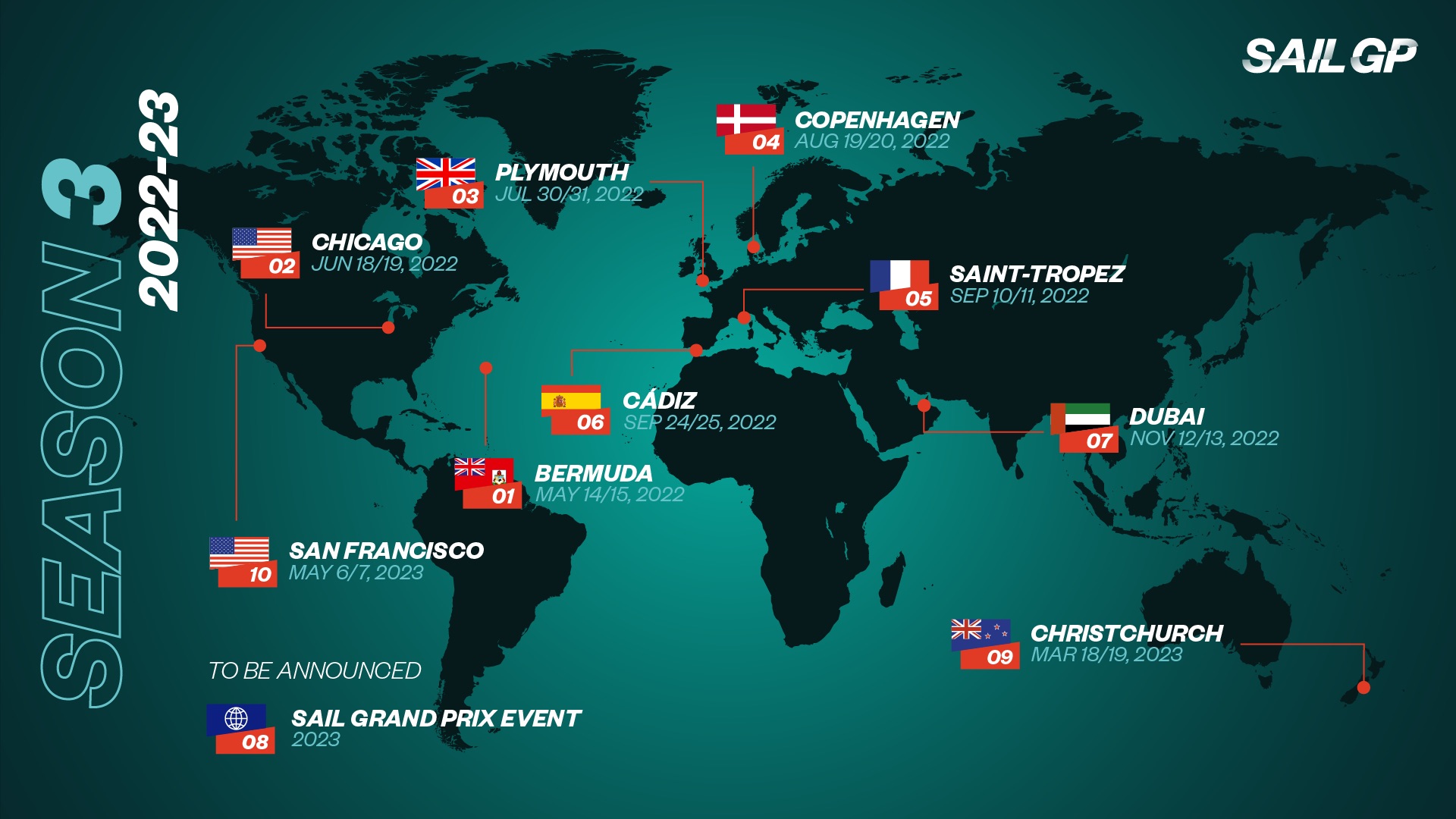 SailGP had added another North American stop to its Season 3 calendar, with San Francisco returning as a stop on the worldwide sailing tour. Christchurch, New Zealand, will also host a new stop on the circuit, which previously announced a stop in Chicago as well.
Ten teams will compete in Season 3 – new franchises Canada and Switzerland and returning nations Australia, Denmark, France, Great Britain, Japan, New Zealand, Spain and the United States – that will now feature nine events around the world.
SailGP will head to New Zealand on March 18–19, 2023, as part of a four-season partnership with New Zealand Major Events. Through the partnership – spanning Season 3 to Season 6 – Christchurch and Auckland will split hosting duties of SailGP. The championship will then conclude in San Francisco with the Season 3 Grand Final scheduled for May 6–7, 2023, in front of the Golden Gate Bridge. It will mark the third time Sail GP has visited San Francisco, including for the upcoming conclusion of Season 2, which is scheduled for March 26–27.
Season 3 of the series will begin in Bermuda on May 14–15, 2022. From there, the tour heads to Chicago, Plymouth, Copenhagen, Saint-Tropez, Cádiz and Dubai, making it the largest SailGP season to date.
At least two more stops are expected to be added to the tour in 2023 for a total of 11 events.
"As we approach our season finale next week in San Francisco, our plans are already in place for Season 3, which features a fantastic lineup of host venues and a growing roster of iconic waterfront cities and teams," SailGP Chief Executive Officer Sir Russell Coutts said. "Furthermore, the fact that we will race a third time in San Francisco and have agreed a four-year partnership with New Zealand, shows the confidence we are building in our ever-expanding global championship. In fact, we have already launched our bid process for Season 4 and look forward to welcoming applications from host venues around the world that align with our sports, environmental and economic goals and values."