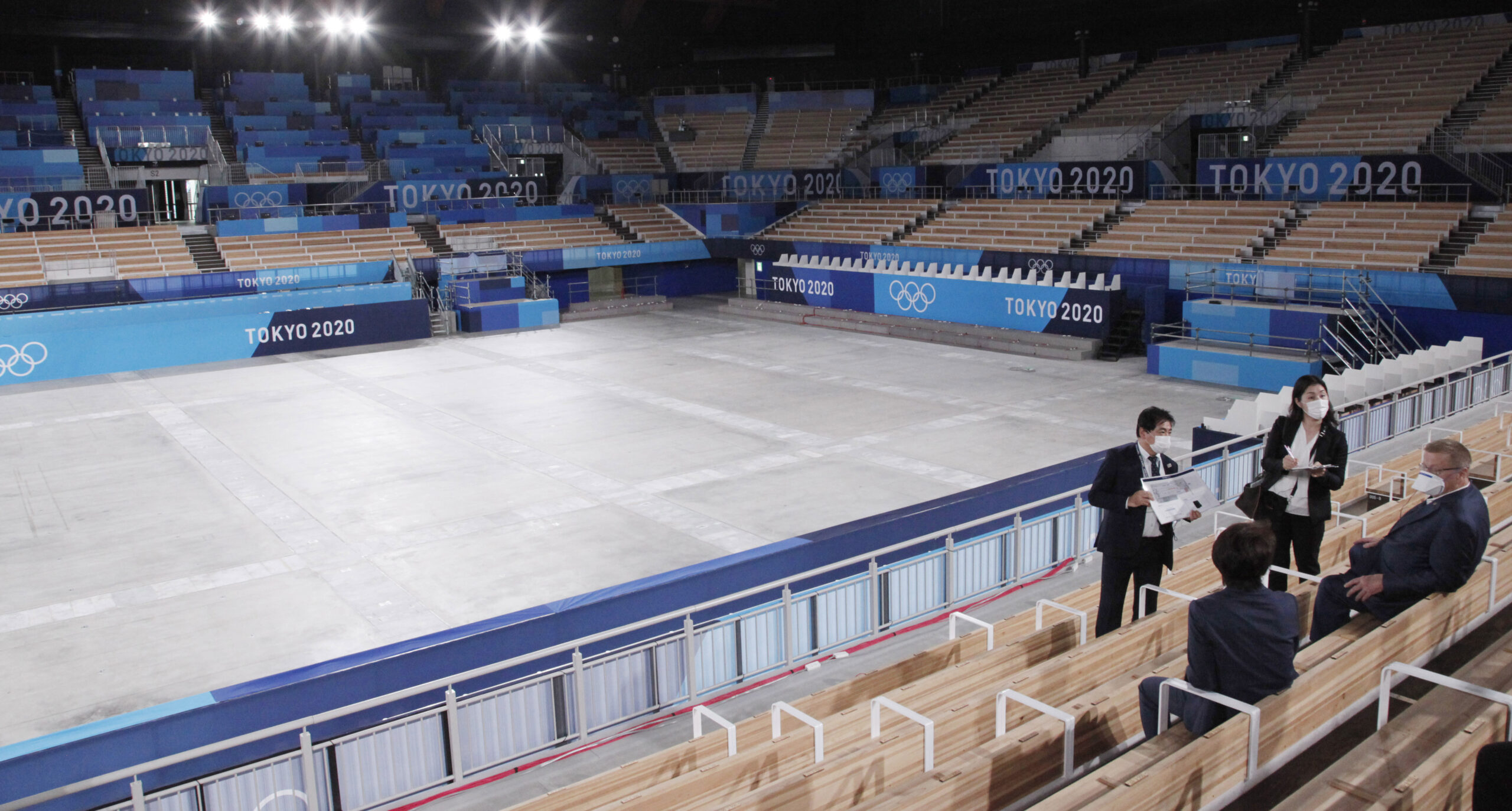 Two weeks after saying it would allow local fans to attend the Olympic Summer Games, organizers are about to backtrack officially on the policy as COVID-19 cases continue to rise throughout Japan.
Japan's Asahi newspaper, citing multiple government sources, reported Tuesday the Opening Ceremony at the 68,000-seat National Stadium is likely to be limited to only VIP guests on July 23. The report added that smaller venues may have fans but other larger venues likely will be closed off to spectators.
While the reports were not attributed to any government or organizing committee official, throughout the past year Japanese news reports have been a precursor to official announcements, serving almost as test balloons to gauge public reaction. Two weeks ago, organizers announced that venues could be filled up to 50 percent capacity with a ceiling of 10,000.
Tokyo's organizers, the International Olympic Committee and others are expected to meet Thursday — the day that International Olympic Committee President Thomas Bach arrives in Tokyo — and announce new restrictions because of the coronavirus situation. On Saturday the capital reported 716 new cases, the highest in five weeks.
Asahi said the no-spectators policy could apply to events after 9 p.m. and to larger venues where 50 percent of capacity exceeds 5,000. Organizing committee chief executive Toshiro Muto said two weeks ago that VIPs would be allowed into venues no matter the spectator cap because they were "organizers" and not spectators.
"There are many stakeholders of the IOC and so forth. People related to key clients. And for those people they are regarded as organizers of the games and they are not spectators," Muto said.
Tokyo officials say more than 80 percent of athletes and support staff will be vaccinated and to a degree, that is the lesser concern for organizers. The bigger issue is given Japan's low vaccination rates and with plans for fans to be in attendance, critics say the conditions would be ripe for the Olympics to be a super-spreader event. That is even before you factor in if guidelines for athletes and members of the Olympic movement are not strictly adhered to between the 11,000 athletes and 4,400 Paralympians entering from more than 200 countries in addition to tens of thousands of judges, sponsors, broadcasters and media on hand.
Dr. Shigeru Omi, a top government medical adviser, has said the least risky Olympics would be with no spectators. He also said it was "abnormal" to hold the Olympics during a pandemic.
Having already barred foreign fans from attending months ago, not allowing even Japanese citizens would be another blow to the Tokyo organizers' reputation throughout the country — such as it is, given the widespread disapproval for holding the Games during the pandemic. While having zero ticket income would be another multi-billion dollar loss on the organizers' budget sheet, the IOC will still generate up to $4 billion in income from a television-only event.
While attendance policies may be adjusted, the weekend also brought news of a third positive COVID test for an arriving Olympian. This time it was a male rower from Serbia who tested positive after landing at Tokyo's Haneda airport Saturday night according to Takashi Ikeda, an official in Nanto, where Serbia's athletes are scheduled to train, told Reuters. The man was sent to a medical facility and the other four members of the rowing team to a separate site.
All Olympians entering Japan are required to be tested for the virus before departure and after their arrival. In June, two members of Uganda's Olympic team tested positive after arriving despite receiving the Oxford-AstraZeneca vaccine.