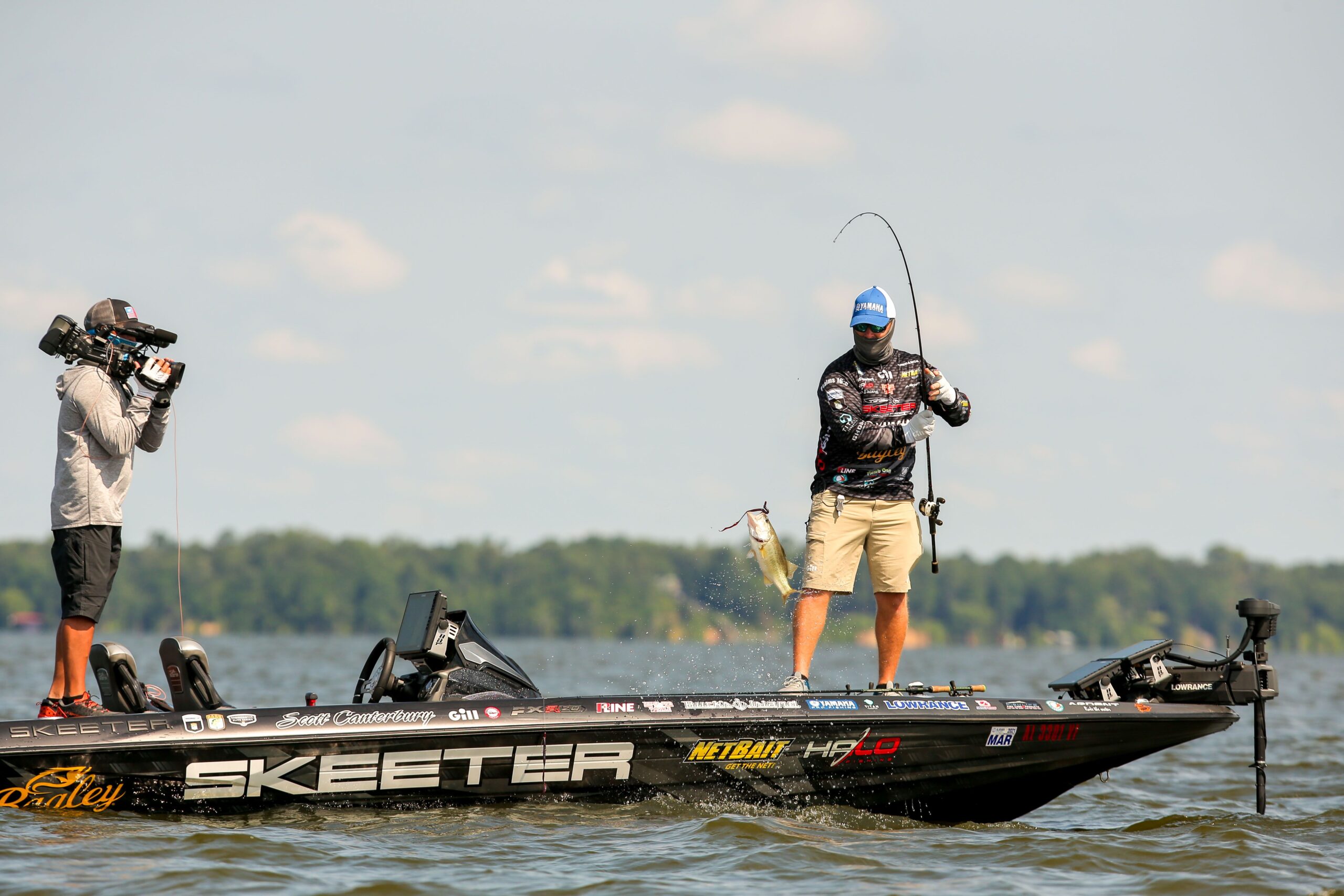 The 2022 Bassmaster Elite Series schedule has already been set by B.A.S.S. officials with the opening event scheduled for St. Johns River in Palatka, Florida, starting February 10.
After a second stop in Florida on February 17 in Leesburg, the tour will visit six states in a seven-month span before the season-ending event August 26—29 in La Crosse, Wisconsin. All nine events as well as the Academy Sports + Outdoors Bassmaster Classic presented by Huk will feature live television coverage on the Fox Sports platforms.
"We're proud to have the kind of schedule that allows fans from so many areas to enjoy and celebrate the great sport of professional bass fishing," said B.A.S.S. CEO Bruce Akin. "With events in seven states from Florida, north to New York, and west to South Dakota, it will be a true test of our anglers' ability to compete on all types of fisheries. It'll also provide an incredible variety of entertaining scenarios for our fans, both in attendance and watching live on the multiple platforms that are now available to them."
This will mark the fourth straight year the Elite Series has held its season-opener on the St. Johns River while the trip to the Harris Chain in Leesburg will be the first for the Elite Series since 2011.
"We're thrilled to host the Bassmaster Elite Series on the Harris Chain of Lakes right here in Lake County," said Steven Clenney, interim director of Visit Lake. "Our lakes have some of the best bass fishing in the country, and as Bassmaster tournaments return year after year to our area, it reminds us how thankful we are to have this resource in our backyards."
South Carolina will also have a pair of events in March, highlighted by the Bassmaster Classic on Lake Hartwell, March 4—6, before an event on the Santee Cooper Lakes in Clarendon County, starting March 17. B.A.S.S. held 13 major events on the gigantic Santee system, which is comprised of Lakes Marion and Moultrie, from 1975-2009, before returning in 2020.
"We are so excited to be able to bring the Bassmaster Elites back in 2022," said Tiffany B. Myers, director of tourism at the Clarendon County Chamber of Commerce. "It had been over 10 years since they came to Clarendon County prior to the 2020 tournament. It was a great event, but the pandemic drastically changed plans and logistics. So, we are thrilled to have another opportunity to bring them back during the ideal time of year and with a lot more spectators."
Unlike the 2021 season that ended in mid-July, the 2022 slate will push into August with a make-up date built in before the season finale in Wisconsin.
"We are thrilled to welcome back the Bassmaster Elite Series to the La Crosse region on the famed Upper Mississippi River," said A.J. Frels, executive director of Explore La Crosse. "We expect phenomenal fishing for both largemouth and smallmouth bass, and the anglers will showcase the region at unprecedented levels thanks to the partnership between B.A.S.S. and FOX SportsThe greater La Crosse region looks forward to hosting the anglers, their families, fans and spectators in the area."
2022 Bassmaster Elite Series schedule
February 10-13: St. Johns River, Palatka, Florida
February 17-20: Harris Chain of Lakes, Leesburg, Florida
March 4-6: Academy Sports + Outdoors Bassmaster Classic presented by Huk, Lake Hartwell, Greenville, South Carolina
March 17-20: Santee Cooper Lakes, Clarendon County, South Carolina
April 7-10: Chickamauga Lake, Dayton, Tennessee
May 19-22: Lake Fork, Quitman, Texas
June 2-5: TBA
July 14-17: St. Lawrence River/1000 Islands, Clayton, New York
August 4-7: Make-up date
August 18-21: Lake Oahe, Mobridge, South Dakota
August 26-29: Mississippi River, La Crosse, Wisconsin