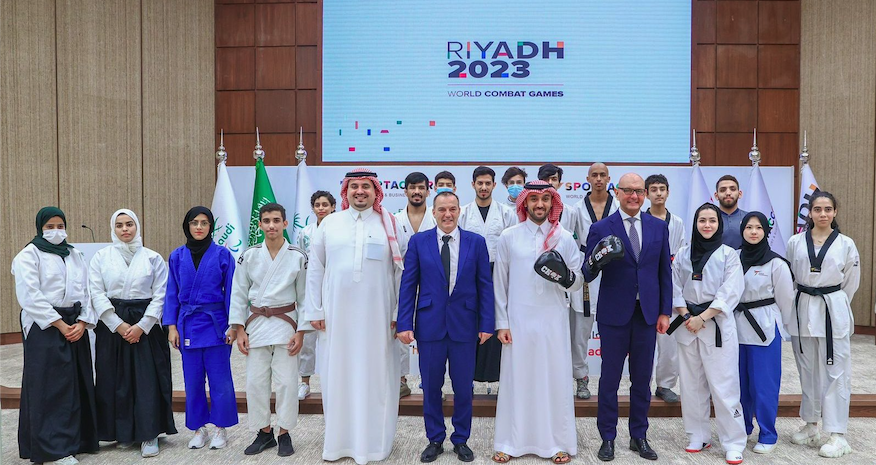 The Global Association of International Sports Federations has announced the 2023 World Combat Games will be held in Riyadh, Saudi Arabia, from October 21–30.
The final dates were approved in a joint meeting between GAISF and the local organizing committee. The meeting was co-chaired by Saudi Arabian Olympic Committee Vice President Prince Fahad bin Jalawi Bin Abdulaziz and the chair of the GAISF Multi-Sport Games, Stephan Fox.
In addition to finalizing the date of the event, the meeting participants discussed the sport program, competition venues, the opening and closing ceremonies and the award night.
"The Kingdom of Saudi Arabia is looking forward to hosting a memorable and inclusive 2023 World Combat Games in Riyadh," said Prince Abdulaziz bin Turki Al Faisal Al Saud, SAOC president. "This event will celebrate unity, champion diversity and share the positive values of combat sports and martial arts with the rest of the world. We look forward to welcoming athletes, fans and officials for what will be an exciting international multi-sport festival."
The WCG, an international multi-sport festival bringing together ancient traditions, exciting competitions and sport demonstrations, will feature 2,000 athletes competing in 15 combat sports and martial arts competitions.
"The 2023 World Combat Games is far more than an international sporting event, it is a sporting, cultural and educational exchange that will combine ancient tradition with world class competition," Fox said. "Throughout the nine days, Riyadh will become the martial arts capital of the world."
The event will also host the first World Martial Arts Gala, honoring the legends of martial arts and combat sports.