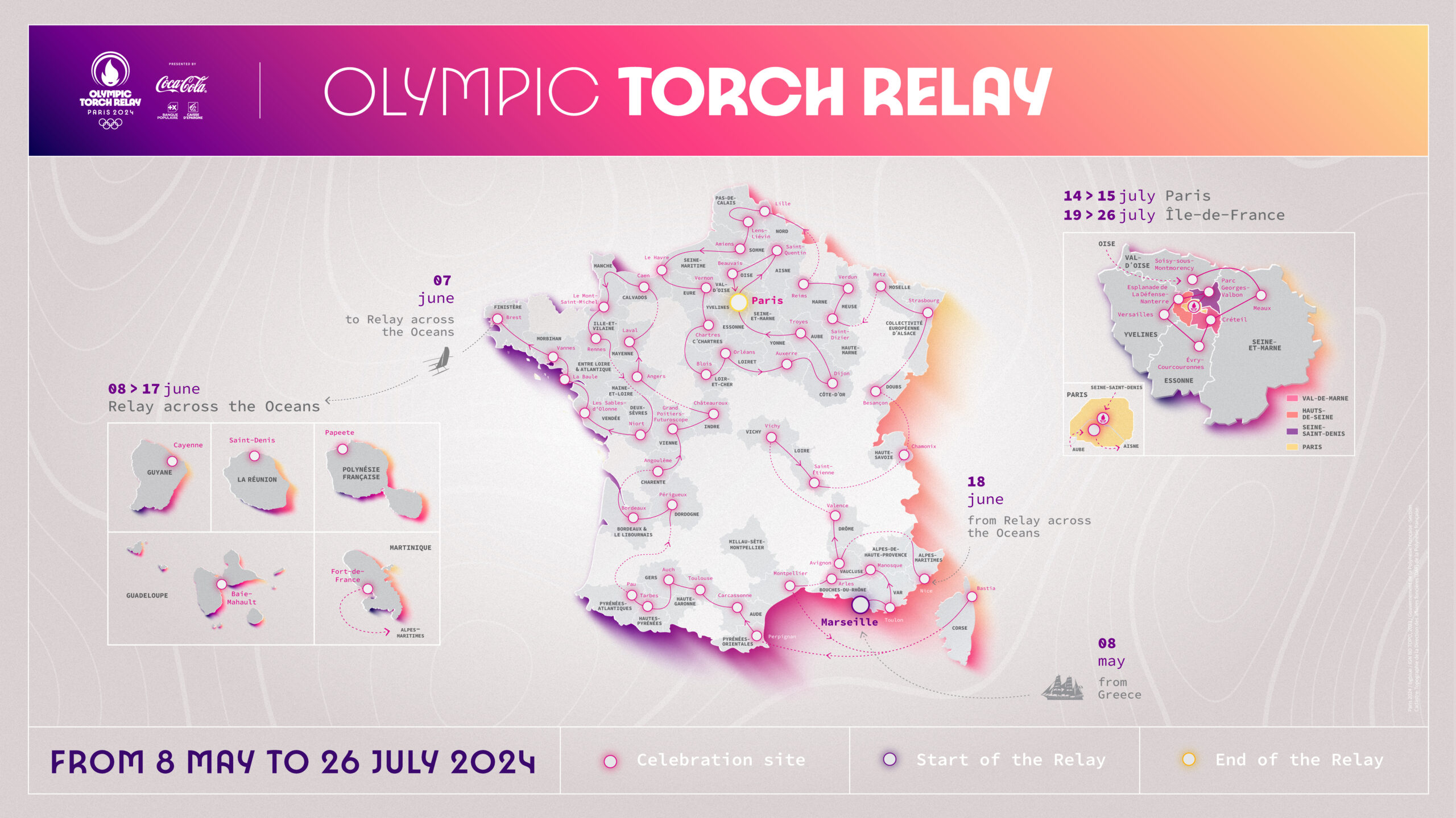 The Olympic flame for the 2024 Olympic Summer Games in Paris will pass through five overseas countries and 400 towns over 68 days before the cauldron is lit on July 26, 2024.
The torch will be lit by the sun's rays on April 16 in Ancient Olympia, Greece. It will then be carried around the nation before its handover in Athens, leaving April 27 aboard a three-mast ship for the French port of Marseille — the cities of Athens and Marseille have been linked throughout history, with the latter being both a former Greek colony (Massalia) and the oldest city in France.
After leaving Marseille, the torch relay will take in heritage sites such Mont Saint-Michel in Normandy and the 2,500-year-old medieval city of Carcassone. It will also trail along the red-wine vineyards of Saint-Émilion and white-wine vines of Chablis.
"Paris 2024 is the greatest collective project in our history," Paris 2024 Organizing Committee President Tony Estanguet said. "The torch relay plays an important role because it has the capacity to touch so many people."
A passage in France's overseas territories will begin on June 9 in Guyana and will take in the Reunion Island, Polynesia, Gaudeloupe and Martinique before coming back to Nice on June 18. Continuing over land, the torch will rise up the Alpine mountain pass of Chamonix for Olympic Day on June 23 before spending July 14 — Bastille Day, France's national day — and July 15 in Paris.
The torch will then tour various suburbs of Paris until returning via Seine-Saint-Denis — home to the Stade de France — before arriving back in Paris. More precise details of the route in Paris will be given on July 5. A total of 10,000 people will participate in the torch relay.
The location of where the cauldron will be lit and at what time are being kept secret until the day itself, amid wide expectations it will be at the Eiffel Tower.
Local police forces responsible for each section of the relay will help with security. A team of eight called "Les Gardiens de la Flamme" (The Guardians of the Flame) have been picked to ensure the flame stays constantly lit.
The Paris Games will run from July 26 through August 11. The flame for the Paralympics will be lit in the British town of Stoke Mandeville and will be carried by 1,000 people before those Games begin on August 28.