At past Olympic Games, USA House has traditionally been a refuge of sorts for athletes and their families and an area for the U.S. Olympic Committee to cater to its corporate sponsors in a safe atmosphere with cuisine they all recognize from home.
In Rio de Janeiro, the venture was an enormous operation with the USOC taking over a five-story school, renovating the building and leaving the improvements behind as a legacy for the host city. There was also a retail store attached for the public to enter and purchase Team USA gear. (The rest of the facility is typically closed to the general public.)
In Pyeongchang, USA House was a decidedly lower-key operation. The house sat near the Yongpyong Alpine Centre, where slalom and several other Alpine events were staged. Inside there were some typical hallmarks of past USA House venues, including a giant picture from the Opening Ceremony that was turned around in time for display on the wall.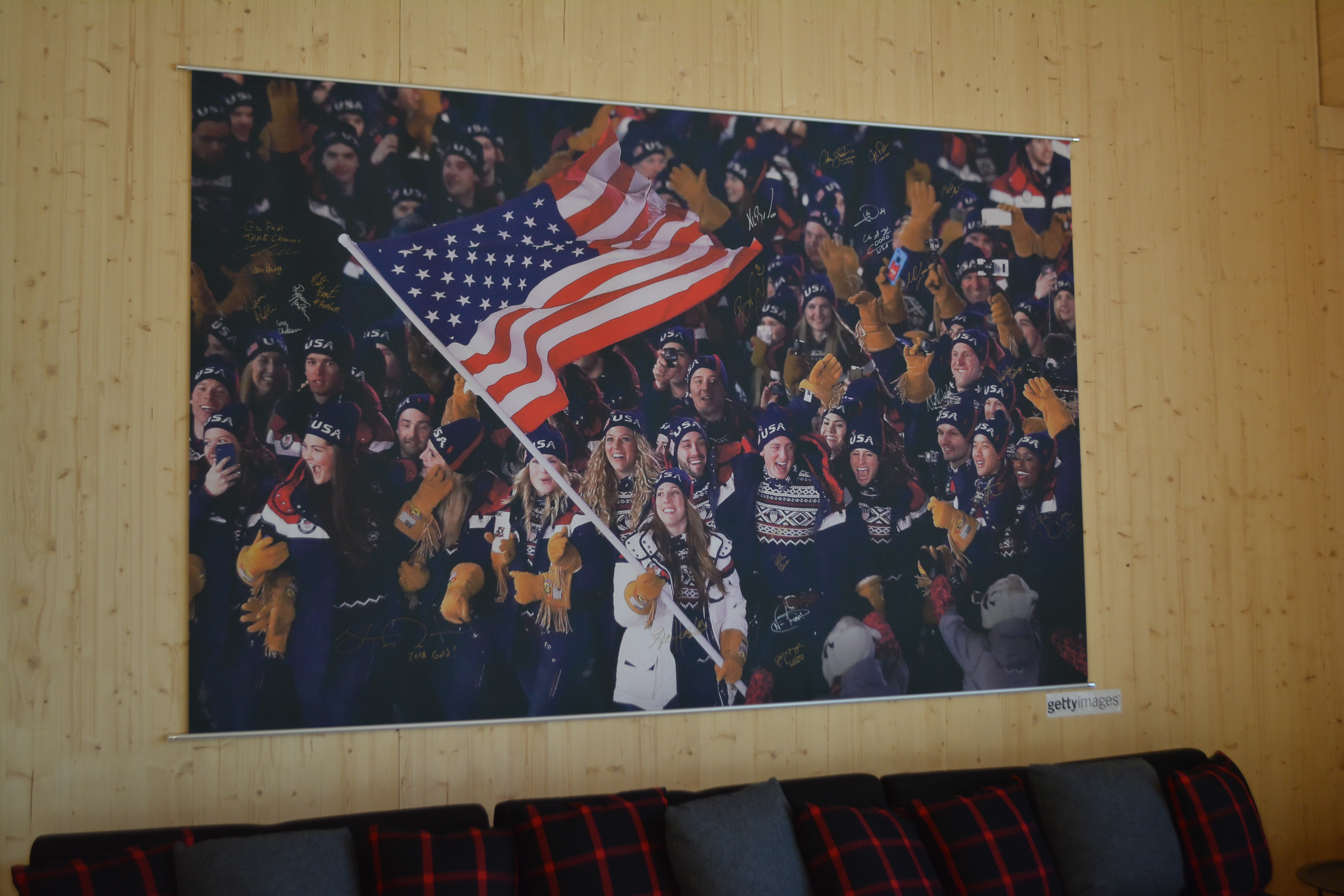 Elsewhere, there was comfortable seating for late-night crowds to watch NBC's coverage of the Games on three giant screens. And as a nice nod to the USOC's partners, company logos were displayed on sleds anchored to the walls. SportsTravel caught up with Lisa Kangley, the U.S. Olympic Committee's director meetings and event services, to discuss the USOC's approach to hospitality in Pyeongchang.
SportsTravel: How did you identify this location for this year's USA House and why was it appealing?
Kangley: We had spent a good amount of time considering possible locations for USA House in Pyeongchang – and the Yongpyong area was one we liked. So, when Hochsitz – a vendor we had worked with previously – came forward with this location, it was a great option. We knew the structure, we knew what to expect in terms of capabilities and we knew it would work for our guests.
SportsTravel: This house is smaller than in year's past. Why is that and what were the USOC's goals for this year's effort?
Kangley: Houses at Winter Games are generally a little smaller – reflective of the size of the delegation and numbers of guests – but we also wanted to be really conscious about not wasting space. This house has a cozy feel and that works for us in Pyeongchang, and in terms of estimating the crowd and traffic, it served us well.
SportsTravel: Who built this building for you and how did you get it here?
Kangley: Hochsitz owns and constructs the structure. The materials originate in Austria, but were transported from Bermuda where it was most recently used for the America's Cup. The house was transported by boat and rail, eventually arriving by truck to this location. In terms of sustainability, all of the wood used was grown sustainably. All materials are re-used – and no waste is left behind – and even the grounds the house is standing on are kept unharmed and untouched because no foundation was required. The house is fully insulated allowing it to be heated and cooled efficiently.
SportsTravel: How many people do you expect to host at the Games in Pyeongchang?
Kangley: Went into the games expecting 4,000 guests and we surpassed 5,000 by the time it closed.