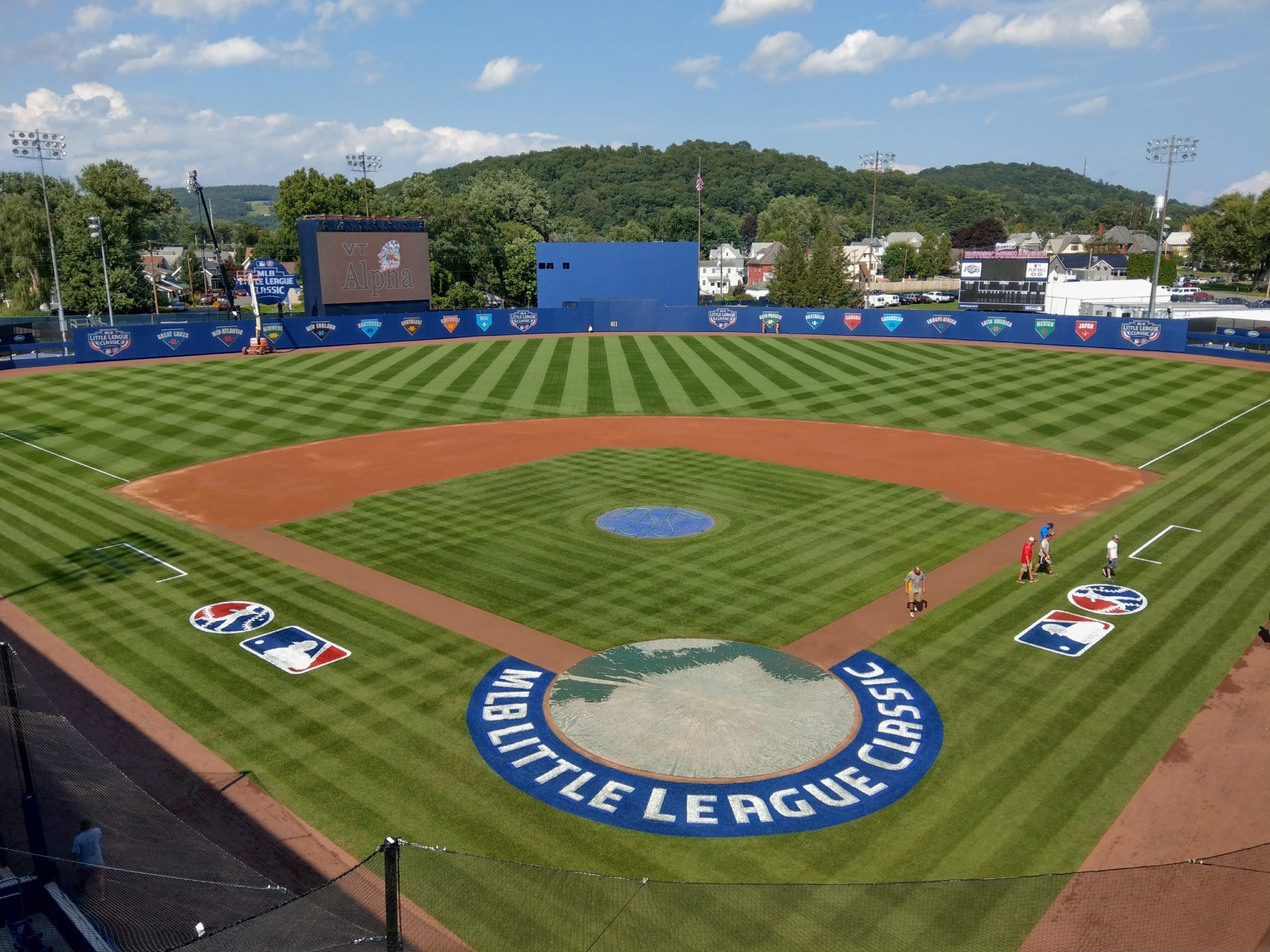 This Sunday, the players, coaches and families of the Little League Baseball World Series may be walking into a minor league stadium in Williamsport, Pennsylvania, but what they'll be watching is a major league game with the Philadelphia Phillies and New York Mets. While the annual Little League Baseball World Series gets underway today, across town at BB&T Ballpark at Historic Bowman Field, home of the Phillies' Class-A Crosscutters, the BrightView team has been working to get the field up to Major League Baseball regulations for the Little League Classic.
"This may be the smallest venue to ever host an MLB game, so with that comes challenges that most people probably would never know," says Murray Cook, president of BrightView, a landscape services company and a sports turf consultant to Major League Baseball. Cook also previously served as president of the Sports Turf Managers Association, a nonprofit organization for professionals who manage sports fields worldwide.
"With a project like this game, there are a lot of moving parts required to make a small ballpark become a big league park," Cook said. "A couple of weeks before the game, all the upgrading of the overall ballpark begins. This includes adding the typical media amenities for an MLB game and production requirements, as well as team facilities."
This will be the second year that Historic Bowman Field is hosting the Little League Classic. Last August, the second oldest minor league ballpark hosted the inaugural game featuring the St. Louis Cardinals and Pittsburgh Pirates.
"I'm thrilled that Major League Baseball decided to host the second event there this year," said Kim Heck, president of the Sports Turf Managers Association, of which BrightView is a member. "The ballpark itself is so interesting. It's such a small and historic venue. I know a lot of work was done on the facility itself and it's been managed and maintained really well throughout the year."
Last year, Cook recalled replacing the entire field with one that met MLB playing standards as well as its grading and drainage requirements. Work included laying 4,500 tons of sand and root-zone material to prepare the natural grass surface; removal of 1 ½ feet of physical mass; installing new foul poles, bullpens, a batter's eye and backstop.
In the days leading up to this year's Little League Classic, Brightview is still moving forward with final preparations. "The list is long," Cook said, "but some of the larger items include adding pads to the walls, rebuilding the mounds and home plate, building a 40-foot-by-80-foot-wide batter's eye, building the production compound and additional locker room amenities, adding a video board system, and upgrading the field lights with Musco's portable lighting system."
Following the game, Brightview will be tasked with another project—turning BB&T Ballpark back into a minor league field. "All of that work comes down in a matter of days to welcome the Crosscutters back for the remaining part of their season," Cook said. The Crosscutters will play at home against the State College Spikes on August 21.
The Little League Classic will air nationally August 19 on ESPN's Sunday Night Baseball and ESPN Radio.