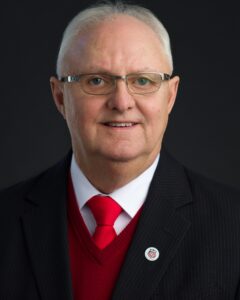 Dr. Roger Goudy, who spent 40 years in leadership roles with the Amateur Athletic Union, including the past six years as the organization's president and CEO, has died. He was 69.
Goudy took over the helm of AAU in 2014 after years of building up the organization's largest event, the AAU Junior National Volleyball Championships in Orlando, Florida. Since 1992, he served as AAU Volleyball National Chair, working to grow the championship to an event that in 2019 attracted 45,000 athletes on 2,800 teams, 10,000 coaches, 600 college coaches and an estimated 100,000 spectators in attendance. The event is now staged at the Orange County Convention Center and the ESPN Wide World of Sports Complex. In July, the tournament was staged amid the pandemic with new health precautions put in place to limit the number of teams participating.
"No words can express the heartbreak we, the AAU organization, feel during this time," the AAU said in a statement. "Dr. Goudy dedicated his life to serving youth through sports and education. For more than 40 years, he served the AAU in various capacities at the local, district/state, and national level. These roles included coach, volunteer, mentor, leader, and most importantly, friend. We express our heartfelt condolences and sorrow to the Goudy family. While he can never be replaced, Dr. Goudy will always be in our hearts."
Prior to becoming CEO, Goudy served as AAU's national secretary for 20 years, taking office in 1994. During that time, he was part of the organization's national officer group that signed a 30-year deal with the Walt Disney World Company in 1996. Later that year, the AAU relocated its national headquarters to Orlando, becoming one of two anchor tenants at what is now ESPN Wide World of Sports Complex.
In a move that was rooted in his experience in education, Goudy established the AAU Cares program shortly after being elected president in 2014. The program strives to provide youth athletes lessons in learning, life and social responsibility. He had also been instrumental in support of the AAU Urban Initiative developed with AAU National Treasurer Jo Mirza in 2015, a program that provides participation opportunities to youth in under-served areas of the country.
Outside of his time with AAU, Goudy was an educator who served in several public service roles as well. He was superintendent of the Madison County (Ohio) School District from 2008–2015. Prior to that, he was the director of business affairs at South Euclid Lyndhurst (Ohio) Schools for 10 years. He was also active in the community of Solon, Ohio, serving on the City Council and as vice mayor, as well as on the Solon Board of Education.
Goudy and his events received numerous honors and awards over the years. In 1999, he was inducted into the AAU Hall of Fame for dedication and service to the country's youth. He was National Association of Sport Commission's Sports Event Organizer of the Year in 2017. And in 2017 and 2019, the AAU National Junior Volleyball Championships received a SportsTravel Award at the TEAMS Conference & Expo.
"Dr. Goudy was a great friend of SportsTravel magazine and the TEAMS Conference," said Timothy Schneider, founder and chairman of the Sports Division at Northstar Travel Group and the founder of SportsTravel and TEAMS. "He spent his life serving youth through sports and deployed his leadership skills to great effect for the benefit of the AAU. We extend our deepest condolences to his family and his colleagues."