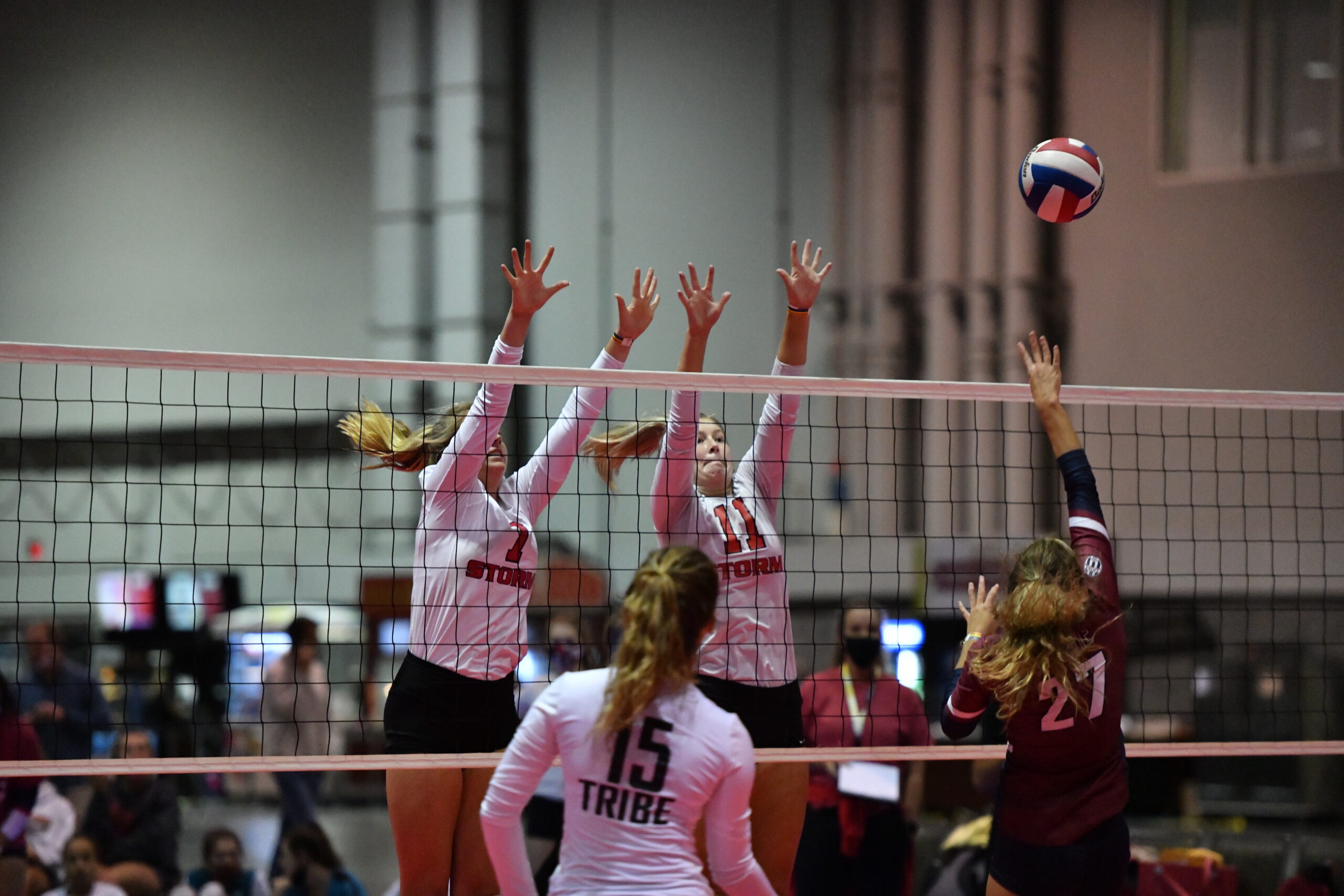 In a typical year, the AAU Junior National Volleyball Championships will attract more than 45,000 athletes to two of the largest venues in Orlando, Florida — the ESPN Wide World of Sports Complex and the Orange County Convention Center — making it one of the largest youth sports events in the country.
But 2020 is no typical year.
While outdoor youth sports events are showing strong signs of a comeback this summer, indoor events have been slower to return. Yet despite a rising number of COVID-19 cases in Florida, AAU managed to stage its signature volleyball event in Orlando from July 14–22, with 330 teams attending from 32 states. An estimated 10,000 people traveled to play, coach or chaperone the athletes.
"I'm really glad we pushed forward with this and ran it," AAU President Roger Goudy said. "Because even though in my opinion it went off without a hitch and the kids and parents seemed extremely happy, I think we learned some things where we could refine it a little further."
Here is a look at the measures put in place for the tournament and how AAU and the venue hosted the first major event that one of the nation's largest convention centers has held since the coronavirus pandemic began.
A Delay and a Decision
AAU's volleyball championships in Orlando for girls and boys typically take place in June. That was still the plan before AAU officials rescheduled the event on May 15, eventually settling on the July dates.
COVID-19 infection rates in Florida ended up being worse in July than they would have been in June, something the organization could not have anticipated when it initially postponed. But the AAU decided to proceed with the July dates in part because of precautions it mandated for attendees and in part because the convention center itself was seeking accreditation for its cleaning procedures before reopening, Goudy said.
"The situation here in Florida was probably even better in June than it was in July," Goudy said. "The numbers went way up in July but by having that extra month, we established enough confidence from the governor's office on down to the county mayor and local elected and health officials that we really were taking health and safety seriously."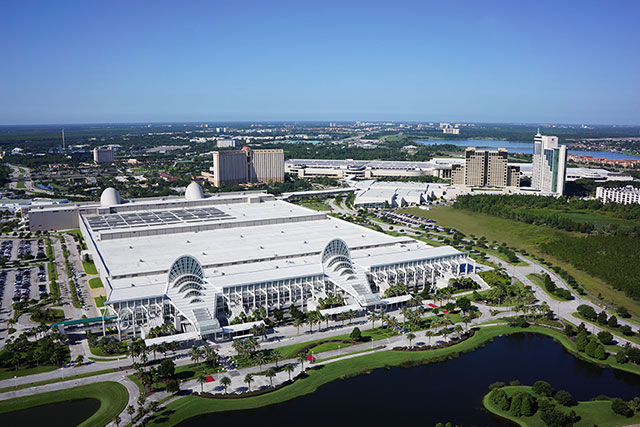 The extra time from the June postponement bought organizers and the venue more time in crucial ways. For starters, the OCCC received its GBAC Star accreditation, a designation through the Global Biorisk Advisory Council that requires venues to establish and maintain a cleaning, disinfection and infectious disease prevention program. To achieve the accreditation, convention center staff had to be trained on the most effective hygiene practices in the venue and the best practices in keeping areas clean.
"Our biggest concern was would we be able to get the GBAC star accreditation and have everyone certified prior to the event," said OCCC Executive Director Mark Tester.
With that accreditation in place, AAU worked with the OCCC and Orlando Health to craft its plan for a new-look Junior Volleyball National Championships. Goudy said one lesson learned during the process was to take the lead of the health officials. "One of the things I was concerned about was I didn't want our people to start playing medical doctor," he said. "It's not what we do. I wanted to stay in our lane. We're an event organizer. We're not doctors or the facility manger."
Securing availability in the venue was one of the first orders of business after the AUU rescheduled from its original dates. Because of the smaller-than-normal scale of the event, having all matches take place at the OCCC made the most sense. As it turned out, the ESPN complex was unavailable as both Major League Soccer and the NBA were using parts of the property to hold their own seasons.
Limiting Entry to the Venue
At OCCC, one thing on the organizer's side was physical space. With 1 million square feet at its disposal, AAU was able to spread out its courts.
But the safety plan began outside the venue. While the event normally uses four of the convention center's entrances in a typical year, this year's event was confined to one entrance. "In a typical year you come in wherever you want to come in," Goudy said. "But the new normal is we're going to have to control that entry."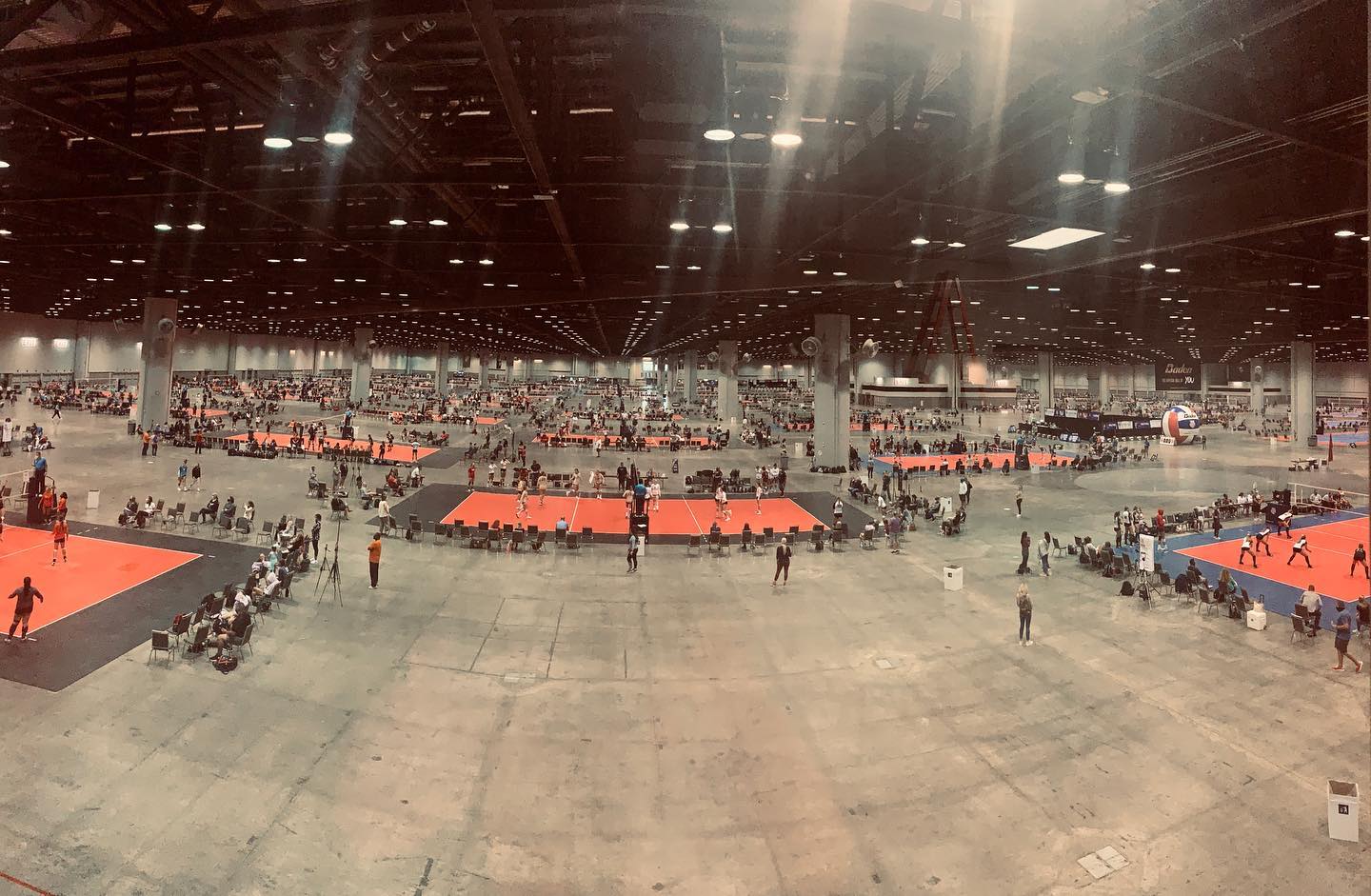 Before teams could begin the entry process, they had to make sure all members of the team were there at a predetermined entry time. "You either went in as a team together or you didn't go in," Goudy said. Once all team members arrived, each person in the party had their temperature taken before being allowed inside.
Once inside, teams were scheduled with layered starting times. Teams were checked in 12 at a time, with the first teams reporting to the farthest courts in the convention center, filling the available space from back to front. When games were over, the teams left in that order, flowing out a different exit from where they entered to avoid further congestion in the venue.
Masks and Spectators
All people inside the convention center were required to wear masks, with the exception being that players could take off their masks on the court while they were practicing or playing. Goudy and Tester said they experienced no pushback on the mask requirement.
"Everyone came in with a mask on and realized how important that is in the process right now," Tester said. "Unless you were playing, you were required to wear a mask. And the most enlightening thing was that no one came in and said, 'I won't do it.' They realized how important it is in the world today."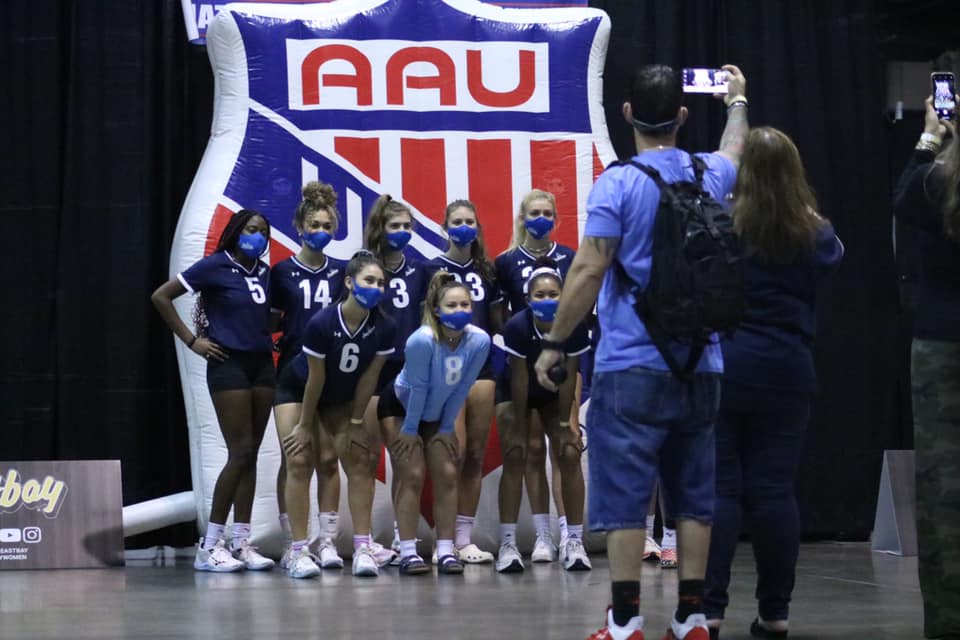 While no spectators were allowed for the event, AAU did allow an exception to its typical limit of three chaperones per team. This year, each team could have up to 10 chaperones, although those people were required to wear masks while on the sidelines. The organization also reduced the cost of its BallerTV video streaming platform for parents who could not attend, with parents getting access for $25 from cameras placed on every court.
Among other changes in place this year were that no international teams were invited to participate. AAU also canceled an opening ceremony to limit the number of ancillary events. Handshakes with opponents were also banned and gifts between teams were discouraged.
In addition, players were required to bring their own water as opposed to having water supplied to them at different stations. "It's those kinds of flash points we were trying to avoid," Goudy said. Concession stands in the convention center were open, but Tester said efforts were made to space them out to avoid lines. Sneeze guards were also added to the areas to protect workers.
Overnight Cleaning
Meanwhile, organizers stepped up cleaning procedures beyond the courts being disinfected between sessions and game balls sanitized between each match, all of which also occurred. In addition, any ball that left a court and was touched by someone not on that court was disinfected.
The OCCC contracted with United Maintenance at the convention center's expense to do a thorough disinfection each evening, a process that included electrostatic spraying of all surfaces.
Extra efforts were also made during the day not only to clean high-contact areas, but to make sure those cleaning crews were visible. Tester said in normal times, those efforts are purposefully out of sight of event attendees. But in the new landscape, people wanted to see the crews visibly cleaning high-touch areas.
"We had them way more visible, out cleaning doorknobs and handrails, high-touch areas," Tester said. "It made people feel more comfortable."
Business Bouncing Back
The experience with AAU was crucial for the OCCC, which immediately after the competition staged its first trade show, the Together Again Expo, which began July 24. That event was attended by 1,405 people in person and another 8,000 online. Seeing how important it was for AAU participants to have cleaning crews visible proved valuable to Tester's staff, he said. "It validated our thought that we should have those people out wiping down areas that are much more visible," he said.
Tester also was thrilled to see local businesses near the convention center coming back to life. He recalled he and his wife going out to dinner during the AAU event to a restaurant near the convention center, only to have to wait because volleyball teams and their parties were taking up the socially distanced tables in the restaurant. "We placed our drink order and our meal order and the guy came back a few minutes later and said, 'Our kitchen is backed up, it will be about 10 minutes.' We said, 'We are so happy to keep you rocking and busy, that is absolutely OK.'"
Goudy said he experienced something similar when a man hanging a banner at the convention center thanked him for bringing an event back to the building. "That's almost cathartic to me to have someone behind the scenes that no one sees saying thank you," Goudy said.
Should They Have Played?
For AAU, there was always a question of should the organization proceed with the event at all with divisions ranging from 12-and-under to 18-and-under. No other indoor youth sports event is believed to have had as many people as the AAU event since the pandemic began, and certainly not in a COVID hot spot.
To that, Goudy noted the event was smaller in scale for a reason: Parents and teams did not have to attend. "What I say to that is what I used to say as a school superintendent," he said. "If you don't feel comfortable for your child to come, you shouldn't come. I respect those opinions and feelings of parents because the most precious commodity any parent has is their child. We would support the notion of the parent that didn't want to come. But we've proven that volleyball can be played in a safe environment. We established that over the past week."
He also believes the organization could have accommodated even more teams because of the space available at OCCC. But even with the numbers the organization saw, Goudy said the AAU was comfortable with its decision to continue with the event.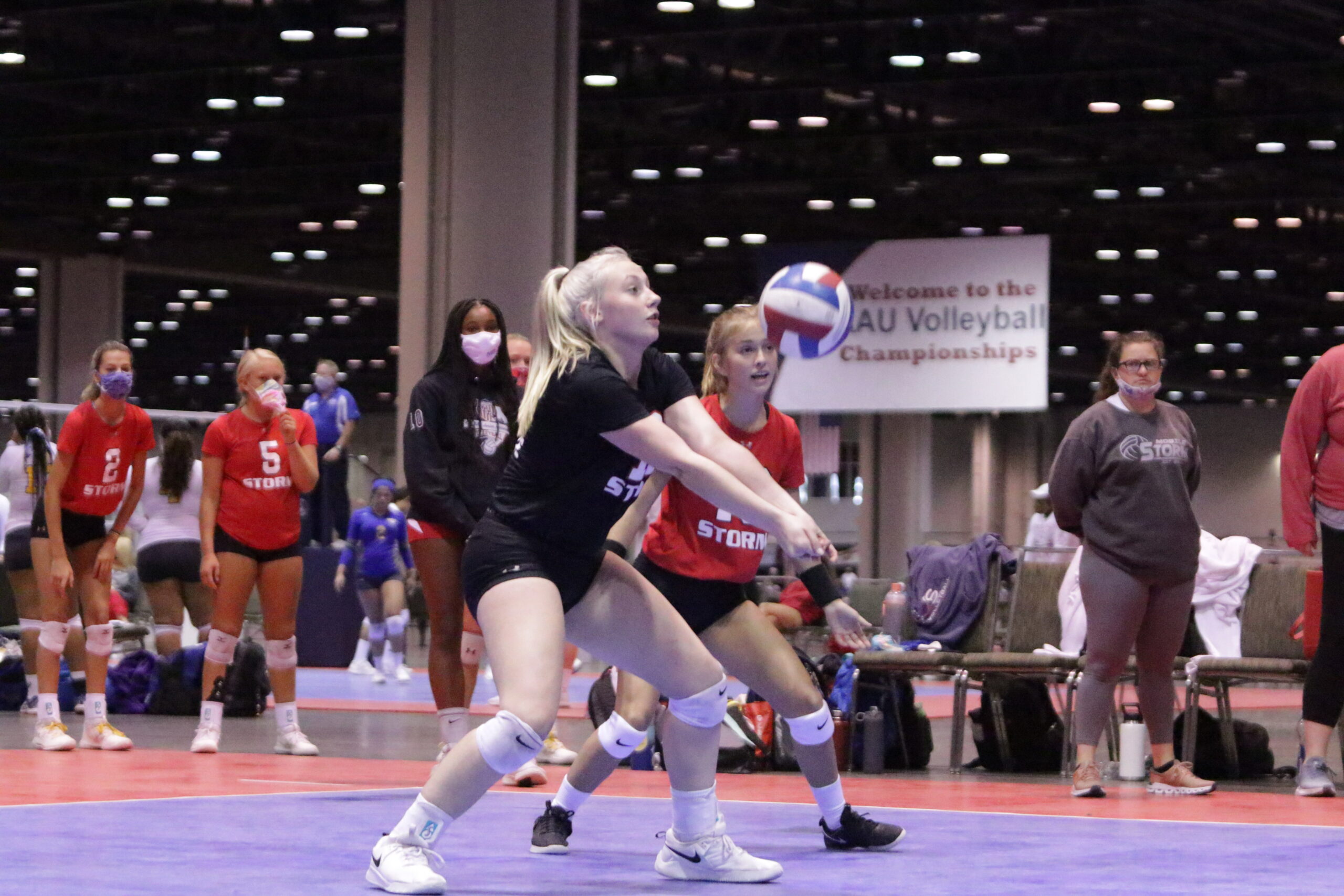 "We're trying to get back in the game and run this responsibly and effectively," he said. "We're always going to have critics no matter what we do. But if we're doing it responsibly, I can sleep at night."
Tester said the event was crucial from the venue's standpoint because of its visibility. The OCCC has 30 more events booked through the end of the year. "Certainly as far as the importance of us getting going, there was probably no more important event," he said. "We really were the first big facility to have a significant-sized event. A lot of people in the industry were watching. They wanted to figure out how we were doing it. Everyone is sharing best practices."
From the venue's end, Tester said the event was considered a success.
"We are really looking forward to having them back in 2021 and having 40,000 athletes versus 10,000—that will be great," he said. "It was a good celebration but having them back at full strength will be an even greater one."