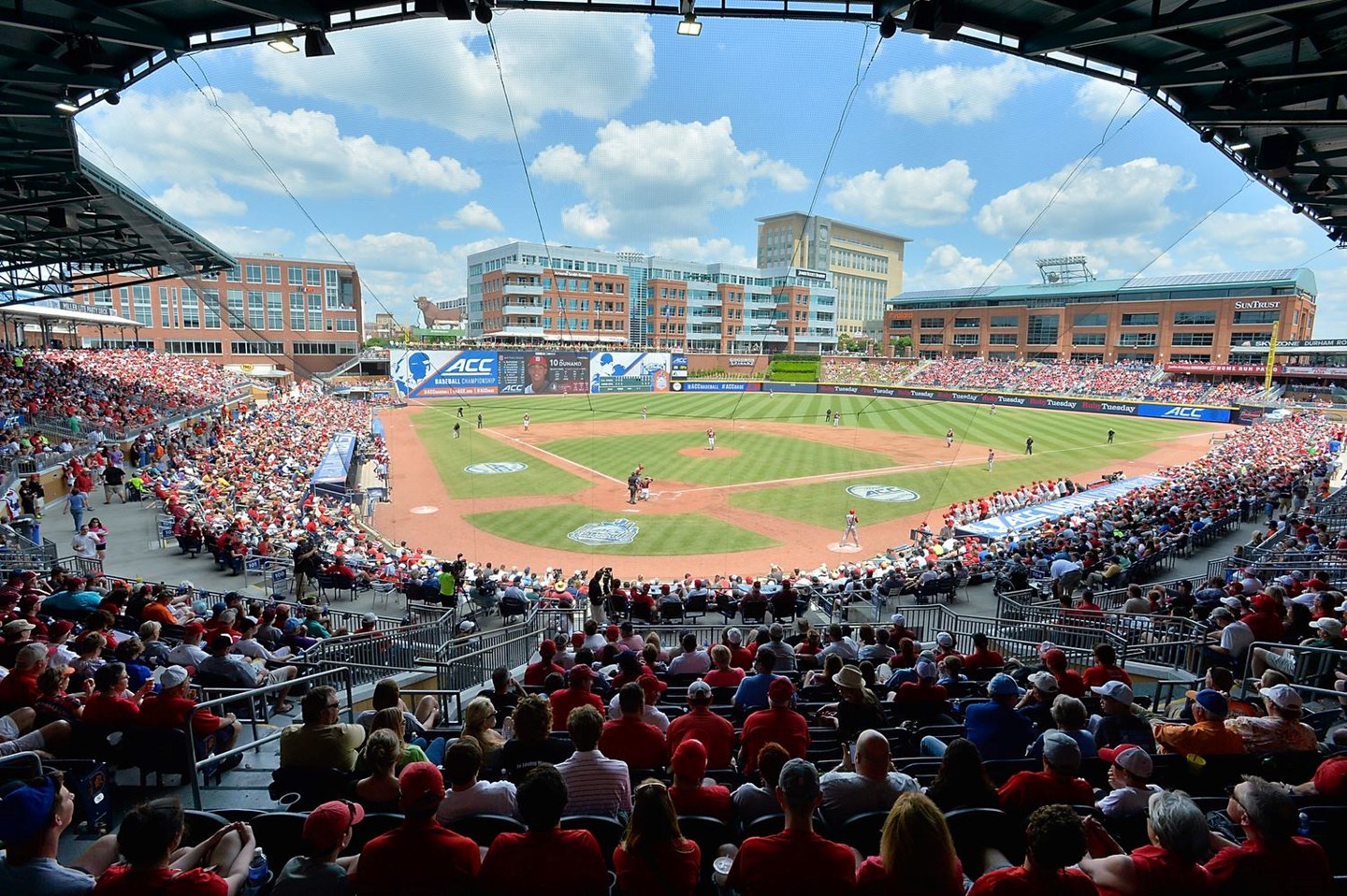 The Atlantic Coast Conference and Durham Bulls have announced the ACC Baseball Championship will return to Durham Bulls Athletic Park in 2023. The 12-team tournament will be held next May 23–28.
The city of Durham has hosted the ACC Baseball Championship 12 times previously, including seven of the past 13 tournaments.
"There's terrific excitement surrounding our return to Durham for the 2023 ACC Baseball Championship," said ACC Commissioner Jim Phillips. "Our teams and fans always appreciate the first-class experience at the Durham Bulls Athletic Park and we've not only set attendance records, but have enjoyed some of the most exciting games in the history of the ACC Baseball Championship. The Durham Bulls are amazing partners and we are looking forward to another outstanding event."
"We are proud to once again partner with the ACC to bring its baseball championship to Durham Bulls Athletic Park and the Triangle to showcase the best college baseball in the country," said Durham Bulls Vice President Mike Birling. "The DBAP has hosted many memorable moments in ACC Championship history and we look forward to continuing that in 2023."
For the first time in tournament history, ACC Network will carry all games played May 23–27, while ESPN or ESPN2 will continue to carry the championship game.
"Each championship event is a unique opportunity to showcase Durham as a championship hub, particularly when such a premier event returns for a remarkable 13th time," said Marcus Manning, executive director of the Durham Sports Commission. "It's also a demonstration of the Durham Bulls' leadership and continued commitment to hosting events that have a wide-ranging impact on Durham and the Triangle area. The DSC is very excited to have this event back in Durham."
Durham Bulls Athletic Park has played host to the ACC Baseball Championship 10 times previously, most recently in 2019. The 2023 tournament will be the ACC's 49th Baseball Championship and the 25th played in North Carolina.