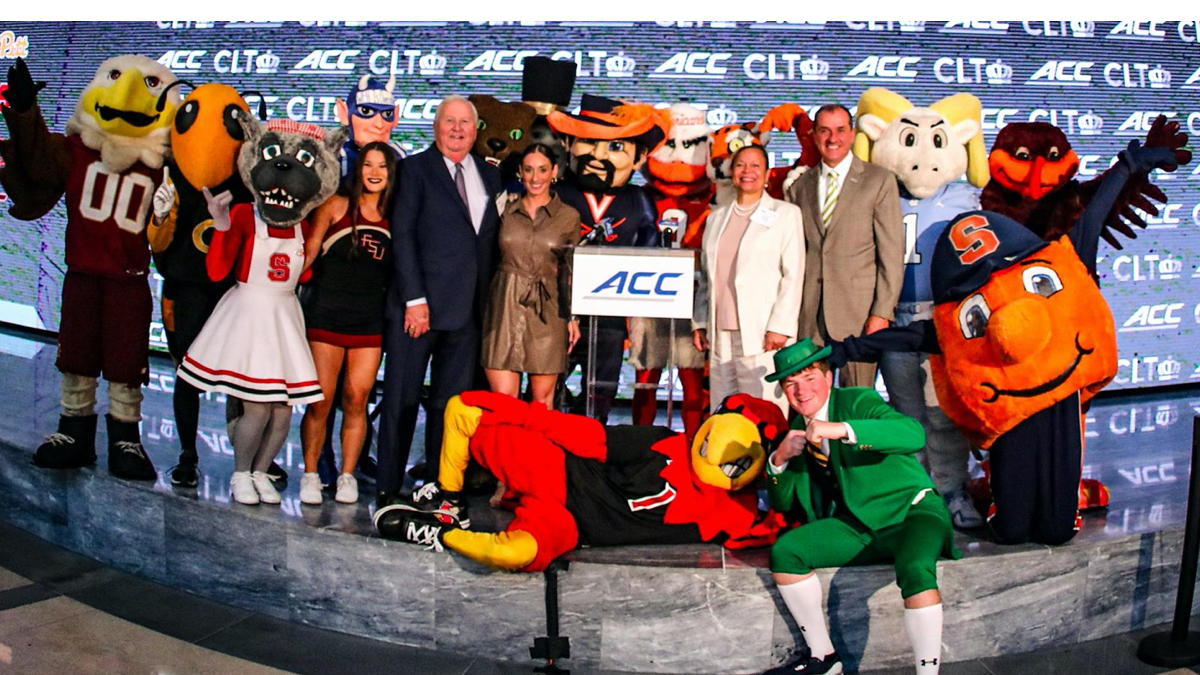 The Atlantic Coast Conference officially announced its new home in Charlotte, raising the conference flag and flags of all 15 member institutions at a ceremony at the new office headquarters, Legacy Union's Bank of America Tower in Uptown Charlotte.
"It is a historical day for the ACC as we are welcomed to the Queen City," said ACC Commissioner Jim Phillips. "This has been a journey over the last 18 months and we are thrilled to be joining the Charlotte community. We are honored and proud to call Charlotte the home of the ACC."
The ACC Board of Directors announced on September 20, 2022, that the conference office was relocating its headquarters to Charlotte in 2023. The ACC was based in Greensboro, North Carolina, for the previous 70 years.
"I am proud to be the mayor of this wonderful city and I'm honored today to be able to raise the City of Charlotte's flag in the ceremony," said Charlotte Mayor Vi Lyles. "I want to say to each of you who are participating in this, on behalf of our entire community we welcome the ACC leadership, the staff, the coaches, the players and fans. We're thrilled to have the following of the ACC and host the conference headquarters in our great city."
The ACC and Charlotte have a longstanding partnership that includes the Queen City hosting a significant number of ACC events and championships. In April 2018, the ACC and the Charlotte Sports Foundation announced a 10-year agreement that keeps the ACC Football Championship Game in Charlotte through the 2030 season.
The ACC Men's Basketball Tournament has been played in Charlotte on 13 occasions, including in 2019 at the Spectrum Center. The 2021 and 2022 ACC Baseball Championships were played at Truist Field and the league has participated in the Duke's Mayo Bowl since its inception in 2002.
"We always look forward to having a great addition, like the ACC, in Charlotte," said Johnny Harris, chief executive officer and chairman of Lincoln Harris. "Few organizations have played a greater role in elevating our region's presence than the Atlantic Coast Conference. We are excited that our city will be called home to the ACC moving forward."