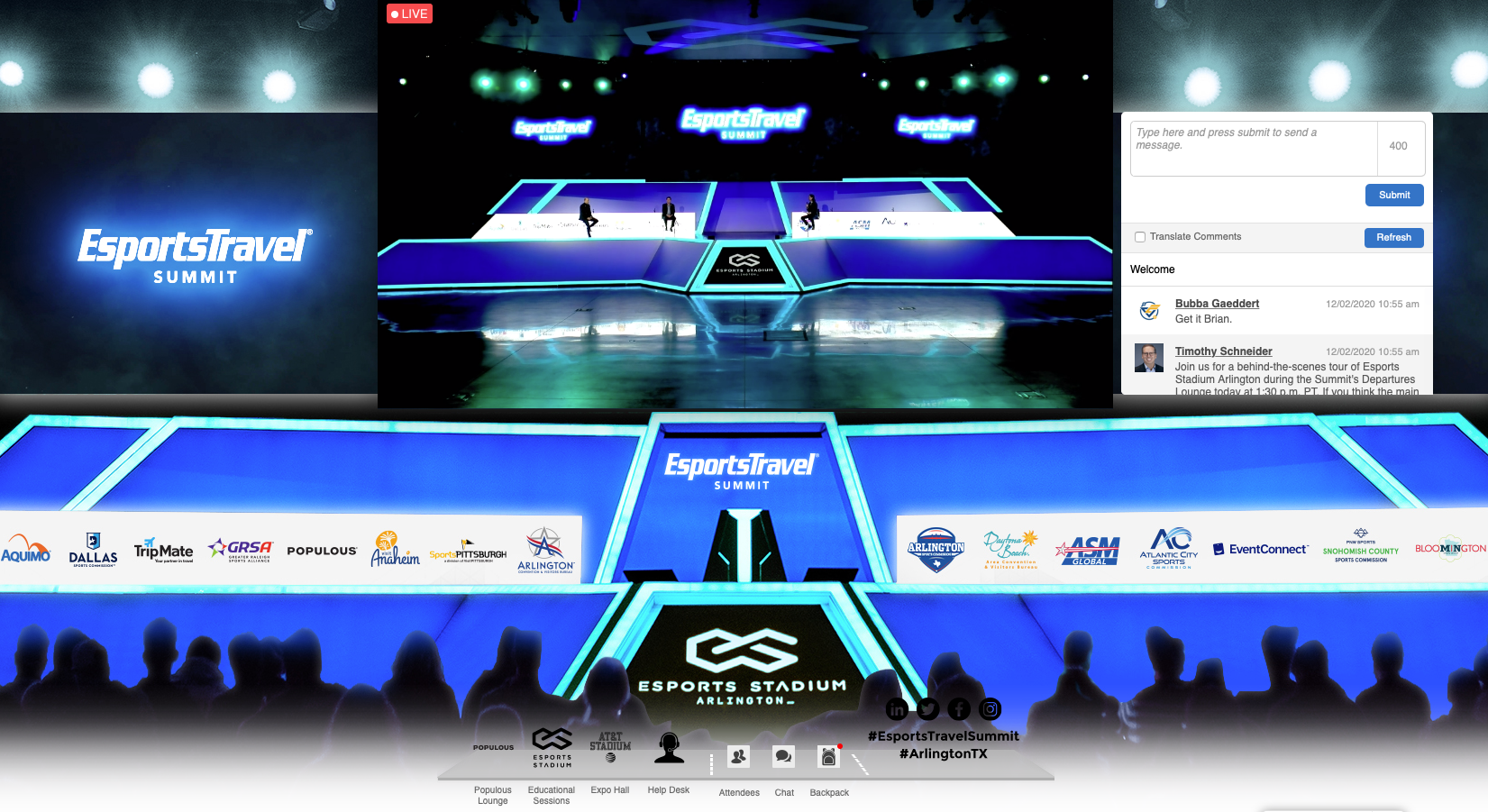 Arlington, Texas, hosted the World Series this year at the new Globe Life Field and its AT&T Stadium is annually home to some of the biggest college and pro football games of the year.
Alongside those iconic venues is another in its own right — Esports Stadium Arlington, which opened in 2018 after a $10 million public-private renovation of the city's convention center and is the largest esports-specific venue in North America. And on December 2–3, it was the virtual home to the EsportsTravel Summit, which is designed to connect the esports industry with the travel and hospitality industry with a focus on live esports events.
Panelists during the first day of the EsportsTravel Summit described how having a state-of-the-art venue for gaming and esports has transformed the Arlington market. The idea was sparked when a local university team won a national championship in esports while a consultant hired by the city was advising an investment in infrastructure to support the growing movement.
"We wanted to get into this industry and we moved quickly to do it," said Arlington Mayor Jeff Williams, who noted that a company that was recently expanding into Arlington wanted to see how it could start its own corporate esports leagues at the venue after it opened. "One of the things I'm extremely excited about is this being an attraction for our many talented young people staying here in our city, and being able to attract talent and businesses."
The session also included Neil Leibman, co-owner, president and COO of the Texas Rangers, and Brian Mirakian, principal at Populous. Leibman, one of the owners of the Immortals esports company, helped finance the renovation and Mirakian was the architect who transformed the venue into an esports stadium. The session was moderated by Jonathon Oudthone, the president of Esports Stadium Arlington.
Leibman recalled how once he first heard about esports, it was his son that showed him the possibilities and what it meant to reach a younger demographic. "This was a thing I needed to be invested in and I'm glad that I have," he said. "We've seen unprecedented growth in players, viewership, economics and everything surrounding esports."
"This was a thing I needed to be invested in and I'm glad that I have.
We've seen unprecedented growth in players, viewership, economics and everything surrounding esports."
Neil Leibman, Texas Rangers
Once Leibman decided he wanted to invest into esports, he knew he needed a venue as well, which is how Esports Stadium Arlington came to be. Since Arlington had plans to develop a new convention center in the near future, the existing convention was ripe for reuse. The 100,000-square-foot venue is now the largest dedicated esports facility in North America and can host up to 2,500 spectators for professional events.
"It has become a venue that's unsurpassed worldwide," Leibman said. "Esports transcends all sports."
Once Leibman started pushing for the chance to have a unique complex in the region, Mirakian visited the convention center space and was immediately intrigued by the possibilities.
"This place has it," Mirakian remembers thinking. "The word that comes to mind is versatility — that was such a critical factor as our design team embarked on this project was to create a venue that was versatile and could host a myriad range of events. It was so critical to look at this wide, dynamic range of programming that allows a facility like this to be effective in terms of generating revenue."
Williams said the city's early adoption of esports has been to the destinations benefit. "What an opportunity to get into one of the world's fastest-growing industries," he said. "The opportunity to have an exciting sport in Arlington, Texas, which has become the sports and entertainment capital of our nation."
Franchising and Localization: The Post-Pandemic Outlook
Another session at the summit delved into the trend of professional esports to adopt the franchise and city-based team models that have dominated traditional sports for generations. Before the onset of the coronavirus pandemic, professional esports leagues were having success moving to a franchise model with teams playing in home venues in front of local crowds, especially as the Call of Duty League's first home event was in Minneapolis in February with a sold-out crowd.
But as leagues were forced to make the move back online in 2020 during the pandemic, team owners also had to contemplate what the future holds for this model and if there will be continued growth in new markets. Two expert panelists at the summit were bullish about the possibilities.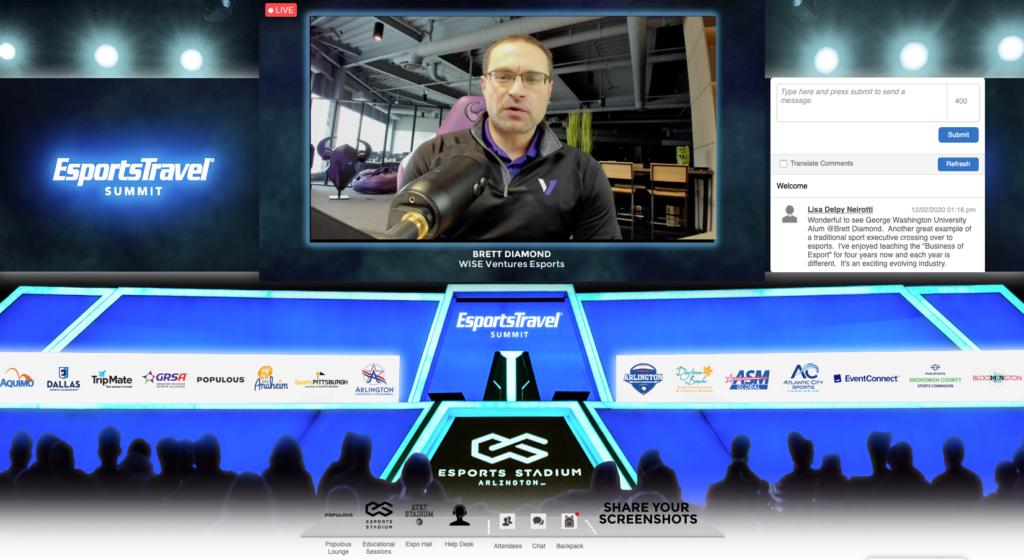 "If I was leading a sports tourism entity, I'd be thinking a lot about esports," said Brett Diamond of WISE Ventures Esports, which owns the Minnesota Rokkr in Call of Duty League. "It's a very young audience, and an audience that may be more willing to travel" once the pandemic begins to dissipate.
Diamond's group hosted the league's opening event in 2020. But in addition to the sold-out crowd and Minneapolis Armory, a renovated venue that once hosted the NBA's Lakers, the team was seeing success with watch parties for fans and other live components that left Diamond with a good feeling for the future. As for the future of the league, Diamond said, "Last year was year one of forever. This is not a three-year thing or five-year thing, it's a 20-year-plus thing."
"If you're a chief marketing officer or have anything to sell and you're not thinking about gaming, then you're failing, I would argue."
Christopher Overholt, OverActive Media
Christopher Overholt, whose OverActive Media group in Toronto owns the city's franchises in Call of Duty and Overwatch, agreed. Destinations, he said, should view esports as an essential part of the sports landscape in the future.
"There's a whole generation of fans that think differently about sports and about media," he said. "If you're a chief marketing officer or have anything to sell and you're not thinking about gaming, then you're failing, I would argue. I personally think there's going to be a massive upside for gaming in our future."
Esports 101: Understanding the Market
One of the valuable components of the EsportsTravel Summit is that for attendees who are still trying to get a better understanding of the esports and gaming markets, there are sessions tailored to breaking into the space. One of the opening day's sessions was focused on how the industry differs from traditional sports, who the key players are, where to begin and how other cities have approached the space.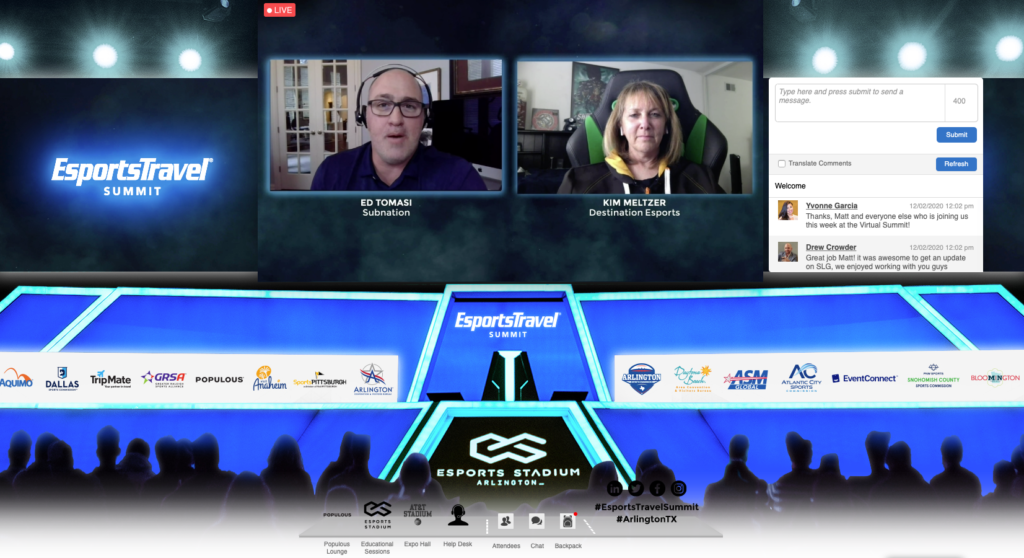 "(Esports) is something that's not going away," said Ed Tomasi of Subnation. "This is a new sport to some but to others that have been gaming for 10-plus years, this is their sport. This is something that's part of our culture here in North America and I think that if you invest the time, that time will be well spent and be a great investment for your organization."
To that point, Tomasi showed the economic impact of an event that his organization helped organize in February in Cary, North Carolina. The event had more than 700 attendees with $69,478 in direct attendee spending. Forty-six percent of the economic impact was from out-of-market visitors.
"One of the things that is most important is de-mystifing that esports is sports," said Kim Meltzer of Destination Esports. "From a perspective of fandom, it's a lot like other sports but it's also very different. Esports fans look at things differently than your regular sports fan who goes to a stadium."
Who Will Control Esports?
In addition, Vlad Marinescu, president of the U.S. Esports Federation and International Esports Federation, broadcast his message emphasizing that esports should be recognized as an athletic pursuit akin to any other professional or amateur competition. The ISEF is one of two main international organizations seeking to be the international federation or governing body for esports with the potential for esports to one day be included on the Olympic program. The International Olympic Committee has studied esports' future at the Olympic Games in the past, although the organization continues to hold the movement at arm's length.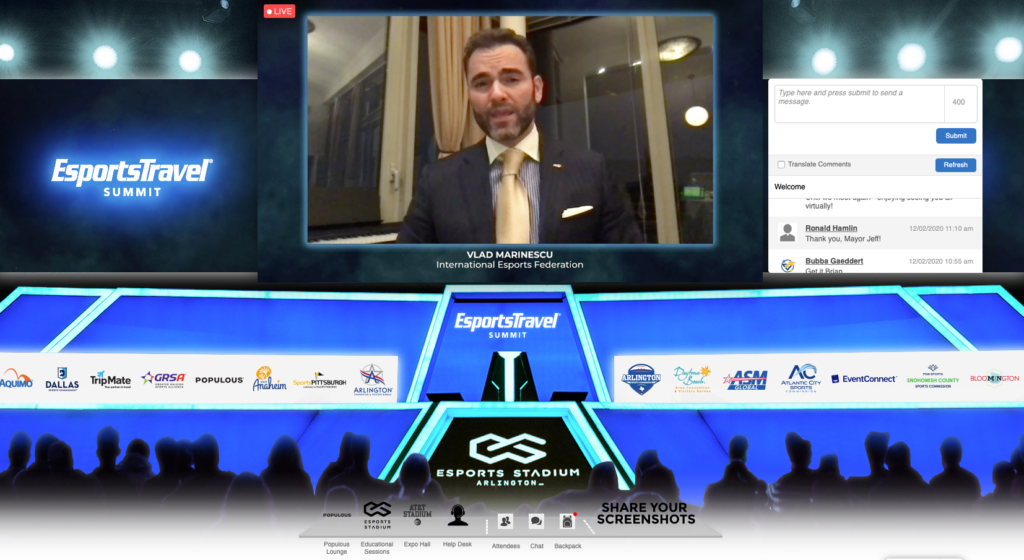 "The only people in the world that can make that decision is the International Olympic Committee," Marinescu said of esports' potential inclusion. "From the esports community point of view, half of the people involved in esports don't want to be involved in the Olympic Games and don't mind which way it will go. The other half are interested and want to be involved."
DEI and the Future of Esports
Diversity, equity and inclusion issues have been a major point of emphasis in nearly every industry this year, but especially in esports and gaming.
"One thing that is a challenge for every city is how do we increase economic impact?" said Dr. Marc Williams, commissioner of The Yard: HBCU Esports Alliance during a panel discussion on DEI in esports. His new organization, which is working with Collegiate Star League, is planning to bring both esports competition and academic opportunities to HBCU schools. "We're excited about the approach that we're taking. … Every city is trying to figure out how to diversify a city and bring a city value. Esports is a wonderful way to do that."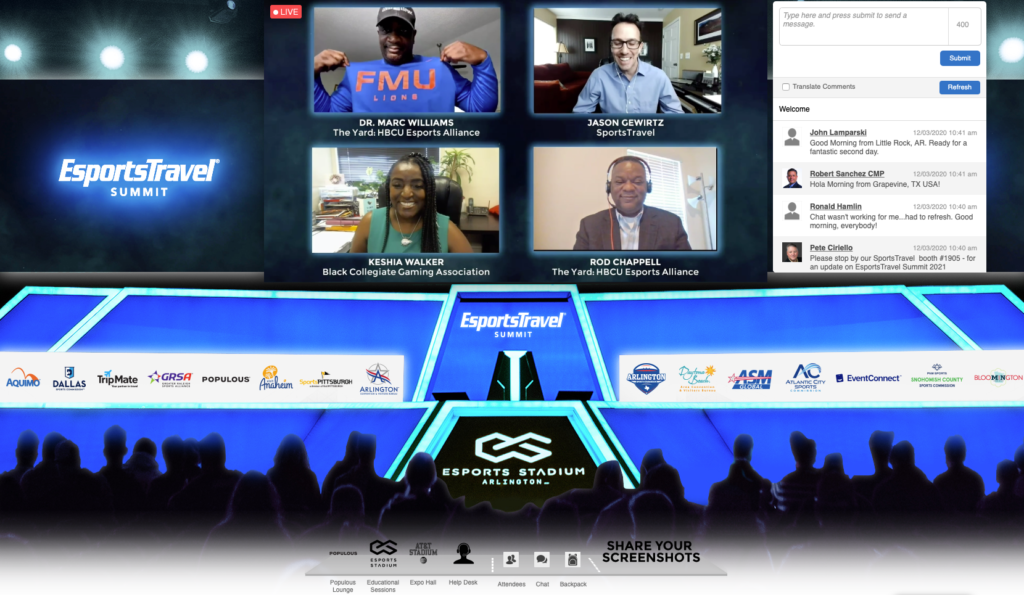 The Yard's associate commissioner and general manager, Rod Chappell, described the organization's four pillars as competition (game play), education (esports curriculum), research (game play development) and pipeline (developing an esports workforce).
"All of this drives the overall mission, which is diversity, equity and inclusion but also workforce development," Chappell said. "We want to make sure there are jobs on the other side for all the education that we are supporting them on."
And destinations are increasingly working with the country's HBCUs with the goal of having an impact on the industry overall in years to come.
Keshia Walker, founder of the Black Collegiate Gaming Association, which is building an infrastructure for HBCU students to gain careers in esports, said, "once we get back into live events, the solar system is the limit because then we can give (students) hands-on experience to produce events and activities throughout the year on the campus level and through our amazing organizations."
The Sponsorship Landscape for Esports Tournaments and Events
With people feeling more optimistic than ever that the COVID-19 pandemic may come to an end in 2021 once vaccines are readily available, there will be opportunities for those in the sponsorship business of live events to activate in different ways.
"What COVID has forced all of us to do is redefine how we talk about events," said Joe Barnes, head of esports at Anheuser-Busch InBev during a discussion on the sponsorship landscape. He pointed to one event this year on Twitch where his company was able to reach 9.5 million consumers, multitudes more than they would have for an in-person event.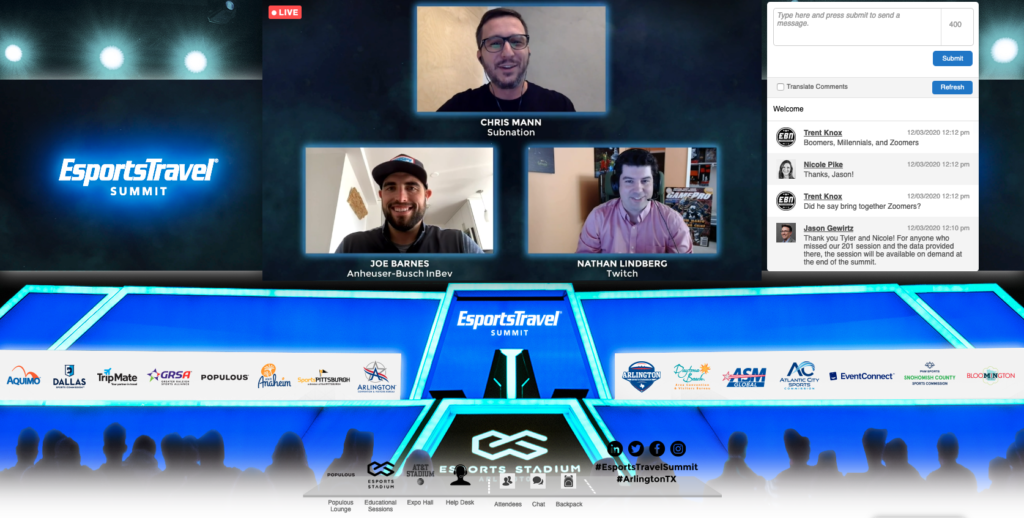 "In-person events are going to be critical and always have been," Barnes said. "There's a lot of very cool things that we can do next year when fans come back and I can reach 20,000 people in person and 9 million more on Twitch."
That also plays into the long-term strategy for Twitch Regional Vice President for Global Sponsorship Nathan Lindberg, who along with Subnation's Chief Operating Officer Chris Mann was also on the panel.
"The desire is to still get together in-person," Lindberg said, "but now brands and markets have this opportunity to look at what they've done for almost 12 months now and how this can change how we have experiences online as well as the value you can have on site."
And being able to mix virtual and in-person will be the future going forward for those destinations and organizations who want to bring added value for sponsors.
"I think everybody has the perception that esports and gaming is COVID-proof and that's not the case," Lindberg said. "With that said, esports has been able to be COVID resistant and take their experiences that are in-person activations and have them come across in virtual experiences. … That to me is the forward-looking solution that the travel and hospitality industry should be looking at."
The Future of the Events Industry
The travel industry has experienced a year unlike any in its known history, U.S. Travel Association President and CEO Roger Dow said. Dow also described how the industry has responded to the crisis, what needs to happen for recovery, and the role esports and sports-related travel will play in reviving the hotel and travel industry.
"The travel industry has a phenomenal impact not only on our industry but the nation as a whole," said Dow, adding that the industry has experienced a downturn of $510 billion this year. But during the ongoing lame-duck session in Washington D.C., the USTA is hoping to get COVID relief extended for the travel industry.
"We've got to get it to the DMOs, the PPP programs, get the politics behind us and get the industry the relief it really needs," Dow said. Once the Great Recession was over, there were 120 straight months of increased travel industry revenue and in a post-COVID world, "I think we're going to get back sooner than anybody thinks," Dow said.