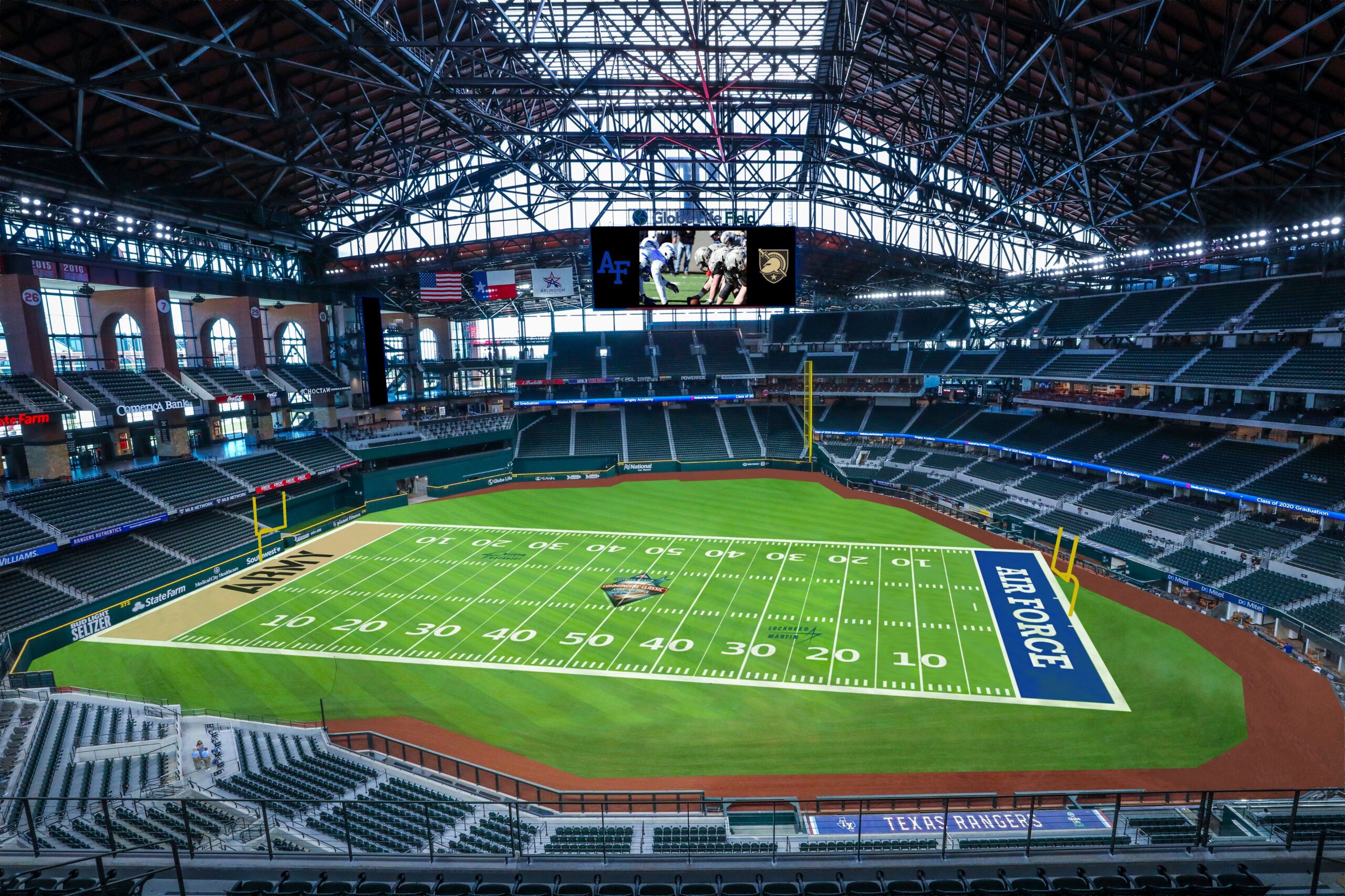 The Lockheed Martin Commanders' Classic annual college football game between the Air Force Academy and the Army will be moved to Globe Life Field in Arlington, Texas, for the 2021 and 2022 seasons, the first time that the home of the Texas Rangers will host a football event.
The two-year agreement begins on November 6, 2021 with Air Force as the home team. Army will be the home squad for the November 5, 2022 game. Capacity for the game is expected to be approximately the same as its baseball setup (40,518).
"We are honored to have Air Force and Army play the inaugural football game at Globe Life Field," said Texas Rangers Executive Vice President of Sports & Entertainment Sean Decker. "Honoring our military heroes is very important to the Texas Rangers, and we expect the environment and other activities surrounding this great matchup will make for a very exciting weekend in Arlington.
The announcement was made before Saturday's game between the two teams, won by Army. Air Force leads the all-time series, 37-17-1. The Falcons and Black Knights have played three times at a neutral site, 1959 (13-13 tie) in New York's Yankee Stadium and 1963 (Army, 14-10) and 1965 (Air Force, 14-3) at Chicago's Soldier Field.
Globe Life Field opened this year and is the home of Major League Baseball's Texas Rangers, which played 30 games in the park without fans in the abbreviated 2020 season. The facility also hosted 16 Major League Baseball postseason games, including the World Series.
"I can't think of a better inaugural matchup to commemorate Arlington's incredible love and appreciation for our military than Army and Air Force and I can't wait for another opportunity to showcase Globe Life Field's versatility as one of the best new venues in the country," Arlington Mayor Jeff Williams said.