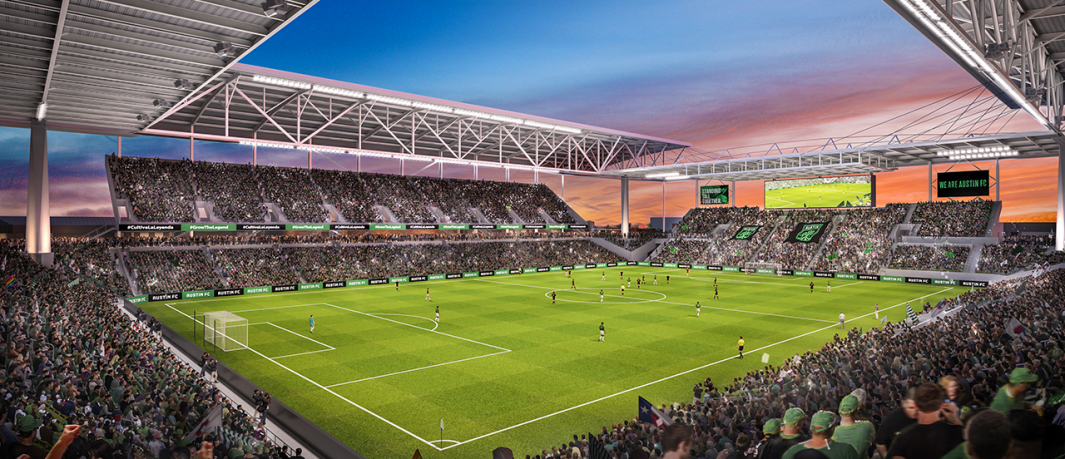 The latest Major League Soccer stadium groundbreaking got underway this week as Austin FC put shovels in the dirt to start construction on its $242 million stadium that will open in April 2021 when the team enters MLS.
Austin FC CEO Anthony Precourt, MLS President and Deputy Commissioner Mark Abbott and Austin Mayor Steve Adler were among the dignitaries on hand, including a group of team staffers, city and county officials and members of Austin FC's already-established supporters group.
"We want a team, we want a stadium, and we want an experience that helps us grow the legend that is Austin, Texas, for all of us who call this place home," said new Austin FC investor and "Minister of Culture" Matthew McConaughey, officially announced in the dual role two weeks ago.
The yet-unnamed stadium will eventually be part of a larger soccer park area with public spaces. It is being privately financed under an agreement between the team and the city of Austin; the city will own the stadium on city-owned land near a shopping center and office center called the Domain.
MLS awarded its 27th franchise to Austin in January 2019. The owner, Precourt, is the former owner of the Columbus Crew, which nearly moved to Austin before it was sold to local investors; Precourt then worked to get an expansion team in Austin, which has announced former U.S. international player Josh Wolff as its first head coach.
Austin FC has opened offices in North Austin and has set up an "Experience Center" for those interested in being a season-ticket holder. The center offers a tour of the future stadium in virtual reality. The complex will seat 20,500 with a grass surface and canopy roof to cover all of the seats for when games are played in the summer Texas heat.
Austin fans will be able to check on the stadium's progress via a construction cam the club installed. The stadium is about 10 miles north of downtown Austin and within three miles of the geographic center of the Austin metro area.