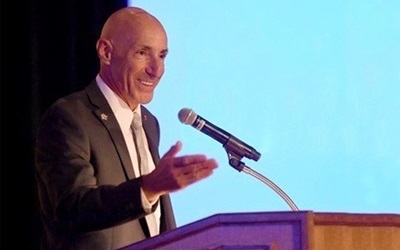 USA Team Handball has named Barry Siff as its chief executive officer, effective immediately. Siff will succeed Michael Cavanaugh, who will remain on staff as operations director, working with Siff to align the national governing body's policies and procedures with USOC programs and manage domestic and international competitions.
Siff has experience in the Olympic movement having served as the volunteer president of the USA Triathlon board of directors from 2014–2019. He resigned from that board position earlier this month to take on the full-time position at USATH.
"I first saw team handball live at the 1996 Atlanta Olympic Games, and my love and respect for the sport has stayed with me over the years," said Siff. "I believe it is a sport made for American athletes—fast, physical, high scoring and requiring great athleticism—truly a formula for America's next great sport. As recently as the Olympic Games Rio 2016, I shared my passion and hopes for the sport with both Thomas Bach, IOC president, and Hassan Moustafa, International Handball Federation president, and I am thrilled to now have the opportunity to lead this organization."
The USA Team Handball board of directors has been working to implement a strategic plan that was outlined in August 2018. That plan called for hiring a CEO who can help grow the sport at the highest and grass-roots levels through development activities, marketing, fundraising and solid leadership.
"Barry brings extensive experience in effectively collaborating with the U.S. Olympic Committee and international federations, and there is no doubt his passion and drive will help us move team handball forward," said USA Team Handball Co-Chair and President Bob Djokovich. "The board looks forward to working with Barry to accelerate the growth of our sport."
"Barry brings a valuable skill set and a lot of enthusiasm to USA Team Handball," said Rick Adams, USOC chief of sport performance and NGB services. "We welcome him to the NGB community in his new role and look forward to working with him to achieve his goal of strengthening USA Team Handball on and off the field of play."
In addition to his work at USA Triathlon, Siff had a career in the corporate business world, serving as senior vice president of ConAgra. He left there in 1998 to form 5430 Sports, an event management company in endurance sports that he later sold to Ironman.