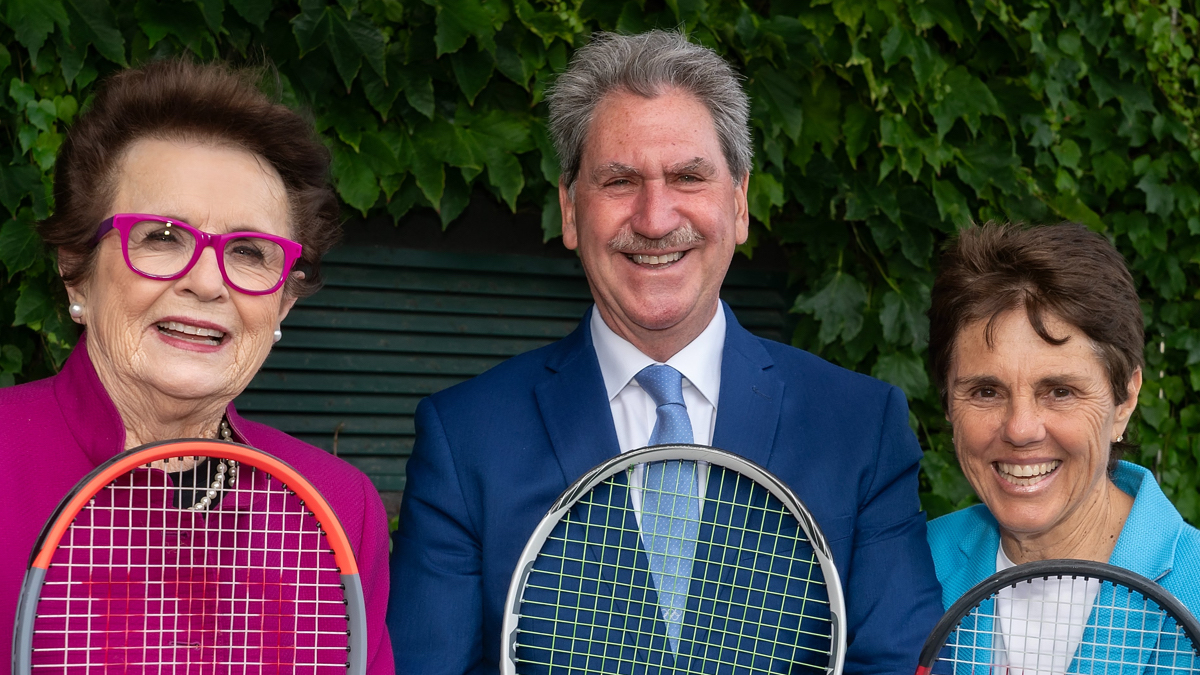 The International Tennis Federation and TWG Global, a holding company led by Los Angeles Dodgers principal owner Mark Walter that includes tennis and women's sports legend Billie Jean King, signed a partnership agreement Thursday for a joint venture to market and promote the women's tennis competition that used to be called the Fed Cup and was re-named to honor King in 2020.
"We want the Billie Jean King Cup to have a positive, lasting sporting and social impact on all 211 ITF Federations," King said. "This competition has always been a powerful platform for the global growth of women's tennis and with this news we are committed to having a bold, historic and lasting impact for generations to come. We are thankful to Mark Walter and TWG Global for their investment. The goals of TWG Global, BJKE and ITF are completely aligned and we will work together to build on this event's incredible 60-year history to achieve an even greater future for women and women's sports."
The new entity will be called Billie Jean King Cup Limited, with the ITF holding 51% and TWG Global 49%. It will seek new sponsorships and broadcast and commercial partnerships. Both the ITF and TWG Global have longstanding relationships with BJKE and its co-founders King and Ilana Kloss, the former commissioner of World Team Tennis. 
"It is thrilling and fitting in its 60th year to announce a unique partnership for the Billie Jean King Cup formed by people who have worked in sports and tennis all their lives," International Tennis Federation President David Haggerty said. "This joint venture will be overseen and operated by leaders who bring vast knowledge, experience and shared passion to the global development our sport and who hold a remarkable track record in growing women's tennis. This is a new way of operating the Billie Jean King Cup and establishes a sustainable business model, ensuring that we have greater means to make a positive contribution towards growing grassroots tennis and achieving gender balance in our sport both on and off the court. It's just the latest step in our commitment to elevating the largest annual women's team competition in sports and our promise in 2020 to make it bigger, better, bolder."
This year's Billie Jean King Cup Finals will be held in Seville, Spain, on November 7-12. The United States will be one of the 12 teams in the finals after advancing by beating Austria in April in The Palm Beaches, Florida. For the second year in a row, the champions will receive the same prize money as the winners of the men's Davis Cup. Switzerland, last year's Billie Jean King Cup champion, took home a $2 million prize.
"We now have a significant opportunity to elevate the Billie Jean King Cup with this investment and a team of people working on this property every single day," Kloss said. "This is a long-term partnership and it allows us to build the event on multiple levels and make sure we have all of the elements in place, so that it continues to be the preeminent global team competition not only in tennis, but in women's sports. The Billie Jean King Cup is a strong platform to elevate equality and women. Our goal is to help more women secure senior leadership and board positions with all ITF federations; have more women in media so that our story is told around the globe; and to have more women as officials."