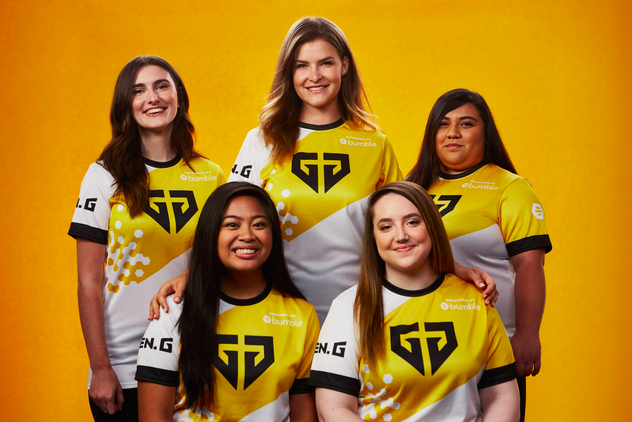 The drive to get more females involved in esports took another leap forward when Bumble and Gen.G announced that they will form the first all-women esports team, Team Bumble, that will compete in Fortnite tournaments around the world.
The partnership between Bumble, which promotes itself as a women-first social networking app, and Gen.G, an esports organization that fields teams in several leagues and titles, is aimed at targeting new platforms that can be empowering in the gaming community. Bumble will add a "gaming" badge that users can showcase on their profiles, and gamers on Bumble can filter matches to find other gamers to connect with.
Bumble will also be an official partner for Kristen Valnicek, Gen.G's head of new gaming initiatives, as well as partner to a network of hundreds of women gamers and streamers organized by KittyPlays. Gen.G and Bumble will develop custom content and deploy a series of activations including co-hosted events and live-streaming opportunities.
"Bumble is a visionary company in technology, media, women's empowerment, and facilitating human connection, which perfectly aligns with my own vision of inspiring positivity and empowering my audience," said Valnicek.
The Team Bumble esports team will consist of professional Fortnite players and a select group of gaming influencers. Gen.G and Bumble will also co-develop merchandise for the Fortnite team and other Gen.G championship teams, plus have a dedicated streaming room for Team Bumble at the Gen.G training facility in Los Angeles.
"Our mission at Bumble is to empower women around the world, and we're proud to partner with Gen.G to continue expanding into the esports and gaming communities," said Chelsea Maclin, vice president of marketing at Bumble. "We're trying to support the women who are already building incredible communities in gaming. We've built strong communities through Bumble and Gen.G and we're excited to work together to help bring the gamer community together in real life. Together with Gen.G, we want to empower women trailblazers and make it easier for them to connect with their community whether it be through dating, friendship or networking."
The partnership comes on the heels of Gen.G's recent $46 million fundraising announcement.
"Here at Gen.G we really pride ourselves on providing the best resources and support for all of our pro players—regardless of their gender," said Saira Mueller, head of U.S. content for Gen.G and the founder of the Women of Esports Foundation. "I'm excited to see where Team Bumble takes them and how it shifts the narrative for women in esports as a whole."