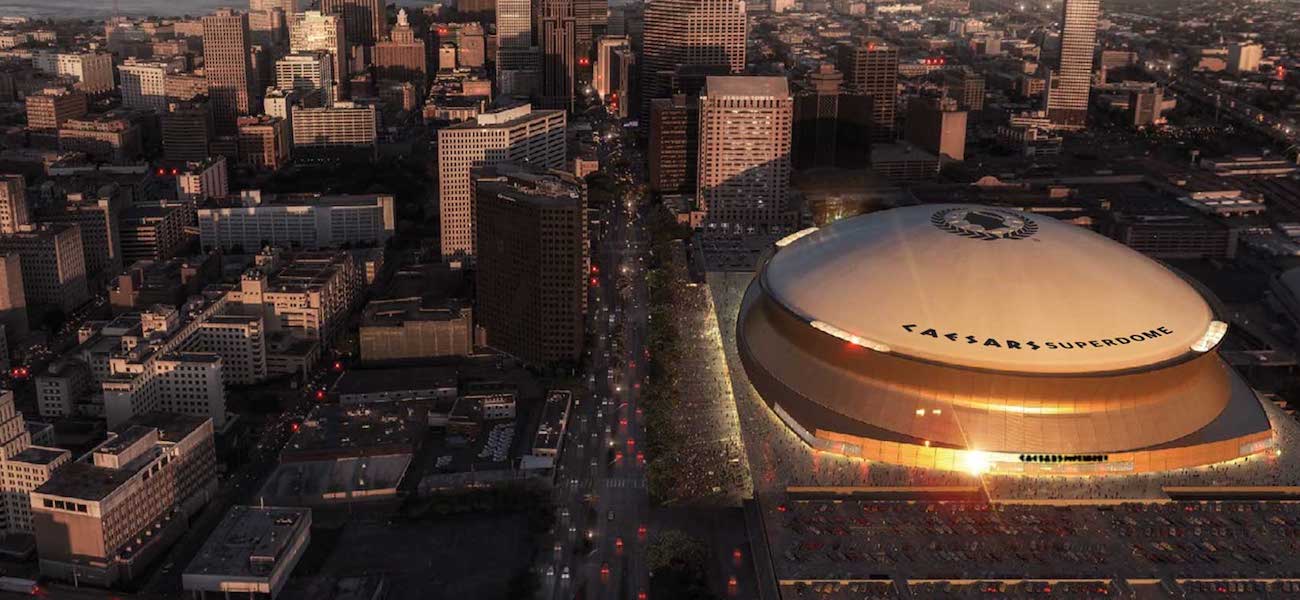 Lawmakers in Louisiana have approved a naming-rights deal that will see the home of the New Orleans Saints become known as the Caesars Superdome in what is reportedly a 20-year contract worth at least $138 million dollars.
Louisiana's Joint Legislative Committee on the Budget approved the naming rights agreement without objection last week. The Superdome has been sponsored by Mercedes-Benz since 2011 before the carmaker decided to not extend its deal in May.
"This partnership sends a strong message about the positive future for the New Orleans Saints, Caesars Entertainment, and the entire state of Louisiana," said Saints Owner Gayle Benson. "That message states that companies with the global reach of Caesars Entertainment are investing in our city, state and region. Caesars has long been one of the world's most respected entertainment companies. Caesars is in the midst of creating a first-class multi-million dollar entertainment facility in downtown New Orleans, this significant investment also demonstrates the strength of their commitment to our state and region. We are proud to partner with a company that is dedicated to the economic growth of our city, state and region."
The Saints appointed Oak View Group to sell naming rights in September. The Superdome is undergoing renovations worth $450 million ahead of the 2025 Super Bowl. The building will also host the 2022 NCAA Men's Final Four, the annual Sugar Bowl, the Bayou Classic football game between Grambling State and Southern University, the New Orleans Bowl and the Louisiana State High School Athletic Association Football Championships.
"All of us at Caesars are proud to be part of New Orleans' vibrant culture. We understand that the Caesars Superdome is more than an iconic venue, it's the symbol of a resilient and innovative community," said Tom Reeg, chief executive officer of Caesars Entertainment. "We've had a strong relationship with the New Orleans Saints for nearly two decades and we are thrilled with the opportunity to strengthen it and celebrate our commitment to the city, the state, and the entire Gulf Coast region."
When the deal is finalized, the Saints will become the first NFL team to play in a stadium named after a casino. Hard Rock holds naming rights to the home of the Miami Dolphins but was not permitted to use gambling references when that deal was struck in 2016.