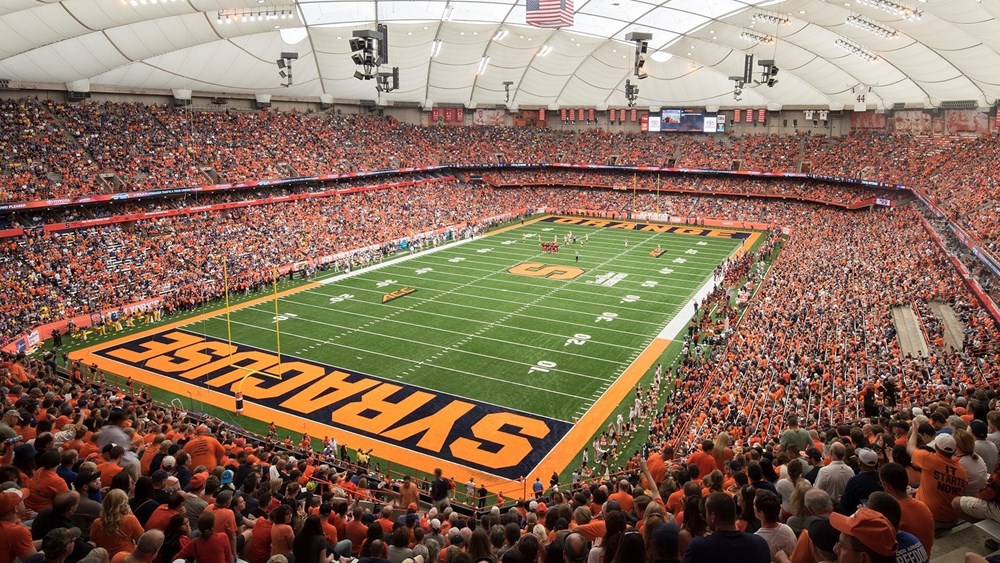 The air-inflated roof of the Carrier Dome has come down, taking away one of the focal points of the skyline for Syracuse, New York, as renovations for the 41-year-old venue begin with the installation of air conditioning that will be operational by the spring of 2021. The move is part of a $118 million renovation.
The roof was deflated in less than an hour with the material left hanging over the floor of the venue. Carrier Dome Managing Director Pete Sala told local news the goal is to cut some of the fabric into souvenirs, including pieces that would be given to graduates in the Class of 2020.
The inclusion of air conditioning would bring to an end one of the great ironies in sports venues — the home of Syracuse football, basketball and lacrosse since 1980, the Carrier Dome is named after an air conditioning firm but has never had air conditioning. It is named the Carrier Dome after a $2.75 million contribution to offset some of the $26.85 million construction costs in 1979 by Carrier in what was termed lifetime naming rights.
The dome's deflation and preparation for air conditioning is part of facility improvements that include a new fixed roof as well as a vertical scoreboard, new sound and lighting systems, added WiFi and improved accessibility. The roof is planned to be ready by fall 2020 in time for football games with air conditioning following in the months after, then construction workers will focus on the rest of the improvements which include new restroom and concession spaces plus ADA-related accessibility upgrades.
Because of the renovation work, the Syracuse lacrosse teams — the men were ranked No. 1 and the women were ranked No. 4 – were scheduled to play home games at high school sites throughout the region before the ACC canceled spring sports in response to the coronavirus that has affected sports throughout the world.