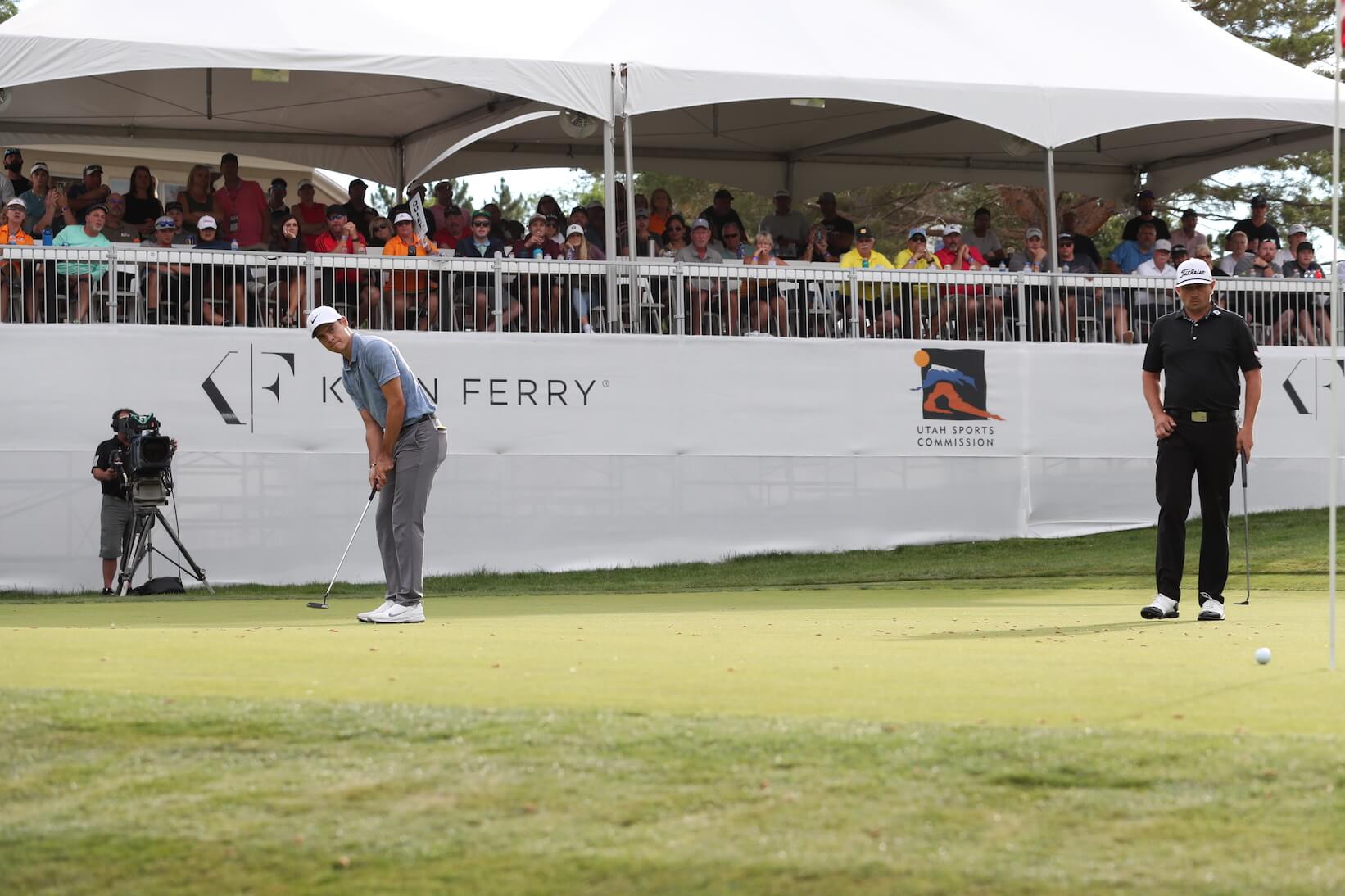 Four major events that will be broadcast nationally can be a good summer's calendar for any sports commission. Being able to host those events in the summer as a worldwide pandemic rages on is another level altogether.
The Utah Sports Commission is in the midst of a stretch where the Monster Energy Supercross tour is holding an extended stay of events at the University of Utah's Rice-Eccles Stadium, while the Korn Ferry Tour's Utah Championship prepares to start June 25. On the day that the golf tournament holds its third round at Oakridge Country Club in Farmington, the National Women's Soccer League starts its month-long tournament at Zions Bank Stadium in Herriman. And the day before the NWSL tournament's championship match is held at Rio Tinto Stadium in Sandy, the Premier Lacrosse League starts its own two-week tournament event in Herriman.
While those events will be without spectators, each event has its own national television window.
"What we're doing right now as a sports community — not just a sports commission or national governing body or sports organization — you're seeing us lead in a way that, say, conventions could not because they're harder to put on right away with social distancing," said Utah Sports Commission President Jeff Robbins. "Now, you have to do things in a smart way and protect everybody and take care of the protocols that are difficult in lots of ways. It's certainly been challenging, but it's been a fun experience in some ways because it's nice to be leading out."
Here are some key points of emphasis that the Utah Sports Commission has learned that can be transferable to all.
Relationships Are Everything
The Supercross series of events was forged through a longtime relationship with the event organizers, Feld Entertainment, which has made Salt Lake City a stop on the tour for almost two decades. And the Utah Championship is an event that the Utah Sports Commission owns, making it a partner with the PGA Tour.
The other two events are the result of networking as well. The commission has worked before on events with Dell Loy Hansen, the owner of MLS' Real Salt Lake, USL's Real Monarchs and the NWSL's Utah Royals. But Robbins also has known new NWSL Commissioner Lisa Baird from her time with the United States Olympic and Paralympic Committee. And the commission had already been in discussions to bring the Premier Lacrosse League to the region before the pandemic hit, so that relationship was in place already.
"I think sports is very relationship-centric," Robbins said. "They may move a bit — Lisa would be an example of that — but the connections are always there. All of that is really, really important."
Room Nights Are Not Everything
The Supercross' seven events are all on NBC Sports' various platforms. The NWSL Challenge Cup will have 25 games on CBS, CBS Sports Network and streaming platforms, and the Premier Lacrosse League will have all 20 of its games on NBC, NBCSN and NBC Sports Gold. The Utah Championship will also have eight hours of broadcast coverage on The Golf Channel.
The PLL Championship Series is coming to Utah! pic.twitter.com/PCHr623RjV— Premier Lacrosse League (@PremierLacrosse) June 11, 2020
With each event closed to spectators, the immediate tourism dollars coming in may not be what would be expected in a normal summer. Having what Robbins estimated is 100 hours of television coverage will showcase the state to viewers who, at some point, will be ready to travel again and may want to explore a new destination.
"The media side is significant," Robbins said. "A lot of it will be building on equity that we have here, showing that we've done more in difficult times."
Owning Events Can Be Key
The Utah Championship, unlike the other three events, is owned by the sports commission. That gives an added layer of control for the group and gives it a different perspective, which helps when they try to recruit outside events to the state.
"Owning an event is hard, but you always know what the other event rights-holders are going through," Robbins said. "I always like to learn from things that we're doing and groups we're working with. You certainly learn a lot being an events rights-holder as well. It gives you a little bit of insight on how you can help other events better."
Never Stop Learning
In its own way, Robbins and his organization have dealt with sports events held under pressure from the events ongoing in the world. Salt Lake City hosted the 2002 Olympic Winter Games within months of the 9/11 attacks with then-unprecedented levels of security and policing. Setting up a series of events and coordinating with the various public and health officials is something that is not unusual.
"I think you learn how to become a problem solver," Robbins said. "If you can solve problems during this time, it stretches the organization. … If you look at the Olympics during 9/11, that was a pretty big deal. I think you learn to stretch your abilities and the next time you see something happen, you have more confidence that you can overcome those obstacles."