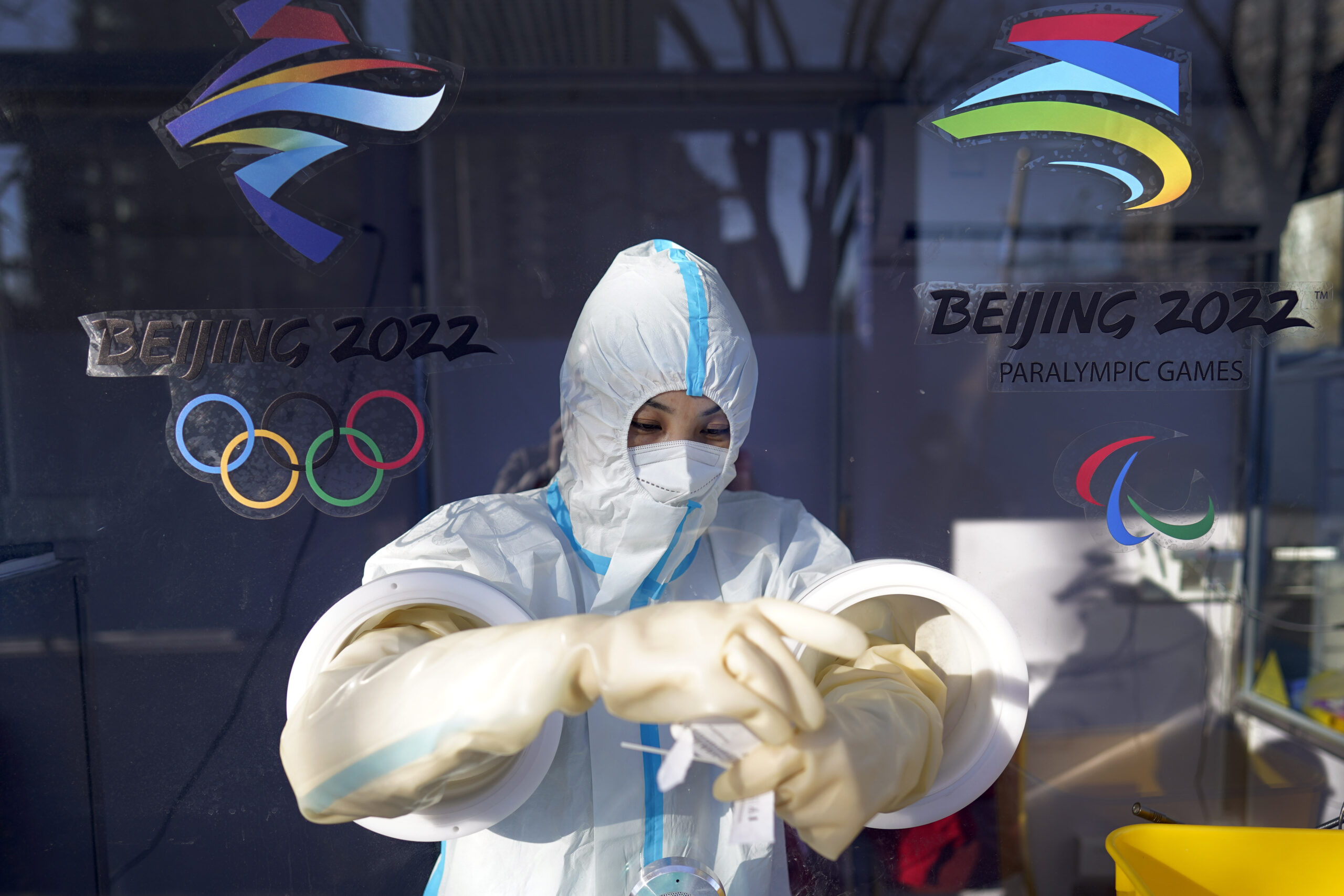 Dr. Brian McCloskey, chief of the Beijing 2022 Medical Expert Panel, said a day before the 2022 Olympic Winter Games officially open that "there are very few places in the world where the risk of COVID-19 is as low as it is in here."
A total of 200 positive tests have been recorded at the Olympics since January 23 through Monday. Sixty-seven were athletes and officials with "stakeholders," a group that includes workers and media, making up a majority of the numbers. The positive test rate so far is 4.2 percent for athletes and officials compared to 0.66 percent for stakeholders.
McCloskey said in a media briefing the numbers are "the sort of level of positive tests we would expect to get. They're being managed, so the risk has been reduced, so the risk within the closed loop is very low."
McCloskey's briefing came on the same day that Belgian skeleton racer Kim Meylemans was permitted to enter the Olympic villages after she tearfully posted on social media about being in isolation over coronavirus concerns.
Meylemans tested positive for COVID-19 upon arrival, which meant she had to enter isolation and return several negative tests before being cleared to move into the Yanqing Olympic Village. She thought that was happening Wednesday and boarded an ambulance for what she thought was a ride to that village.
"But the ambulance went to another facility," Meylemans said in an Instagram post.
Belgian Olympic officials and the International Olympic Committee intervened and Meylemans was brought to the Yanqing Village, where she will be in an isolated room and still needs seven days of testing before she can be released.
"Our main goal was to get Kim to the Olympic Village in Yanqing as quickly as possible," Belgian Olympic delegation leader Olav Spahl said. "We are therefore very pleased that this has now been successfully achieved. We understand that the COVID measures are necessary to safeguard the safety and health of participants in the Games, but we believe that the athlete should always be at the center of such an approach."
IOC President Thomas Bach said "We have a lot of sympathy for all the people who are affected and in isolation, or direct contact persons. … The other day we had a meeting with the Athletes Commission. The IOC executive board and commission said maybe it should be considered that in such cases one should not wait until an athlete is calling for help. For the athletes, it's terrible. I do not want to ignore it, or if it's happening to somebody from the media, from the IOC or from the federation or to everybody. But for the athletes, it's really the worst."
Beijing's closed-loop system was designed to lessen the risk of transmission of the coronavirus — although critics of Beijing's hosting of the Games would hint that there are other reasons for the restricted movements. Once inside the "closed loop" system, no one will be able to leave a network of official venues.
"I've learned over the past few years with the pandemic never to relax around Covid-19 completely because it always has the capacity to surprise," McCloskey said. "But so far, we are seeing that the system is working and the system is doing what it should do."
McCloskey said there were not many changes made in Beijing's protocols even after the omicron variant began spreading around the world because of the implementation of all the basic public health measures associated with COVID were already in place. "But it does mean we are more vigilant because omicron can come in more quickly," he said. "And therefore it is even more important that the vaccination rate — because the vaccination does work against omicron — is higher than we had in Tokyo, which is an advantage for us."
Vaccination rates ahead of these Games are significantly higher than for the 2021 Olympic and Paralympic Summer Games in Tokyo not only because of the increased availability worldwide of vaccines, but also because of Beijng's mandate that any unvaccinated attendee for the Games would have to quarantine 21 days.
Regardless of vaccination status, all athletes, team officials and journalists need to provide two recent negative tests before heading to China. They will be tested at the airport upon arrival and everyone will get daily throat swabs for PCR lab tests, with results coming back within a day.
If anybody tests positive during the Games, there will be a confirmatory test. Should that test also be positive, anyone who has symptoms will go to a hospital while those without symptoms go to a hotel for isolation. To get out of isolation, people will need two consecutive days of negative tests and no symptoms.
"The reality is there is very little evidence in the scientific literature around the world of the spread of COVID-19 on the field of play for any sport," McCloskey said. "An individual freestyle skier, for example, who could be brought to the start, can ski down the course entirely on their own and brought away at the finish is much less of a risk of spreading infection than ice hockey, where the team has to get together and train together, two teams to compete together. So the risk of something spreading is, theoretically at least, higher for those who have team sports than for the individual.
"The challenge is not to make sure we keep the participants safe from being infected in China — it's that we keep them safe from infecting each other, that we stop them infecting the Chinese population," McCloskey added. "So those two things are why we do the closed loop and the testing so much."