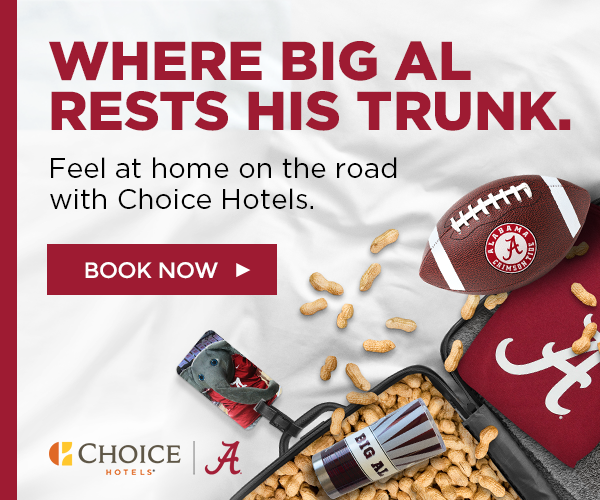 Choice Hotels International, Inc. and Learfield are teaming up this college football season to kick off a new perk for Choice Privileges loyalty members called Choice Privileges Experiences.
Members can use rewards points to book exclusive college football-focused experiences at eight universities, ranging from a private stadium tour and sideline passes to autograph sessions and meeting the team's head coach. The participating schools include Alabama, Louisville, Michigan, Ohio State, Penn State, Rutgers, Tennessee and Wake Forest.
In addition to the points redemption experiences, Choice Privileges is unveiling a special series of sweepstakes for all fans. Now through September 27, Choice Privileges members can follow participating universities' social media channels to have the chance to win a pair of tickets and hospitality or parking access to an upcoming game.
"For our loyalty guests, the benefits of Choice Privileges membership extend beyond the realm of hospitality and include easy-to-earn, relevant rewards that can be used during their stay, for premium coffee, rideshares and now, at the stadium," said Jamie Russo, vice president, loyalty programs and customer engagement, Choice Hotels. "We know consumers are increasingly focusing on unforgettable experiences and this latest collaboration with Learfield ensures our more than 54 million members — many of whom are avid college football fans — can continue to maximize those special travel moments with coveted experiences they won't find anywhere else."
Through Choice Privileges Experiences, loyalty members can redeem VIP experiences for their favorite school, with experiences starting at 50,000 Choice Privileges.
"We are thrilled to collaborate with Choice Hotels in creating memorable, once-in-a-lifetime opportunities for their members," said John Brody, chief revenue officer, Learfield. "The passion and energy associated with college football fandom is undeniable, and we're proud to work alongside our university partners and Choice Hotels to bring incredible experiences to life at iconic college brands across the country."