There are phrases in sports, whether on the field or off, that become legendary and shared among players, coaches, officials, parents and fans. And you can make the case that the seven most historic words in sports were signed into law on June 23, 1972: "No person in the United States shall, on the basis of sex, be excluded from participation in, be denied the benefits of, or be subjected to discrimination under any educational program or activity receiving Federal financial assistance."
The federal civil rights law signed that day, Title IX, served as the launching point for changing sports in the United States by barring sex discrimination in the nation's schools. Since Title IX helped to unlock access to educational and athletic opportunities for girls and women to play, compete and work in sports, times have changed dramatically.
Since Title IX, women's participation in college athletics has increased to 44 percent from 15 percent before the legislation passed. Professional women's sports leagues have never had more prominence both on television and commercially; on the international scene, U.S. female athletes won 66 medals at the Tokyo Olympics, which would have put them third on the overall medal table, continuing the tradition of females outpacing male U.S. Olympians, who won 41.
Through all the celebration this year, there remains work to be done. The Women's Sports Foundation says that 1 million high school girls miss out on athletic opportunities compared to boys. Disparities that female athletes were subjected to at the NCAA Division I Women's Basketball Championship in 2021 garnered national attention, leading to an external review that found the NCAA overtly prioritized men's basketball, leading to a series of proposed reforms.
Female leaders in the sports-event industry see both an increase in opportunities but also, like on every level of sports, room to grow and improve opportunities in the future.
"For a long time, it was pretty much Linda Logan in Columbus and Janis Burke in Houston that were the most noticeable and the most involved female leaders in our industry on the sports tourism side — that has dramatically changed," Sports Milwaukee Executive Director Marissa Werner said. "You look at Monica Paul in Dallas the last 10 years, Kathy Nelson in Kansas City, Jerrine Lee in Richmond, it's amazing to watch these wonderful women succeed. I love seeing all the female leaders around when I go to industry shows. And I think the sky is the limit for any female in this business or any business."
Changing in Real Time
In some cities, the faces of what has been traditionally male-dominated leadership are changing dramatically. There are women in charge of the athletic departments at the University of Washington and Seattle University; women head coaches for the WNBA's Seattle Storm and NWSL's OL Reign; and women in top leadership positions with the Storm, Seattle Sounders and Seattle Mariners as well.
"The number of women in top leadership positions is becoming normal here and I love seeing that," Seattle Sports Commission Executive Director Beth Knox said. "What we're seeing is that it's not about power or influence, it's about accomplishing great things. We're seeing a real commitment to that by all of these women."
When the 2026 FIFA World Cup locations were announced this summer, one thing stood out upon further examination: Of the 11 U.S. cities that won their bids, more than half of them — Dallas, Houston, Kansas City, Los Angeles and Seattle — have women who run those respective cities' sports commission.
"Look at us ladies!" said Paul, the Dallas Sports Commission's executive director. "Tell you the truth, I did think about it a lot when the list came back and I'm going down it and seeing 'OK, look at the women here pulling this off in a Title IX year.' That's special of where this industry is and the growth of women there."
Burke, who was the first female CEO of the Harris County-Houston Sports Authority when named to the position in 2006, agreed.
"Female leaders usually have strong collaboration skills and with large bids like FIFA World Cup it takes a village of people to get it across the finish line," she said. "At times throughout the bid process there are complex challenges that come up where varying groups with different interests or goals need to come together to find solutions, so it doesn't surprise me that nearly half of the USA cities chosen to host World Cup matches in 2026 have females at the helm."
A Trailblazing Legacy
Throughout almost every conversation, one name comes up as the standard-bearer for women leaders in the sports tourism industry: "I have to always give kudos to Linda Logan, who is such a trailblazer and always willing to lift the other women around here and supporting other women who want to get into leadership roles," Werner said.
Logan has done and seen almost everything in her career, starting with the Milwaukee Does of the Women's Basketball League and the Cleveland Nets of the World Team Tennis in the late 1970s. She also worked in Kansas City for a decade before joining the Greater Columbus Convention Center, then the Greater Columbus CVB in 1997 before starting the Greater Columbus Sports Commission in 2002.
"I think of the women that really were there for me when I first got started," Logan said. "Suzann Stewart was running the Tulsa Sports Commission; Pam Gehrig was in Palm Beach. And they were the ones that were on the Sports ETA board, they're the ones that asked me to get involved more with the association and take a leadership role. And I always have tried to pay it forward myself, because people have always done that for me too. I just think that's what our industry is so great about."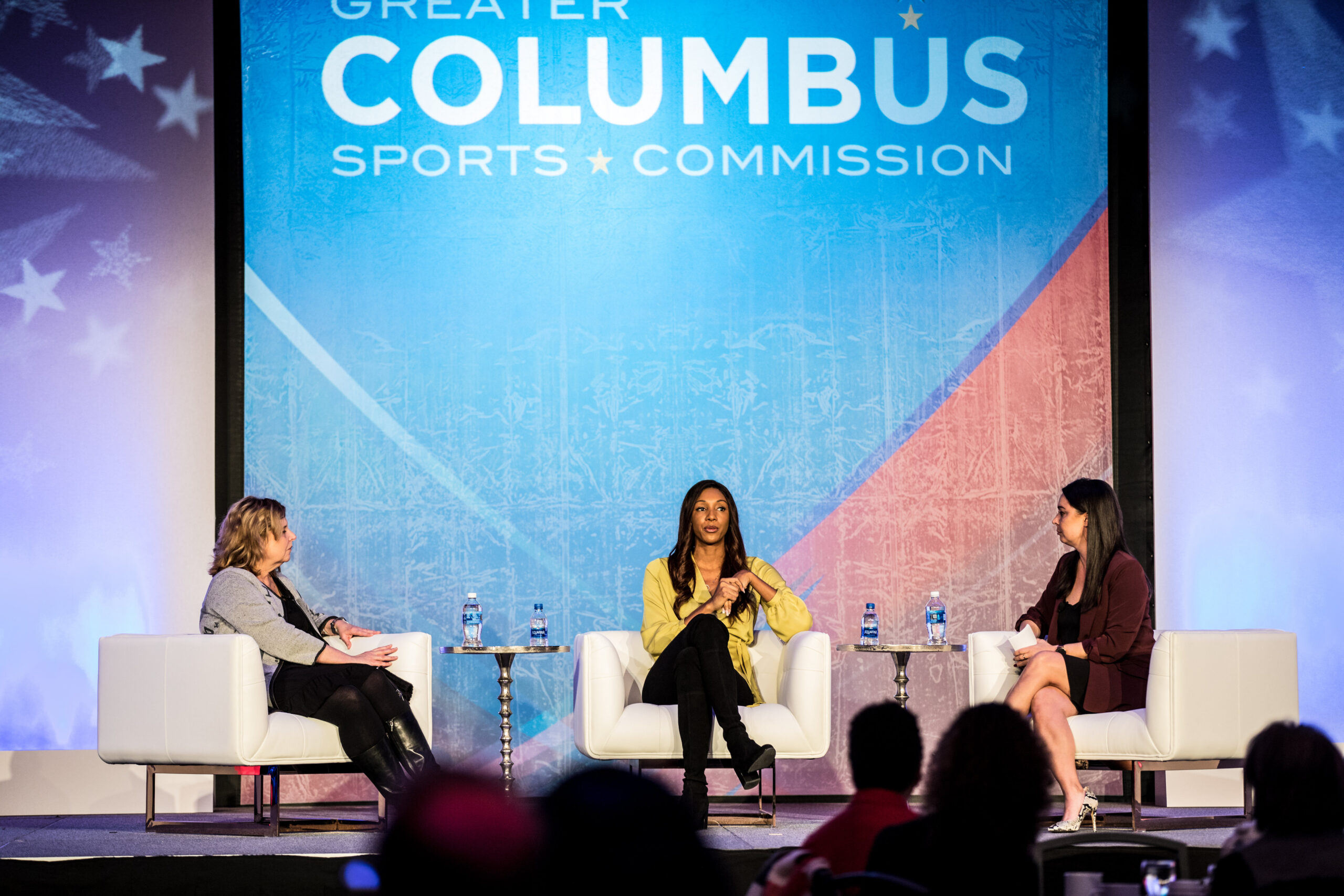 Under Logan's leadership, Columbus has hosted major women's sports events on nearly every level. From youth tournaments to the NCAA Volleyball Final Four this past December, which broke attendance and TV records, to the Women's Final Four in 2018 and the Women's Sports Report, which started a little over a decade ago with 350 people in a ballroom and has grown into a community tentpole event.
During this summer, an internal newsletter celebrated Logan's 20 years with the Sports Commission and 25 years in Columbus tourism overall. When asked for the newsletter what excited her for the future, she said "it's seeing the opportunity of these bright next generation of staffers that really have so much confidence and poise and really are very grounded and very passionate about the work. So you understand that when you hand off the baton, things are going to go even farther."
Starting at the grassroots level can help a destination grow women's sports and make a community realize the importance of those events feeling like the biggest thing in town. Logan said one of her favorite events was a USA Volleyball girls junior tournament: "The city was sold out! A luxury that we have in the sports business that maybe our friends on the meetings and convention side don't have is you know who's sitting in your restaurants and walking through your hotels because they're carrying big bags of gear. I don't think I've ever gotten so many calls from the community saying, 'Wow, this was amazing.' And then you're transforming a community."
Transforming communities across the country has been a theme this summer for Title IX's 50th anniversary. Knox said the Seattle Seahawks have been investing resources into support for girls flag football in the region to increase participation numbers. This summer the Seattle Sports Commission had a basketball camp with Briann January of the Storm coming in to help teach and run drills.
The city also has the distinction of having a WNBA and NWSL team to give young girls in the region athletes to idolize up close.
"The Storm playing in a brand-new arena, they've had a number of sellout games over the last couple of months," Knox said. "The OL Reign, they previously competed in a stadium south of Seattle and they moved this season to Lumen Field. They've gotten close to 10,000 fans in Lumen Field for games and we just see that growing. The level of interest in women's professional sports here in this region, you can see the pace increasing every week."
Hopes for the Future
The interest in women's sports has grown with each year. Werner, who played volleyball collegiately at Fordham, remembers maybe a few hundred people coming to games. San Antonio Sports' Jenny Carnes, who played women's basketball at the University of Incarnate Word, said the crowd at her team's NAIA national championship game was maybe 6,000 in the 1990s. This year, attendance records were set at nearly every NCAA women's championship event.
"It's really not that long of a journey for the growth that we've seen in women's sports overall," Carnes said, "and now some of the highest TV ratings this summer are for women's sports. We're all watching Serena Williams at the U.S. Open right now and you see the biggest crowds ever at Arthur Ashe Stadium are because of a woman, not a man."
With the increased interest comes increased opportunities in the industry as well. Once Carnes officially assumes the role of president and chief executive officer at San Antonio Sports on January 1, 2023, the three biggest sports commissions in Texas will all be led by women.
"There's been a number of events to celebrate the 50th anniversary of Title IX and I've loved seeing how it's incorporated in every event you turn on TV," Carnes said. "I think it's been a great year to celebrate how far we've come but it also reignited the conversation for how much further we have to go."
That has been a theme throughout this anniversary year — celebrate, but don't settle. There remains work to be done at every level for true equality to exist and for those who have worked to get to the points they are. Optimism remains for the coming years in the belief that Title IX's legacy will continue to increase.
"Eight or so years ago, I think there were maybe four women leading sports commissions in the United States," Paul said. "Now, that's not the case. It's been exciting to kind of see that growth. But it's also exciting as I continue to grow older as well, just to see what's coming up and who's coming behind us."
"The evolution of female leaders in the sports commission world, or frankly the entire sports industry as a whole, has been notable," Burke added. "I wouldn't say that we have arrived by any means, but there is much more confidence amongst the young females I speak with these days than in years past who talk openly about their goals to be in leadership roles. I'm thankful for all the ladies who came before me and paved the way and I hope to be a good example for any of those younger women entering the sports field. It's a great way to make a living."