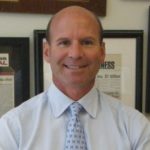 Clay Walker has been named executive director of the National Fitness Foundation, the official nonprofit of the President's Council on Sports, Fitness and Nutrition.
The foundation was chartered by Congress in 2010 to support and strengthen the mission of the council by generating private-sector investments and partnerships to help Americans live active, healthy lives. Among the projects led by the foundation are the Presidential Youth Fitness Program, the national model for fitness assessment and education in schools, a program that has reached more than 20 million students across the country.
"We are thrilled to welcome Clay as the foundation's new executive director and are confident that his unique leadership and business experience, combined with his proven knowledge of the sports industry, will help to bring exciting partnerships, initiatives and solutions to the Foundation's work," said National Fitness Foundation Board Chairman Jimmy Lynn. "Clay's ability to build strong strategic plans and his passion for healthy living will help the foundation impact even more children, schools and communities across the country."
Walker previously served as chief operating officer of PrestoSports, an independent collegiate athletics software provider. Prior to that, he led fundraising initiatives as the chief executive officer of the BigTeams software platform and served as the vice president of business development at USA Today Sports. He also spent 13 years as the senior vice president of the NFL Players Association's licensing and marketing division.
"I'm excited to join the foundation and help develop public-private partnerships that expand youth sports participation, especially in underserved communities," Walker said. "Ensuring that youth sports continue to remain an important part of the fabric of communities across America is paramount to our mission."