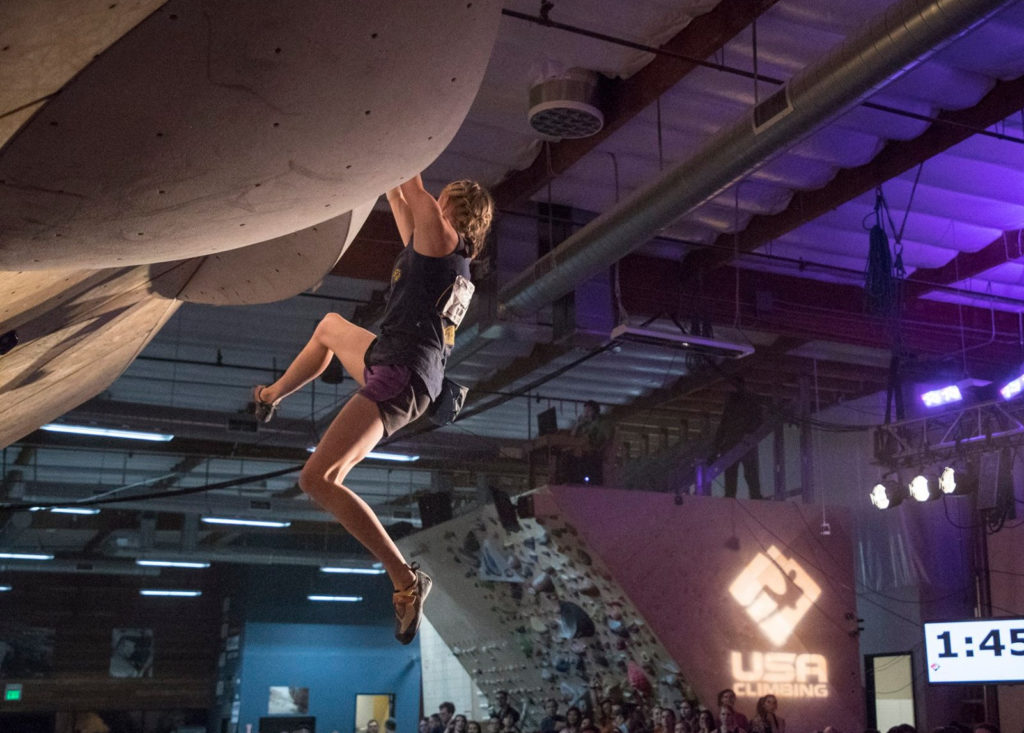 Climbing has been scampering upward as a competitive sport in recent years and is poised to reach great heights. With interest sparked by the sport's inclusion in the 2020 Olympic Summer Games in Tokyo, climbing is witnessing a boom in participation, particularly among young people. And given the growth of indoor climbing and competition venues—for bouldering, any place with 15 feet of vertical space will do—the sport is on solid footing as it looks forward. There are three main disciplines: sport climbing, with ropes up a 15-meter course; speed climbing, which also uses ropes; and bouldering, a series of climbs up a 4-meter wall with no ropes. Here are three trends to watch.
1. Olympic exposure
The Tokyo Olympics will give climbing worldwide exposure to billions of viewers. "I think it elevates us as a more legitimate sport," said Kynan Waggoner, CEO of USA Climbing.
At the moment, the sport has a guaranteed spot only for the 2020 Games. The International Olympic Committee officially approved climbing in 2016—it was recommended by the host country—as one of five new additions, alongside baseball/softball, karate, skateboarding and surfing. "We want to take sport to the youth," IOC President Thomas Bach said in announcing the additions. "With the many options that young people have, we cannot expect any more that they will come automatically to us. We have to go to them."
Joining the Olympic Games also brings climbing deeper into the U.S. Olympic Committee family. "Their support of our climbers has been needed for a long time," Waggoner said of the USOC. "The support of the USOC is just as valuable" as inclusion in the Olympics.
While climbing is generally contested in three disciplines, for the Olympics the three styles will be combined, with a cumulative score determining medal winners. There will be 20 men and 20 women climbers competing.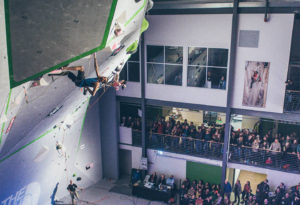 Climbing as a competitive sport is in its infancy. The first international sport climbing competition was held near Turin, Italy, in 1985. Speed climbing debuted with a World Cup in 1989, and two years later the first World Championships were staged in Germany.
In the early 1990s, organizers in the sport elected to move international championships indoors to allow for the standardizing of courses. Bouldering entered the international stage in 1998.
It wasn't until 2007 that the current global governing body, the International Federation of Sport Climbing, was formed. In 2010, the IFSC was officially recognized by the IOC.
Since sport climbing is not guaranteed a spot in future Olympics, Waggoner continues to focus on building a solid base nationally and leaving the politicking to the international federation. "I rely on them to do what needs to be done to get international eyes," he said.
2. Participation spike
In 2014 and 2015, participation in climbing activities hit record numbers in the United States, according to the Physical Activity Council, which counted 4.6 million people involved in either sport climbing, bouldering or indoor climbing. That ranked the sport ahead of such stalwarts as gymnastics and track and field. The number did not even include the sport's cousins, traditional and ice and mountain climbing, which drew another 2.5 million participants.
The participation numbers put sport climbing, bouldering and indoor climbing 70th on a list of 111 sports compiled by PHIT (Personal Health Investment Today) America. The organization's report noted that participation grew by more than 148,000 between 2014 and 2015, compared with an increase of just 18,732 between 2007 and 2014.
The number of climbing gyms in the United States grew to 414 in 2016, an all-time high, according to the Climbing Business Journal. Since 2012, commercial U.S. gyms have grown at an average of 9 percent annually.
The IFSC estimates there are now 35 million climbers worldwide, with an average age of 23.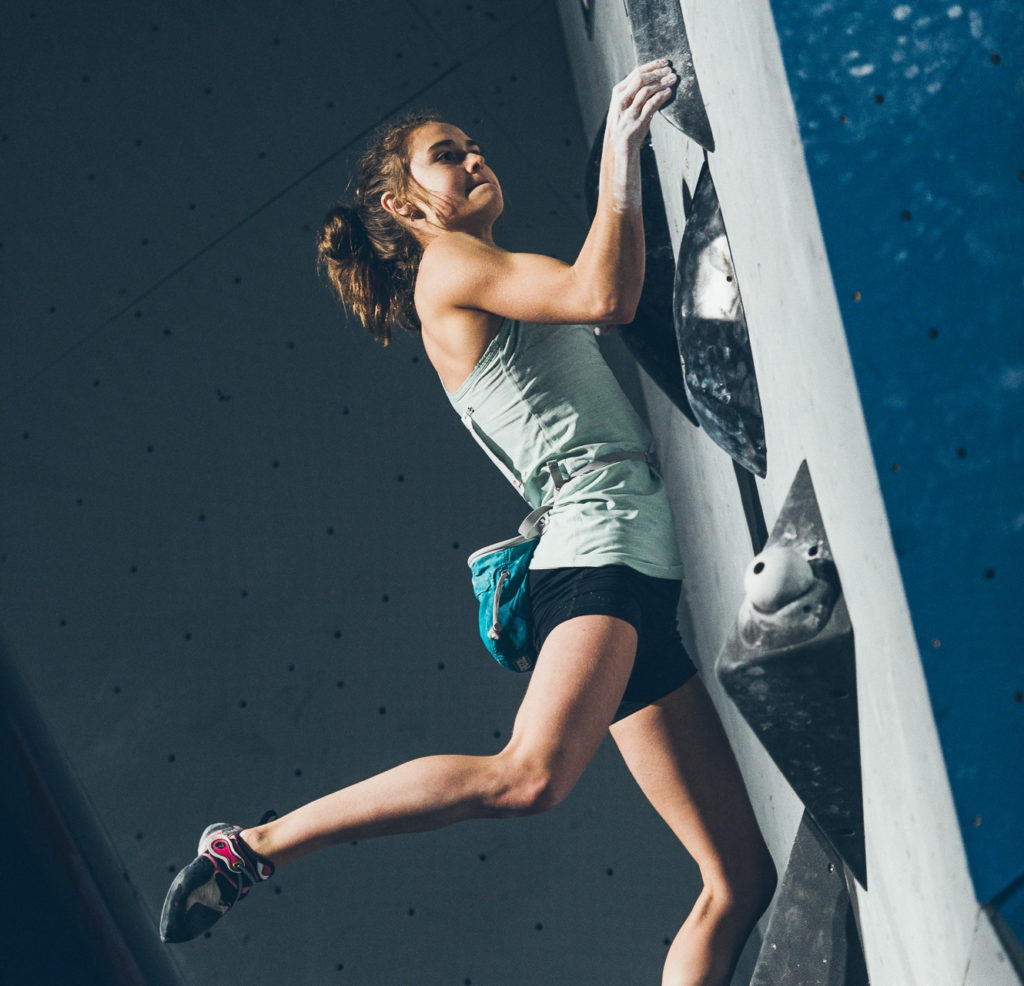 USA climbing has also seen growth to record numbers, spurred, according to Waggoner, by the involvement of youth and college climbers. Currently about 1,500 students compete as members of club teams at 150 universities. "We've traditionally been youth-driven," Waggoner said. "Of our 8,000 members, about 90 percent are under 19."
Although born as an outdoor activity, the growth of indoor climbing gyms has helped the sport proliferate. Although indoor gyms initially served as spaces for outdoor climbers to train at times of bad weather, they also have made the sport more accessible.
The move indoors also transformed the competitive side of the sport, because it allowed organizers to standardize and adjust courses.
3. Available venues
The international sport-climbing and speed-climbing disciplines require 50-foot walls, available only at a few established commercial climbing gyms.
Waggoner hopes his organization can build its own event center to help. "With that, we wouldn't have to juggle the commercial needs of facilities," he said. It would also give USA Climbing a dedicated facility to use for training as well as clinics for route setters, the officials who lay out the courses.
Bouldering, with its shorter walls, can be held in a wide variety of spaces, and USA Climbing owns all the equipment needed for competition. It fits into four tractor trailers and can be easily set up and broken down.
The sport has also become popular with fans, who can watch competitors performing athletic maneuvers while hanging by their fingertips at perilous angles. "Bouldering is a dynamic, powerful sport," Waggoner said. "It is the most attractive to the general public."
USA climbing has staged its Bouldering Nationals at a range of venues, including the Frank Lloyd Wright-designed Monona Terrace convention center in Madison, Wisconsin, in 2015 and 2016, and Salt Lake City's Salt Palace Convention Center in 2017 and 2018.
Both cities were thrilled to have the event. Jamie Patrick, vice-president of the Madison Area Sports Commission, said central Wisconsin has "a vibrant climbing scene," and that fans flocked to the event, generating more than $331,000 in direct spending. "I think climbing has a unique appeal," Patrick said. "The athletes are powerful and poetic at the same time."
"It's in our DNA," Scott Beck, president and CEO of Visit Salt Lake, said of the climbing culture in Utah. "We have a long history and we're an epicenter of indoor climbing." It also helps that Salt Lake City is home to Nathaniel Coleman, a rising star on the international scene.
Waggoner said staging the events in convention centers allows for larger vendor areas and more opportunities to introduce fans to the sport.
"We have a robust climbing and endurance industry," Waggoner said. "They're only beginning to understand what the Olympics will mean."