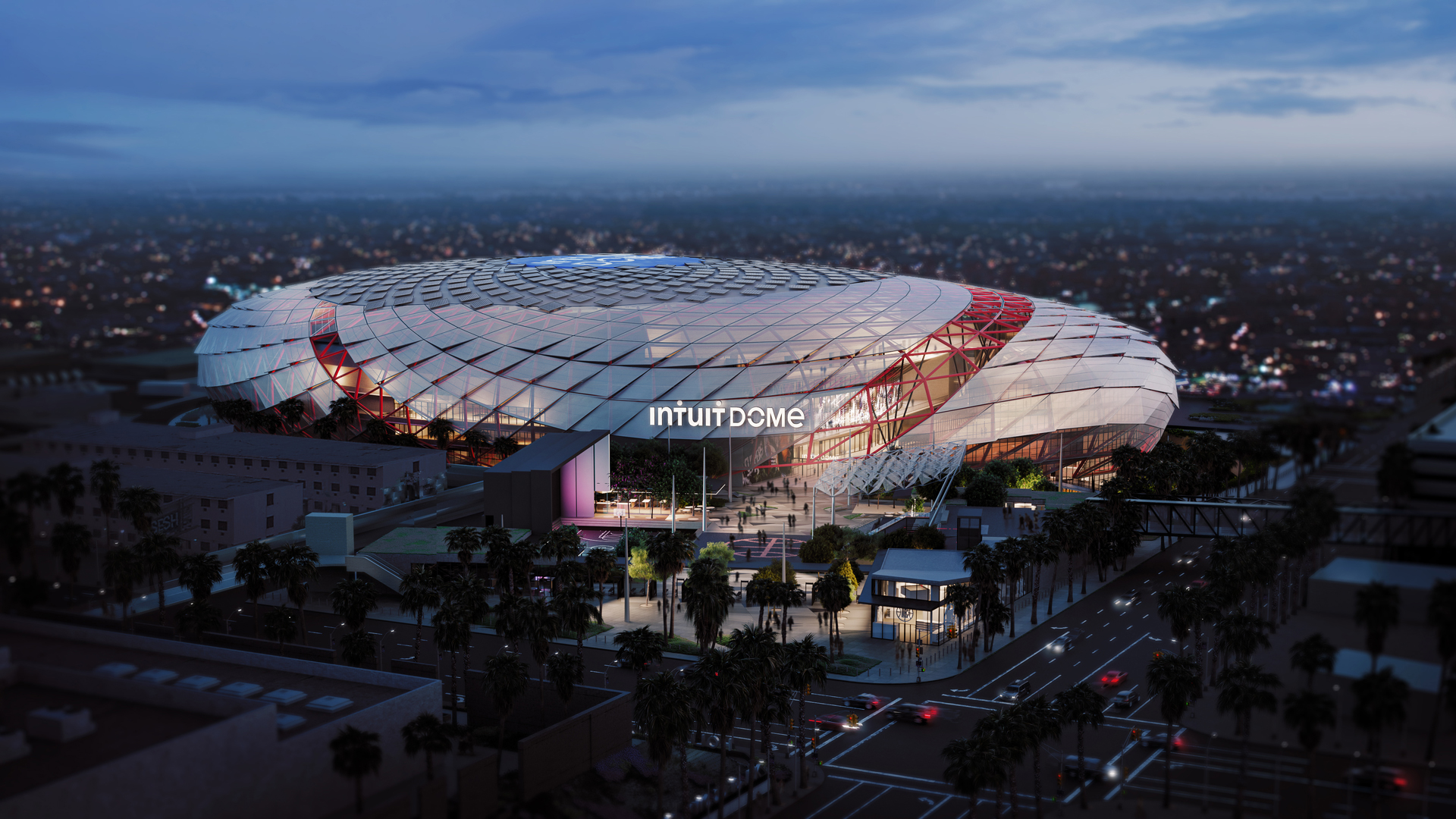 The Los Angeles Clippers and Intuit Inc. have entered a 23-year strategic partnership giving Intuit exclusive naming rights partner of the Intuit Dome, the future home of the Clippers that broke ground on Friday morning and is scheduled to open in Inglewood, California, for the 2024–2025 NBA season.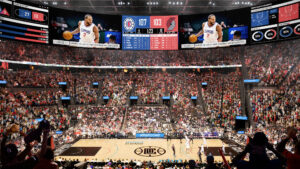 Intuit Dome will feature "The Wall," 51 uninterrupted rows of seats that includes a dedicated supporters section. Other features include a two-sided halo scoreboard encircling the bowl with an acre of LED lighting, a feature used at nearby SoFi Stadium; and an 80,000-square-foot outdoor plaza surrounding a full-size outdoor court. Technological advancements will allow for frictionless concession stands, enabling fans to spend more time in their seats.
The 80,000–square-foot outdoor plaza will feature bars, restaurants and an 8,000–square foot team store. It's anchored by a full–sized, regulation basketball court with a screen that stretches key–to–key and will host AAU tournaments and local youth leagues. The dome's interior will also feature an 86,000-square-foot training facility with two practice courts and Court B, a full-sized replica of the Clippers game court that will be used for community and charity events, celebrity pick–up games, company outings and more.
Being in Los Angeles, the venue will also have multiple high-revenue areas including courtside cabanas that combine courtside seats with a suite experience; backstage bungalow areas for pregame and halftime hospitality for basketball games and events; and an exclusive suite level.
The Clippers have played at the Staples Center since 1999 — but often as the third tenant behind the L.A. Lakers and NHL's L.A. Kings, making the Clippers often play weekend afternoon games with lower attendances. Before then, the team played at the Los Angeles Sports Arena from 1985–1999 after relocating from San Diego.
"When we began the search for a partner for the LA Clippers and our new dome, we looked for one that shares our passion for technology, the pursuit of innovation and our commitment to customers, fans and community," said Clippers Chairman Steve Ballmer. "Intuit is a perfect fit and we're excited to be calling our future home the Intuit Dome."
Through this partnership, Intuit and the Clippers will create programs to reinvigorate the local economy and local businesses. Intuit will commit to expanding a Prosperity Hub School District Program with $1 million over the next three years going to underserved school districts in the L.A. area; providing taxpayer assistance events for low-income families for free during tax season; and host educational events where local entrepreneurs and small business owners including women or minority-owned businesses can leverage workshops, networking and more to start, build and grow a small business.
"Intuit and the Clippers are mission-driven organizations that share the common goal of putting their customers and fans first. We both have a focus on creating extraordinary experiences enabled by innovative technology," said Sasan Goodarzi, Intuit chief executive officer. "Intuit and the Clippers have a history of supporting local communities, and we look forward to investing in and contributing to the Inglewood community to help them prosper."