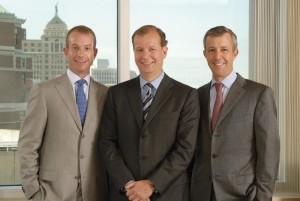 Delaware North Chairman Jeremy Jacobs has announced that his sons Louis Jacobs, Jeremy Jacobs Jr. and Charlie Jacobs have been named chief executive officers of the privately held global hospitality and food service company. Louis Jacobs and Jeremy Jacobs Jr. will serve as co-chief executive officers for Delaware North; Charlie Jacobs will serve as CEO for Delaware North's Boston Holdings, which include TD Garden, New England Sports Network, the Boston Bruins and strategic real estate holdings.
Louis Jacobs, Jeremy Jacobs Jr. and Charlie Jacobs have all held senior executive positions as principals of Delaware North over the last several years. Jeremy Jacobs will continue to serve as chairman of Delaware North and its holdings and as owner of the Boston Bruins.
"I have had the tremendous opportunity to lead Delaware North for more than 45 years and have enjoyed it immensely," said Jeremy Jacobs. "My sons have been leading the company's strategic direction and path to growth for some time now. I am immensely proud of them, and while I still plan on being very active in the business, I know this company is in incredibly capable hands."
In addition, Charles Moran, Delaware North president and COO, has announced his plans to retire in December 2015, a position he has held for more than a decade.
"Chuck Moran has been a significant force in the growth and success of Delaware North," said Jeremy Jacobs. "His professionalism and business acumen guided us to our outstanding positions in our industries over the last decade, and I look forward to his continued leadership and stewardship through this transition."
This year, Delaware North will celebrate its 100th anniversary and the opening of its new global headquarters in Buffalo, New York.