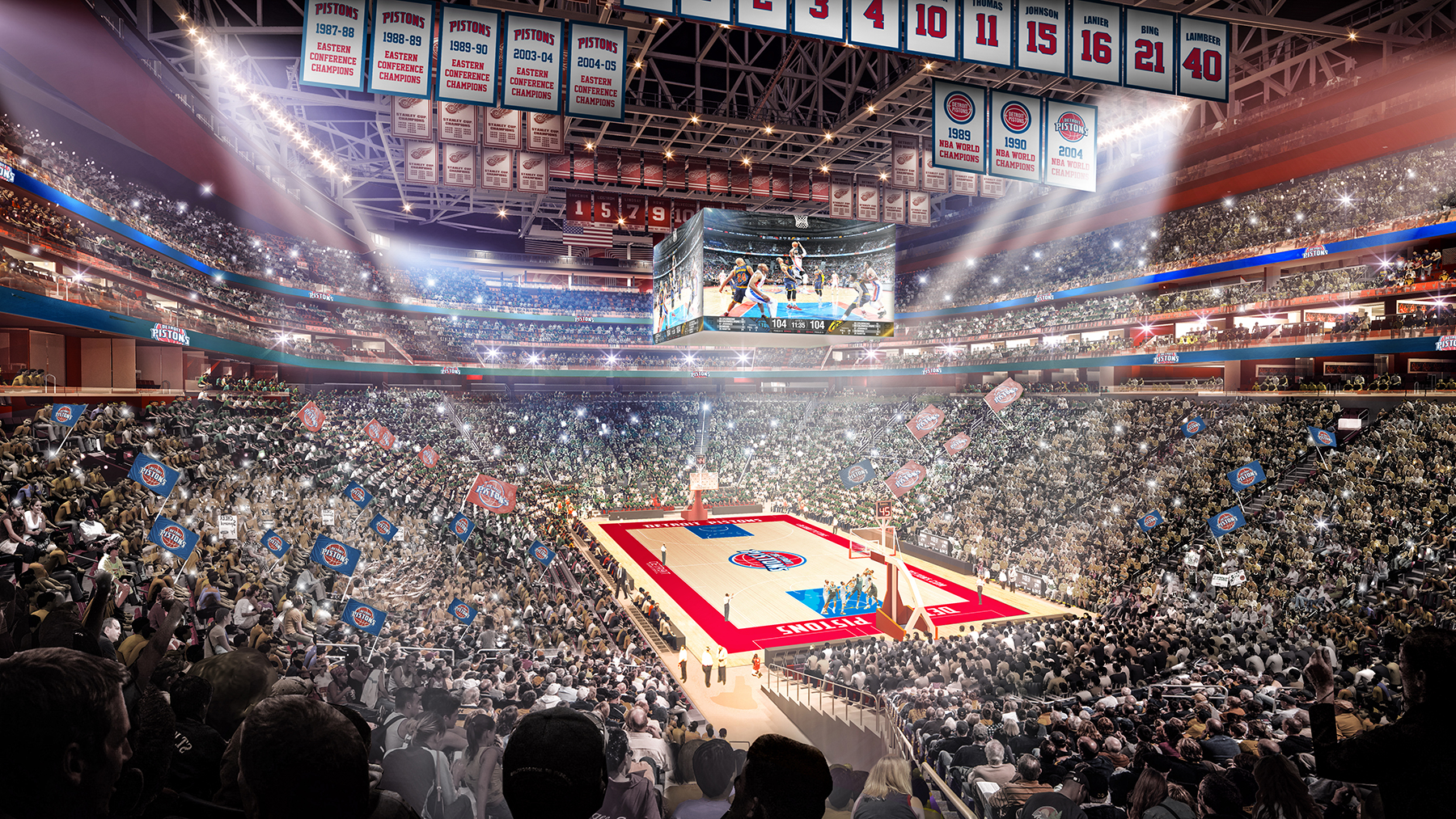 The NBA's Detroit Pistons have reached a deal to move to downtown Detroit starting next season, playing at the new Little Caesars Arena that will also serve as the home of the NHL's Detroit Red Wings.
The move was announced by Detroit Pistons owner Tom Gores, Ilitch Holdings, Inc. President and CEO Christopher Ilitch and Detroit Mayor Mike Duggan. The deal also calls for a Pistons practice facility and corporate headquarters. Both are expected to bring substantial new investment and economic activity to the city, and a comprehensive community benefits plan is expected to bring millions of dollars more into Detroit neighborhoods.
"This is a historic day for our franchise and for the city of Detroit," Gores said. "We're moving to a beautiful new arena that will provide a state-of-the-art fan experience, and we're investing in the future of Detroit. I've always believed that a sports franchise is a community asset with the power to unite and inspire people. There's a big responsibility that goes with that, but there's also a big payoff. Not just for the city of Detroit, but for the whole region. Detroit is rising, reinventing itself. The Pistons are doing the same. We're in this together, and we couldn't be more excited about that."
Christopher Ilitch described the announcement as a watershed moment for the city, region and state. "Tom Gores and the Pistons will contribute tremendously toward the incredible, positive momentum underway in Detroit, making our city stronger, which benefits residents, businesses and visitors not only in the city, but also across our region and state," he said. "This is a bold move that will have a positive effect throughout our entire community."
The move will bring all four of the city's professional franchises downtown playing in venues located within blocks of each other. The MLB Tigers play in nearby Comerica Park while the NFL's Lions call Ford Field home just across the street.
The Pistons are currently playing their 29th and final season at The Palace of Auburn Hills and plan to honor that history throughout the season in a series of special event nights highlighting the players, championships and moments that made the venue significant to the team. "The Palace has been an incredible home filled with great memories and has served the franchise well for nearly three decades," Gores said. "The entire Pistons organization appreciates the dedication of everyone in Auburn Hills and Oakland County who helped make the Palace so successful."
The Pistons' move is subject to approval by the NBA and is expected to be presented to the league's Board of Governors in early 2017. The addition of the Pistons to the arena, which is scheduled to open in September 2017, is expected to cost an additional $34.5 million to accommodate the NBA team. That money will be paid by the City of Detroit Downtown Development Authority.