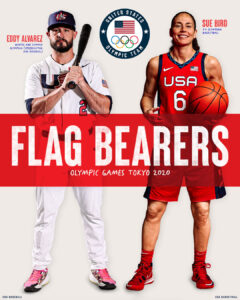 It's still unclear what the traditional Parade of Nations will look like to start the Olympic Summer Games on Friday in Tokyo, but the U.S. has selected the athletes that will lead its delegation into National Stadium: baseball player Eddy Alvarez and basketball star Sue Bird.
Team USA athletes selected Alvarez and Bird, who will become the first duo to share flag-bearing honors at the Olympic Games. Of the 613 athletes who were named to the U.S. Olympic team, more than 230 are expected set to walk in the ceremony.
The move to allow co-flag bearers is a new one. In March 2020, prior to the decision to postpone the Games to 2021, the International Olympic Committee amended its policy to allow national teams to appoint two flag bearers – one female and one male – in an effort to promote gender equity. The IOC also required that at least one male and one female athlete be included in each of the 206 national delegations that will compete in Tokyo.
Alvarez is unique in Olympic sports in that he previously competed in the Winter Games. He won a silver medal in 2014 as part of the 5,000-meter four-man short track speedskating team in Sochi, Russia. Alvarez now is a baseball player in the Miami Marlins farm system. He will become the first baseball player to carry the U.S. flag at the Opening Ceremony as baseball returns to the Olympic program for the first time since 2008.
"It is an honor and a privilege to be named as one of the flag bearers by my fellow Team USA athletes for the Opening Ceremony," said Alvarez. "Being a first-generation Cuban-American, my story represents the American Dream. My family has sacrificed so much for me to have the opportunity to wave this flag proudly. I am grateful for my time with U.S. Speedskating and USA Baseball, as well as for all of my teammates, and I am humbled to lead Team USA into the Tokyo Olympic Games."
Bird will become the first basketball player to be flag-bearer since 2004, when U.S. Women's Olympic Coach Dawn Staley held the honor. Since making her Olympic debut at Athens 2004, Bird has won four consecutive gold medals. She is also a four-time WNBA champion and is currently the defending WNBA champion with the Seattle Storm. She is one of 11 players to have earned an Olympic gold medal, a FIBA World Cup gold medal, a WNBA title and an NCAA championship.
"It's an incredible honor to be selected the flag bearer for Team USA," said Bird. "I know what that means because I got to witness Dawn Staley go through it when she was selected in 2004. It's an honor that is bigger than the moment in that you've been selected by your fellow Team USA athletes to represent the entire delegation, and it will last forever."
Team USA will be one of the final three countries to enter the stadium because Los Angeles will be a future host of the Olympic Games.
U.S. Olympic Summer Games Team Flag Bearers
1908: Ralph Rose, Track and Field
1912: George Bonhag, Track and Field
1920: Patrick McDonald, Track and Field
1924: Patrick McDonald, Track and Field
1928: Lemuel (Bud) Houser, Track and Field
1932: F. Morgan Taylor, Track and Field
1936: Alfred Jochim, Gymnastics
1948: Ralph Craig, Yachting
1952: Norman Armitage, Fencing
1956: Norman Armitage, Fencing; Warren Wooford, Equestrian (event held in Stockholm)
1960: Rafer Johnson, Track and Field
1964: William Parry O'Brien, Track and Field
1968: Janice Lee Romary, Fencing
1972: Olga Fikotova Connolly, Track and Field
1976: Gary Hall, Swimming
1980: U.S. did not attend
1984: Edward Burke, Track and Field
1988: Evelyn Ashford, Track and Field
1992: Francie Larrieu Smith, Track and Field
1996: Bruce Baumgartner, Wrestling
2000: Cliff Meidl, Canoe/Kayak
2004: Dawn Staley, Basketball
2008: Lopez Lomong, Track and Field
2012: Mariel Zagunis, Fencing
2016: Michael Phelps, Swimming
2020: Eddy Alvarez, Baseball; Sue Bird, Basketball