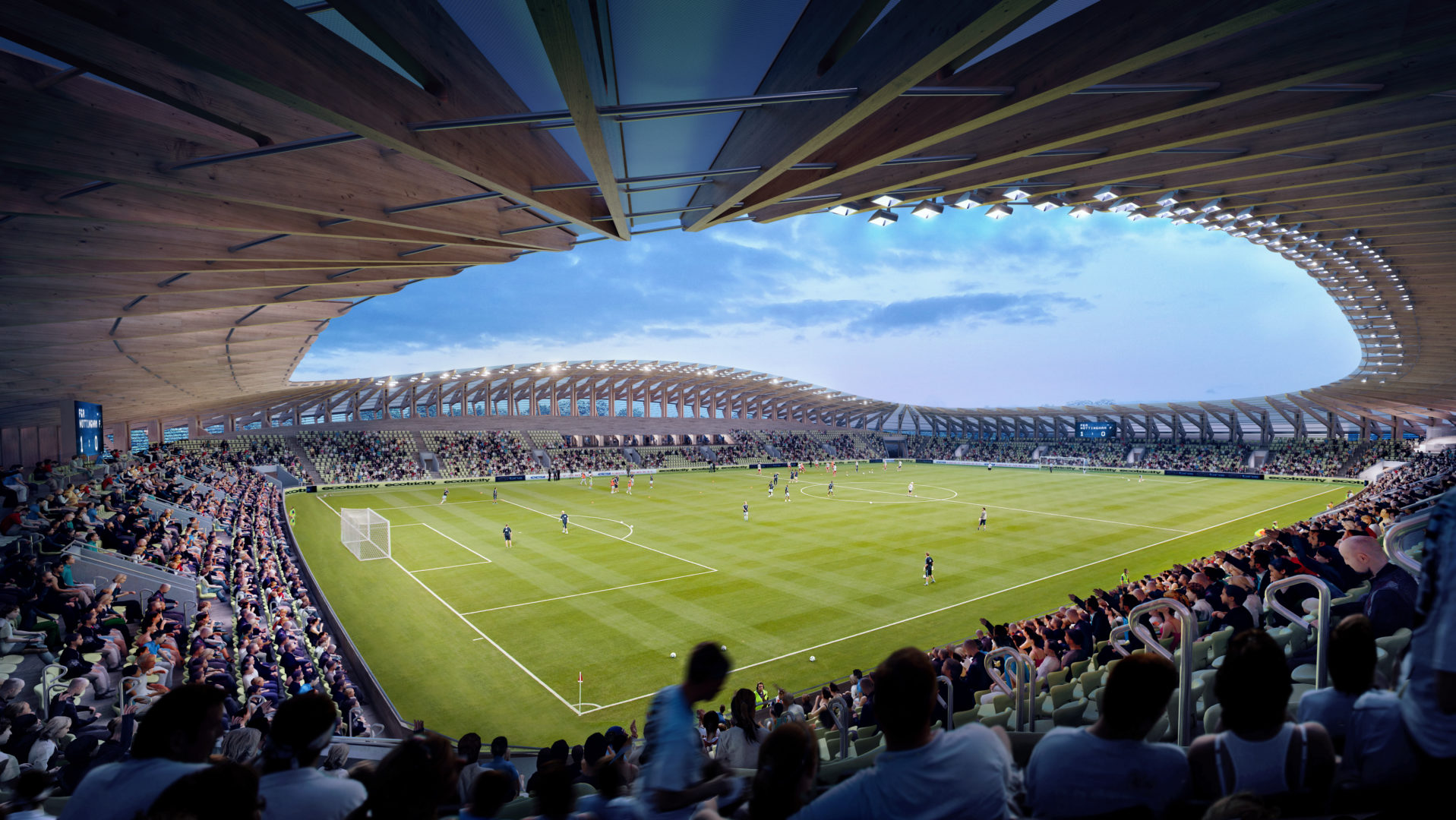 A soccer club in England known for its focus on sustainability and eco-friendly philosophy is planning to build the world's first stadium made almost entirely out of wood.
Forest Green Rovers, which currently plays in League Two (the fourth tier of English soccer), plans a 5,000-capacity Eco Park that would be in parkland surrounded by 500 trees and nearly two kilometers of hedgerow greenery. Plans for the stadium, rejected earlier in the year, were granted permission from the Stroud District Council when revised plans were submitted.
In a video interview on the team website, club chairman Dale Vince said: "I think it's the right decision. This is a great project for Stroud."
The new venue is described as a "state-of-the-art wooden stadium on Junction 13 of the M5, along with landscaped parking and two pitches, one of which will be a 4G playing surface, with access for the local community."
"Embodying low carbon construction methods and operational processes, it will be the first all wood football stadium — with almost every element made of sustainably sourced timber," said Zaha Hadid Architects, which designed the carbon-neutral stadium project. "The stadium's continuous spectator bowl will maximise matchday atmosphere. The stadium's design incorporates the club's future growth."
Forest Green Rovers in 2017 became an all-vegan club for players and staff. The team provides charging stations for electronic cars and promotes mass transit to its games, and it recently changed the shin guards for all of its players to bamboo.
The field at its current stadium, The New Lawn, is free from pesticides and herbicides, and the grass is cut with a GPS-directed electric lawnmower. The stadium is set up to collect rainwater that is recycled around the stadium and all waste cooking oil is recycled into biofuel. Local farmers use grass cuttings from the stadium to condition their soil, and the area outside the stadium has been developed into a habitat for wildlife through the planting of wild flowers and native trees.
The club is currently in the top six of League Two and in contention for a playoff spot with the chance to get promoted to League One at the end of the season.