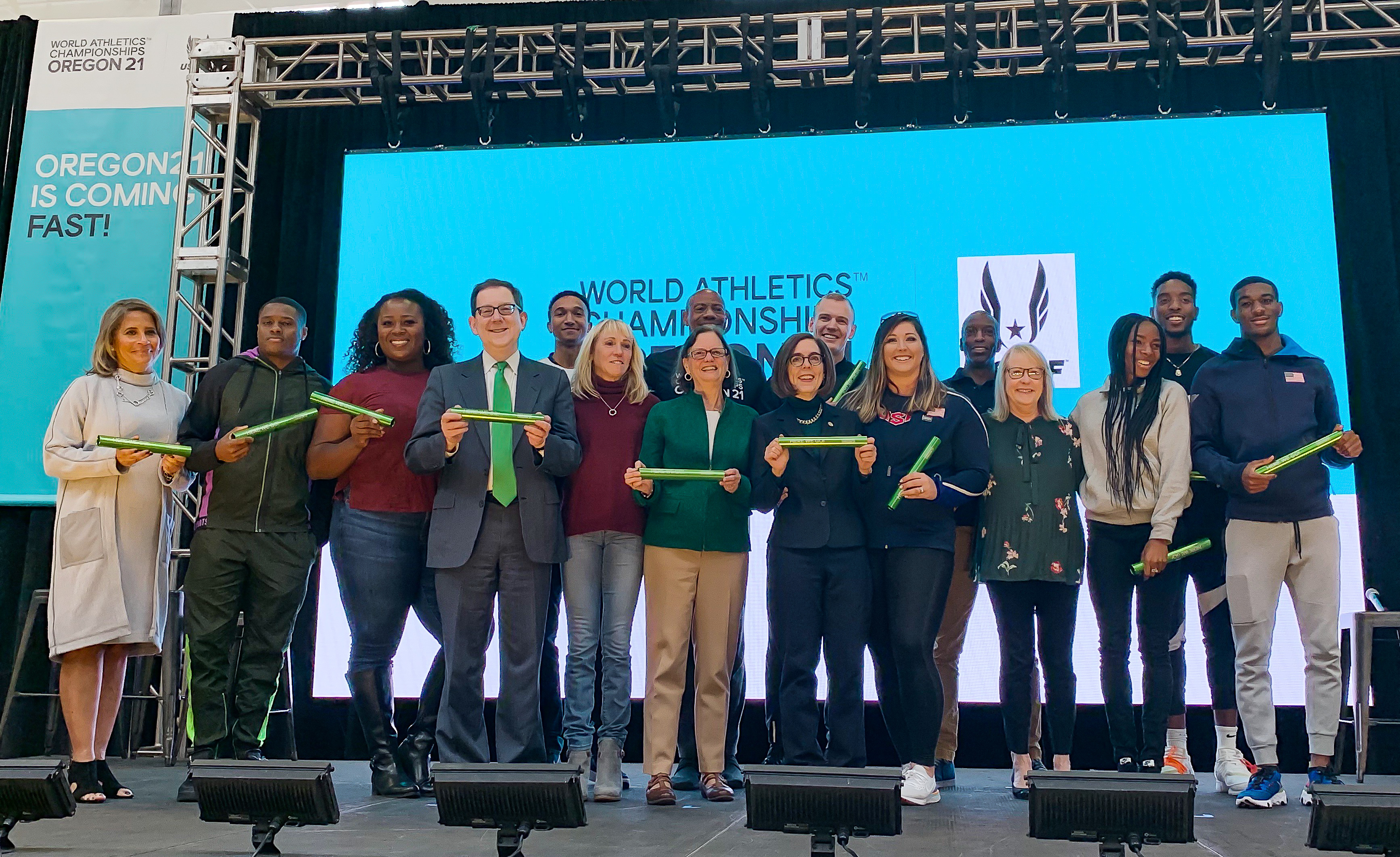 Representatives from USA Track and Field, Travel Oregon and the University of Oregon teamed up with the Oregon21 organization to host the official kickoff event counting down to the 2021 World Track and Field Championships that will be held in Eugene, Oregon.
The event welcomed back several athletes who competed at the 2019 meet, which recently concluded in Doha, Qatar. Athletes who came included Donavan Brazier, Christian Coleman, Michelle Carter, Michael Cherry, Sam Kendricks, Wil London, Courtney Okolo and DeAnna Price. Past world champions also in attendance included Mike Powell, Michael Johnson and Mary Decker Slaney.
"On behalf of the USA Track and Field athletes, thank you for the warm welcome back to the U.S.," said Renee Chube Washington, chief operating officer of USA Track and Field. "For the first time ever, the World Athletics Championships are being held in the United States. Oregon will be an incredible host to both our American athletes competing on their home turf as well as competitors and fans traveling here from around the world."
The 18th annual World Championships will be on the campus of the University of Oregon from August 6–15, 2021. It will be the largest sporting event in the world that year with more than 2,000 competitors. Hayward Field is currently undergoing renovations to be the event's host with a seating capacity of nearly 25,000.
There is the possibility of the men's and women's marathon events to be held in Portland, with a team of evaluators from the International Association of Athletics Federations visiting the proposed course in January with a recommendation to be made in March 2020.
"It would be fantastic to welcome the world's best marathoners to our community and watch the world-class event unfold and wind through our beautiful city," Portland Mayor Ted Wheeler said. "We look forward to sharing our ideas and proposed plans with the IAAF in January next year."