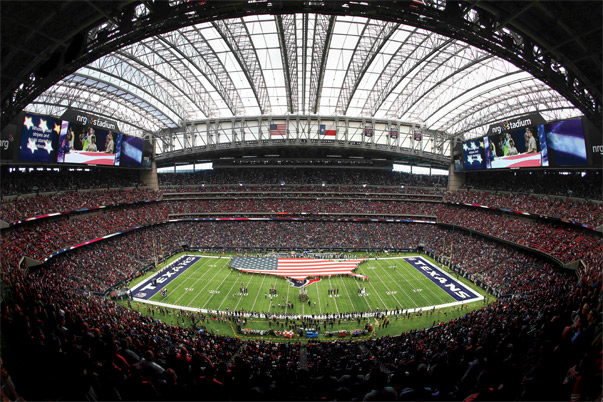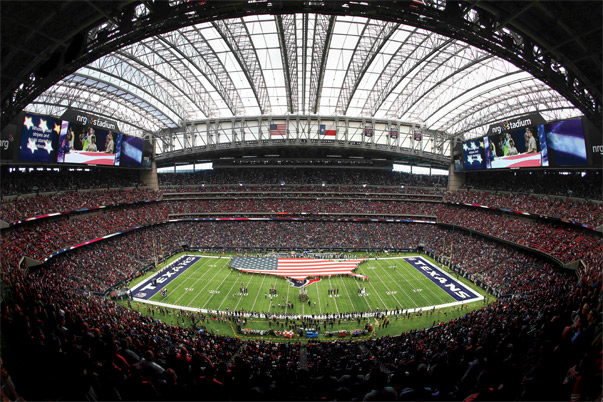 Faced with having to follow the major celebrations of last season's Super Bowl 50, the National Football League and the city of Houston decided to go deep this year—as in deep space.
To accomplish that, the Houston Super Bowl Host Committee, the league and NASA have conjured up "Future Flight," a space attraction that will be set in downtown's Discovery Green in which participants don virtual reality goggles for a two-minute ride that simulates a mission to Mars. The tour of the Red Planet features actual footage and ends with a 90-foot drop down to the 50-yard line of NRG Stadium, home of the Houston Texans and site of Super Bowl LI on February 5.
The VR rocket ride will be the highlight of the free, 10-day Super Bowl Live festival, which will serve as the main fan engagement area for the first Super Bowl in Houston since 2004. The festival, which is anticipated to draw more than 1 million fans, is scheduled to run January 27 through February 5.
Meanwhile, in Florida, Disney's ESPN Wide World of Sports Complex will play a role in the week-long festivities leading up to the NFL's annual Pro Bowl, scheduled for January 29 at the renovated Camping World Stadium in Orlando. Pro Bowl festivities have been expanded to include youth football competitions and fan activities in addition to team practices. The game itself is getting a reboot with a return to the traditional conference-versus-conference format; this follows three years of "unconferenced" competition in which the best available players were drafted by former NFL stars onto two teams.
"Future Flight" in Houston and the Pro Bowl's move to Orlando are results of an NFL decision to be more forward-looking when planning the Super Bowl and related events, said Peter O'Reilly, the league's senior vice-president of events. League officials wanted to build on the changes that were made for Super Bowl 50 in the San Francisco Bay Area last year and avoid the impression that its biggest annual event had peaked, he said. And the new approach to the Pro Bowl—not to mention the new location—will mark a significant turning point for that event as well.
Looking Ahead
In 2015, the league focused on changes to the Super Bowl that could be sustainable for years to come, O'Reilly said. "We were trying not to create too many one-offs," he said. One key example was the reinvention of Media Day with the creation of Super Bowl Opening Night on the Monday before the game to create "a bigger launching pad" for Super Bowl week, he said.
Super Bowl 50 had "a lot of great, strong elements," O'Reilly said. "As we head to Houston, we've only expanded on that." For instance, Minute Maid Park, the Houston Astros' baseball stadium, will host about 12,000 fans on January 30 as part of the Opening Night, which now includes Media Day. The stadium is a larger venue than the SAP Center in San Jose, California, where around 6,000 fans celebrated the first Opening Night before Super Bowl 50. Field-level tickets and upper-deck seats for this year's event are $30 and $20, respectively, and fans will again receive a gift bag with a radio to listen to NFL Network's live coverage and interviews on the field with players.
The Touchdown Tour, a fan experience with interactive games and exhibits that crossed the San Francisco Bay Area in 2016, returns this year as well with multiple stops throughout the Houston area. The kickoff stop was held in August at Space Center Houston, where retired astronaut Scott Kelly gave the host committee the football that spent five months in the International Space Station. This time around, the travelling exhibition has included interactive games, a Houston Texans mobile locker room, photo booths and giveaways. The host committee said that legacy initiatives have focused on education, health and community enhancement.
Leading up to Super Bowl week, the NFL will also host its first Women's Careers in Football Forum as part of USA Football's 2017 Women's World Football Games in Orlando, scheduled to run January 25–29 with more than 250 female tackle football players from around the world. The forum, to be held January 25–27 and tied into Pro Bowl week, is expected to bring NFL executives, coaches and industry experts together to discuss positions in football operations and administration with participants. The league will enter the attendees into its Diverse Talent Community, an invite-only online recruitment platform that, according to the NFL, encourages "quality, dynamic candidates" with diverse backgrounds to join the NFL and its 32 teams.
Innovative Approach
Innovation is also part of Houston's appeal, according to O'Reilly. "Though it may not be the first thing you think of when you think of Houston, it's a city that's really driven by innovation," he said. He called Houston "one of the most diverse cities in the country. So for us, it really represents the future of our fan base and a ton of innovation opportunities and not necessarily the old Texas." The city, he said, provides "a landscape that has been terrific to see come to life around the game."
Harnessing that innovative spirit has been a coordinated effort between the league and the host committee, which won the Super Bowl bid in May 2013. At the first meeting with Sallie Sargent, the committee's president and CEO, O'Reilly told her, "We've got to be in the same car. We can't be driving on parallel paths. We're in the same car driving toward the same goal."
Ideally, the road to that goal will carry everyone through a successful 10-day fan festival. "Super Bowl Live is the signature event for the host committee," said Doug Hall, executive vice-president of event operations for the Houston Super Bowl Host Committee. "We've got a lot of our sponsors focused on that. It's at the front door of the NFL Experience in our setup, so they're really co-located." That location has an impact on everything, he said. "From traffic to transportation to volunteers to how well the city's entertained by the event for those who can't go to the game, they're all pretty important."
Hall was hired in June 2016 by the committee after spending two years as president and CEO of the Houston Local Organizing Committee to host the 2016 NCAA Final Four. "Our organizations were running parallel over the last 18 months, so I'm very familiar with the group down here and they were familiar with our group as well."
The central downtown location of Discovery Green and adjacent George R. Brown Convention Center is an asset, Hall said. Super Bowl host cities and fans want a center of activity where they can participate and feel like they're part of the action, even if they don't have tickets to the game, he said.
The location does present traffic and transportation challenges, but the city has navigated those elements smoothly during similar events, Hall said. "We've not had a Super Bowl since 2004 and Discovery Green did not exist back then, but we've done two Final Fours since then, so we've got a good feel how downtown works and how the co-located venues will work," he said. "We're excited about it."
That excitement is shared widely, according to O'Reilly. "Every fan, every person, every staff member and volunteer who's setting foot on that Super Bowl game-day campus has a pretty high expectation of what that experience is going to be for them," he said. "This is a bucket-list moment." As such, it's important that the NFL and host committee coordinate as seamlessly as possible. "How do we make sure that every little thing, from the moment they set foot there, is connected and is high-quality?" O'Reilly said. "Those are the things we stress as a team so much—the importance of the little things that all connect." He said the NFL and host committee are fortunate this year because NRG Stadium and its surrounding campus have a lot of space and lay out well operationally.
As head of the 2016 Houston Final Four Local Organizing Committee, Hall oversaw the fan experience inside the George R. Brown Convention Center and the March Madness Music Festival at Discovery Green. There are more than a few similarities between those events and Super Bowl LI, he said. "The footprint we've got for Super Bowl is not just Discovery Green but the four city blocks that are adjacent to it as well," he said. "At the same time, the logistics are very similar. You've got a mass of people coming downtown over a certain event period. How do they flow? Where do they park? How do they get in and out? What's it like having the contiguous venues between NFL Experience and Super Bowl Live, how those flow together? Practice always helps for sure."
Hall's experience with the Final Four has proven to be beneficial coordinating the volunteer effort for Super Bowl LI. "Our goal was to have 10,000 volunteers, which equates to about 30,000 shifts at three shifts per volunteer," he said, noting that the goal had been reached by early December. Each volunteer will have seven different uniform pieces, including a jacket, a polo, a light fleece, a backpack, a water bottle and lanyards. "They'll be very distinguishable," he said. "Look for the fans in red with the big smiles on their faces."
The NFL hopes improved hospitality offerings for this year's game will bring smiles as well. On Location Experiences is the official in-house hospitality partner for the NFL but over the years has adapted and now is now composed of  owners that the league believes will take hospitality to the next level. Two equity capital firms, Bruin Sports Capital and RedBird Capital Partners, now have approximately 20 percent equity stakes in the company, according to O'Reilly. The NFL's private equity company, 32 Equity, and musician Jon Bon Jovi also are co-owners.
The arrangement approved by NFL team owners in May 2016 allows On Location to create up to 9,500 bundled fan travel and hospitality packages. The deal was designed to alleviate some of the confusion and chicanery around the selling of Super Bowl tickets by brokers. On Location has teamed up with Ticketmaster to offer four different packages starting at $5,599. "By dealing directly with On Location, the process for fan participation in this premier event is being upgraded from the vague, inconsistent and sometimes unreliable services that have been typically available in the past," said John Collins, CEO of On Location Experiences, when the deal was announced.
Pro Bowl Shift
Meanwhile, major improvements made to Camping World Stadium (formerly known as the Orlando Citrus Bowl) in Orlando played a key role in the NFL's decision to choose the Florida city as the site of the Pro Bowl. O'Reilly confirmed that Sydney and the Bahamas had also expressed interest in hosting the all-star game, which since 1979 has only been held outside of Honolulu twice—Miami in 2010 and Glendale, Arizona, in 2015, both in the same host city as the Super Bowl in those years. Another major factor in the decision to try Orlando was the desire to create a more youth- and family-friendly focus for the annual game.
"Beyond the game on Sunday, we've really created this hub we're incredibly excited about," said O'Reilly. "Orlando provides a unique showcase because they've got great facilities and it's such a youth-centric market." In particular, players with families will be eager to spend time in the many area theme parks, he said. "It's a great way to end their season," O'Reilly said. "Trips to Hawaii are great, but Orlando's unique."
A focus on youth is evident in the types of events on tap for Pro Bowl week. The NFL Premier Youth Football League moved its FLAG Championships to Orlando, where they will take place January 27–29, as well as the Punt, Pass & Kick (PPK) National Championship games, scheduled for January 27. Both will be held at the ESPN Wide World of Sports Complex at the Walt Disney World Resort. A 5K run with a Pro Bowl theme and a parade of Pro Bowl players in the Magic Kingdom are also scheduled.
"I'd be remiss if I didn't say I don't think we would be there if Camping World Stadium hadn't gone through the significant renovation it went through recently to elevate itself to the level of some of our NFL stadiums," O'Reilly said. Steve Hogan, CEO of the event-management company Florida Citrus Sports, agreed, calling the upgrade "really a reconstruction. The original stadium, like many college facilities, was old and grew up around itself over the years. The stadium was originally constructed in 1936, and many iterations of the building were added, including two terrace-level upper decks in 1991."
During the recent $207.7 million renovations, which were completed in late 2014, about 5,000 seats in the lower bowl were demolished. From there, significant portions of the stadium were then rebuilt from the ground up, Hogan said. "Some 80 percent or more of the stadium is brand new," he said. That includes vertical circulation and transportation, plaza-level and field-level concourses, new amenities for clubs, and upgrades to suites, general concessions and restrooms.
Hogan is also proud that the nonprofit Florida Citrus Sports helped land the Pro Bowl bid, saying that winning the event with that business classification "speaks volumes about the type of community Orlando enjoys. It's really become a community over the 20 years I've been here, and our organization's been staging neutral-site events, everything from Olympic soccer in the mid-1990s to many neutral-site international soccer matches and college bowl games."
Florida Citrus Sports acted as "the community quarterback" in the city's efforts to procure the Pro Bowl, periodically reaching out to the NFL every few years to keep the league updated on the progress of the stadium, said Hogan. "Orlando is a destination built for neutral-site business, so this is exactly the kind of business that we would target, want to host, should host. To us, it's a natural for something we believe helps showcase our destination to the world further."
Hogan praised the amount of teamwork put in by community businesses and organizations such as Visit Orlando, Disney and the city of Orlando's venues team. The state of Florida also pitched in, he said. "I think it says a lot about teamwork," he said. "It says a lot about unselfishness in terms of our destination."
Visit Orlando plans to use one of the NFL's marquee events as leverage to reinforce the city's positioning as a major sports destination, said George Aguel, president and CEO of the city's CVB. The Pro Bowl at the end of January is a nice addition to a sports resume that will also include the first and second rounds of the NCAA Men's Basketball Championship in March and WWE's WrestleMania in April.
With its sparkling array of theme parks, as well as more than 450 hotels representing more than 119,000 guest rooms, Orlando is
certainly prepared to entertain and host the extra visitors, said Aguel, noting that his city is now the second-biggest hotel community in the country after Las Vegas. Visit Orlando projects that the Pro Bowl and its ancillary activities will generate approximately $40 million in economic impact. As a football hotbed, Orlando—unlike Honolulu—is within a day's drive for fans of seven NFL teams. In addition, two-thirds of all NFL teams are east of the Mississippi River, "so we're not a hard place to get to," Aguel said.
Drop Zone
Whether football fans are headed to Orlando or Houston, the pull of spectacle, special attractions and unique entertainment in store likely all factored into the decision.
"Without a doubt, 'Future Flight' is our signature event not just for Houstonians but for out-of-town visitors who might not be familiar with NASA and Johnson Space Center," said Houston's Hall. "So it's a neat opportunity for us to showcase one of the things that makes Houston unique and also introduce a fan spectacle to it. A rocket ship trip to Mars with virtual reality and a drop tower? You don't get to do that every day, no matter what theme parks you go to."