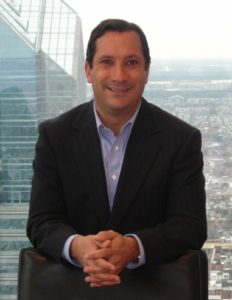 USA Volleyball has named Jamie Davis, a sports media, marketing and business executive, as its new chief executive officer. Davis becomes the seventh CEO of USA Volleyball but the first from outside the organization to lead the national governing body. Davis, whose appointment is effective immediately, replaces longtime CEO Doug Beal, who is retiring after 46 years with the organization as a player, coach and executive.
"I am pleased to welcome Jamie Davis to lead USA Volleyball into new areas of business that will strengthen our 40 regional volleyball associations, support the competitive excellence of our national teams and continue to support our development in all areas of beach, indoor and sitting volleyball in the United States," said Lori Okimura, chair of the USA Volleyball board of directors. "We are embarking on a period of unlimited potential for USA Volleyball in reshaping the business of our sport and taking full advantage of the resources that Jamie brings to the table that will help us reach the next level."
"I am thrilled to be joining USA Volleyball and believe the organization is at a very exciting point in its development," Davis said. "I look forward to working with the board; the United States Olympic Committee; the 40 regional volleyball associations; athletes, coaches, officials and sponsors; as well as the international volleyball community to grow the participation and popularity of this sport in America. I am convinced that together we will continue to accelerate the momentum of USA Volleyball and bring the sport to new heights on the world stage."
Davis' experience includes founding his own company, Jomadrew Sports and Entertainment, LLC, after leading Fanatics, Inc., the online retailer of officially licensed sports merchandise. Earlier in his career, Davis served as president of the Versus television network (now NBC Sports Network), along with several roles within News Corporation including managing director of ESPN STAR Sports. His entry into television began with CBS Sports as its finance manager before joining the launch team of Fox Sports and serving as its vice-president of finance.
"Having worked in sports for over 25 years, I have participated in and watched the industry grow and transform dramatically," Davis said. "Today, with the pace of change in digital technology, I believe that we have the ability to revolutionize how USA Volleyball interacts with our athletes, regions, sponsors and partners. I am looking forward to working with the staff and teams to insure that USA Volleyball is a major presence in every form of media consumed by our constituents, which in turn will grow the popularity of this great sport."