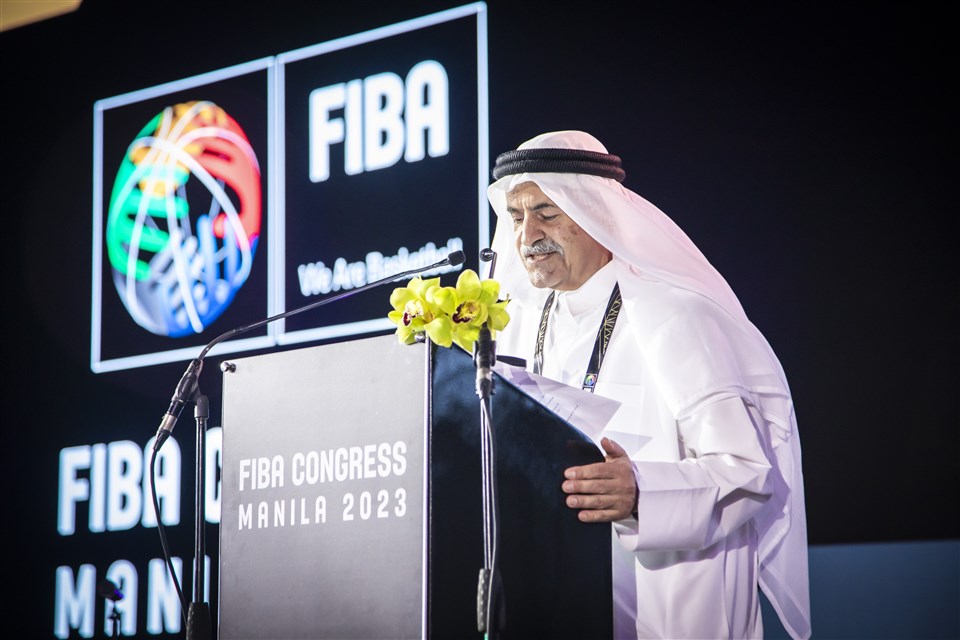 Sheikh Saud Ali Al Thani has been elected FIBA president along with new members of the central board for the upcoming 2023-2027 cycle during the FIBA Congress in Manila ahead of the 2023 World Cup.
Al Thani has been FIBA Vice President for the previous cycle, which began in 2019, and president of FIBA Asia since 2002, having formerly been president of the Qatar Basketball Federation and a vice president of the Qatar Olympic Committee. He succeeds Hamane Niang as FIBA president.
"It is a great honor to take over this responsibility: for me, for my country of Qatar, and for our continent of Asia," Al Thani said. "Basketball is a global sport and this is our most important strength. I can only make one promise today and that is that I will work hard with the leaders of FIBA and the entire Central Board for the good of basketball and for the good of FIBA."
Among the new Central Board members is Carol Callan of the United States. Callan is a Women's Basketball Hall of Fame inducee and led the U.S. women's program to six consecutive Olympic gold medals from 1996 through 2012 as director of the program. She was the first female President of the FIBA Americas, having been elected in 2020. The newly-formed Central Board will meet for the first time on September 9, in Manila during the Finals weekend of the FIBA Basketball World Cup 2023 and will also appoint to the board a representative from the NBA and a player representative.
Also during the congress, Prince Feisal Al Hussein, chair of the International Olympic Committee Working Group on Safeguarding, emphasised the importance of continuing to improve safeguarding in sport during a keynote speech. Al Hussein is the founding chair of FIBA's Safeguarding Council.
"The speed with which FIBA moved to finalise its Safeguarding Policy in the second half of 2022 showed the federation's commitment," Al Hussein said. "To have FIBA, the International Federation for one of the most popular sports in the Olympic Movement, take responsibility in this manner sets a fantastic example for other IFs and it sets a fantastic example for the National Federations. … Change is coming and we need National Federations to drive this forward to ensure safeguarding is considered by every club. That is every National Federation around the world because this is a global issue. During my involvement with safeguarding, I have seen incidents in all corners of the world. Nobody should believe that their country is free from issues in this area. The responsibility falls on all of us."