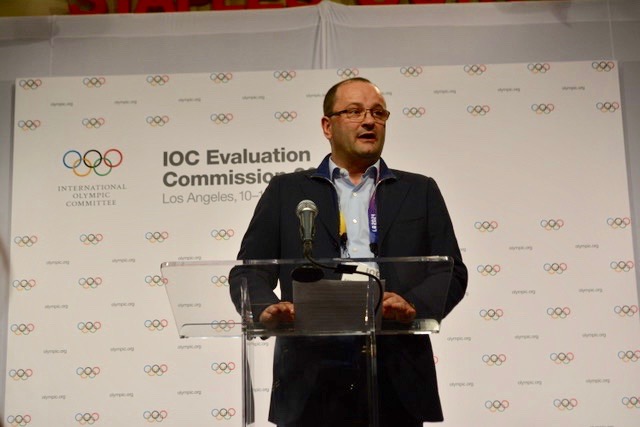 Patrick Baumann, the secretary general of the International Basketball Federation and a leading figure with the International Olympic Committee, has died at age 51. Baumann suffered a heart attack while attending the Youth Olympic Games in Buenos Aires, Argentina.
In addition to leading FIBA since 2002, Baumann was a member of the IOC and played a significant role leading the evaluation commission that recommended Paris host the 2024 Olympic Summer Games and Los Angeles host the 2028 event. He also championed the 3×3 version of basketball with hopes it would become an Olympic event.
"This is a great shock, which has hit us all very hard," IOC President Thomas Bach said. "We can hardly believe this terrible news. Particularly since, even today, we have seen him working hard, as we always knew him, for the sport he loved. We lose a young and sympathetic leader full of hope who was standing for the future of sport. Our thoughts are with his wife, his children and his family."
Baumann was a former basketball player, coach and referee who first joined FIBA as a lawyer in 1994 and was appointed FIBA deputy secretary general in 1995.
NBA Commissioner Adam Silver praised Baumann for his visionary approach to the sport. "I am deeply saddened by the tragic passing of Patrick Baumann. We were just together for the first FIBA World Basketball Summit in Xian, China—an event he established to bring together basketball stakeholders from around the world. Nobody was more dedicated to the growth of basketball than Patrick. He loved the game and recognized its power to transform people's lives. He was also a dear friend and colleague who I attended countless games and events with over the past 20 years. The NBA family mourns the loss of Patrick and we send our heartfelt condolences to his wife Patricia, his children Bianca and Paul, and his many friends in the basketball and Olympic communities."