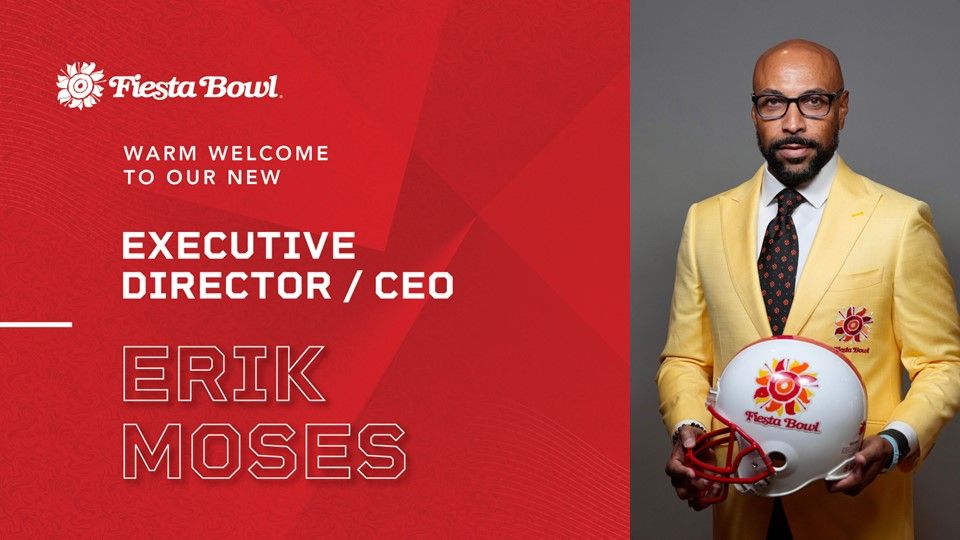 Erik Moses, who has led Events DC, worked in college and pro football and was the first Black executive of a NASCAR track, has been named the executive director and chief executive officer of the Fiesta Bowl in Arizona.
Moses joins the Fiesta Bowl organization from Nashville Superspeedway where he served as president and general manager since 2020. The track had been dormant for 10 years and under Moses' direction was revitalized to host a sold-out Cup Series event on Father's Day 2021. His background also includes playing an integral part in creating, operationalizing and hosting the Military Bowl and AT&T Nations Football Classic.
"The Fiesta Bowl has a rich history for innovation and a commitment to meaningful impact on and off the college football field," Moses said. "I'm excited to join this high achieving organization and to continue and enhance its inspiring work within Arizona's communities. The joy of sports, entertainment and charitable giving is how we help to connect our communities make our state a better place to live, work and visit. I look forward to working with the talented staff, collaborating with our dedicated Board of Directors, Yellow Jacket Committee and our incredible volunteers to ensure our prominent standing in a vastly changing college football landscape."
Prior to joining Nashville Superspeedway, Moses was chief executive officer of the DC Sports and Entertainment Commission. He oversaw the formation and founding of the Military Bowl and also facilitated the creation of the AT&T Nation's Football Classic featuring HBCU programs. While in DC, he was also influential in the successful recruitment of Major League Baseball with the Washington Nationals and the construction of Nationals Park. As senior vice president of Events DC, Moses managed multiple venues including historic RFK Stadium, the Entertainment and Sports Arena at St. Elizabeths and the Walter E. Washington Convention Center.
Moses' last stop in Washington was as president of the DC Defenders of the relaunched XFL, where he guided all aspects of the team's business operations and fan experience.
The Fiesta Bowl Organization is anchored by the Vrbo Fiesta Bowl, Guaranteed Rate Bowl and the Vrbo Fiesta Bowl Parade.
"It was important to identify the right person who could guide the future of the Fiesta Bowl and help build innovative ways to engage our fans, community, stakeholders and partners at every touchpoint," said Fiesta Bowl Board Chair Randal Norton. "The landscape of college football and fan expectations continue to evolve. We selected a dynamic leader who we believe will deliver and meet those expectations and position us as the premier bowl game providing world class hospitality. We are excited to welcome Erik to the Fiesta Bowl family."