The sport of competitive bass fishing is making advancements in the areas of technology and television while also reeling in a younger group of anglers.
Three major professional organizations—Bass Anglers Sportsman Society, better known as B.A.S.S.; Major League Fishing (MLF) and Fishing League Worldwide (FLW)—are the trendsetters. Each have been focusing on expanding their digital reach through online streaming of content, both live and recorded. Along with its ability to have scores updated live from each competitor's boats, the sport is luring in a younger — and increasingly female — demographic to keep participation on the rise.
1. Making Technological Advancements
The key tools of bass fishing, of course, are rods and reels, but competitive anglers also rely on high-tech boats, digital fish finders, GPS systems and satellite topography maps.
The sport's newest circuit—Major League Fishing's Bass Pro Tour, which launched last year—has made big gains through a technology it calls Scoretracker Live, a web-based, mobile scoring system that allows officials to count and score fish in real time. "We have an official in every boat, so 40 officials each day," said Michael Mulone, MLF senior director of events and partnerships.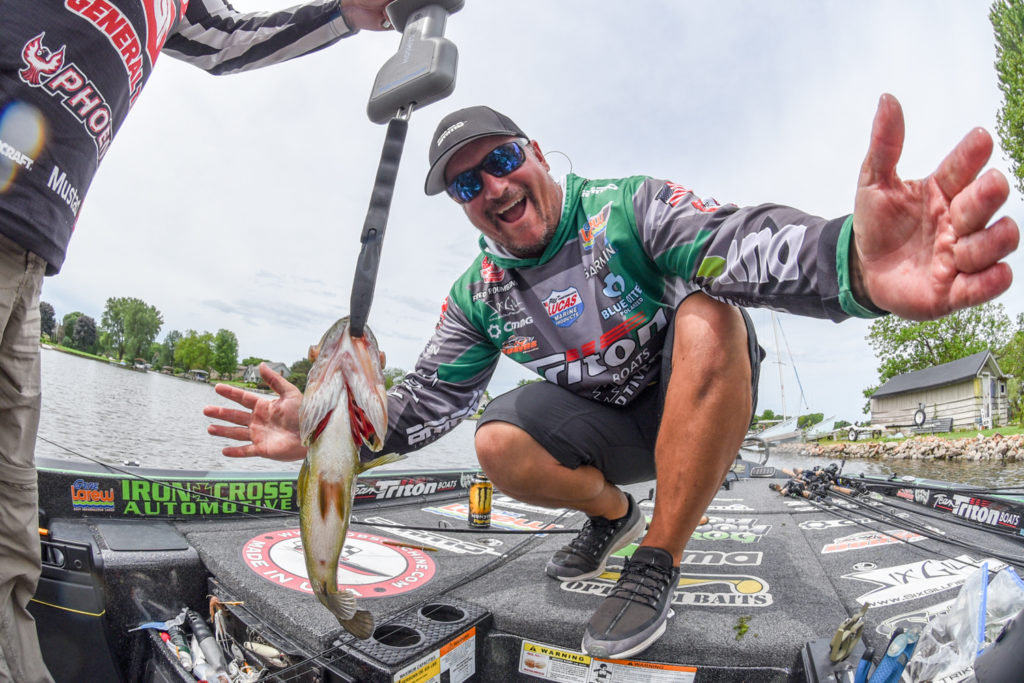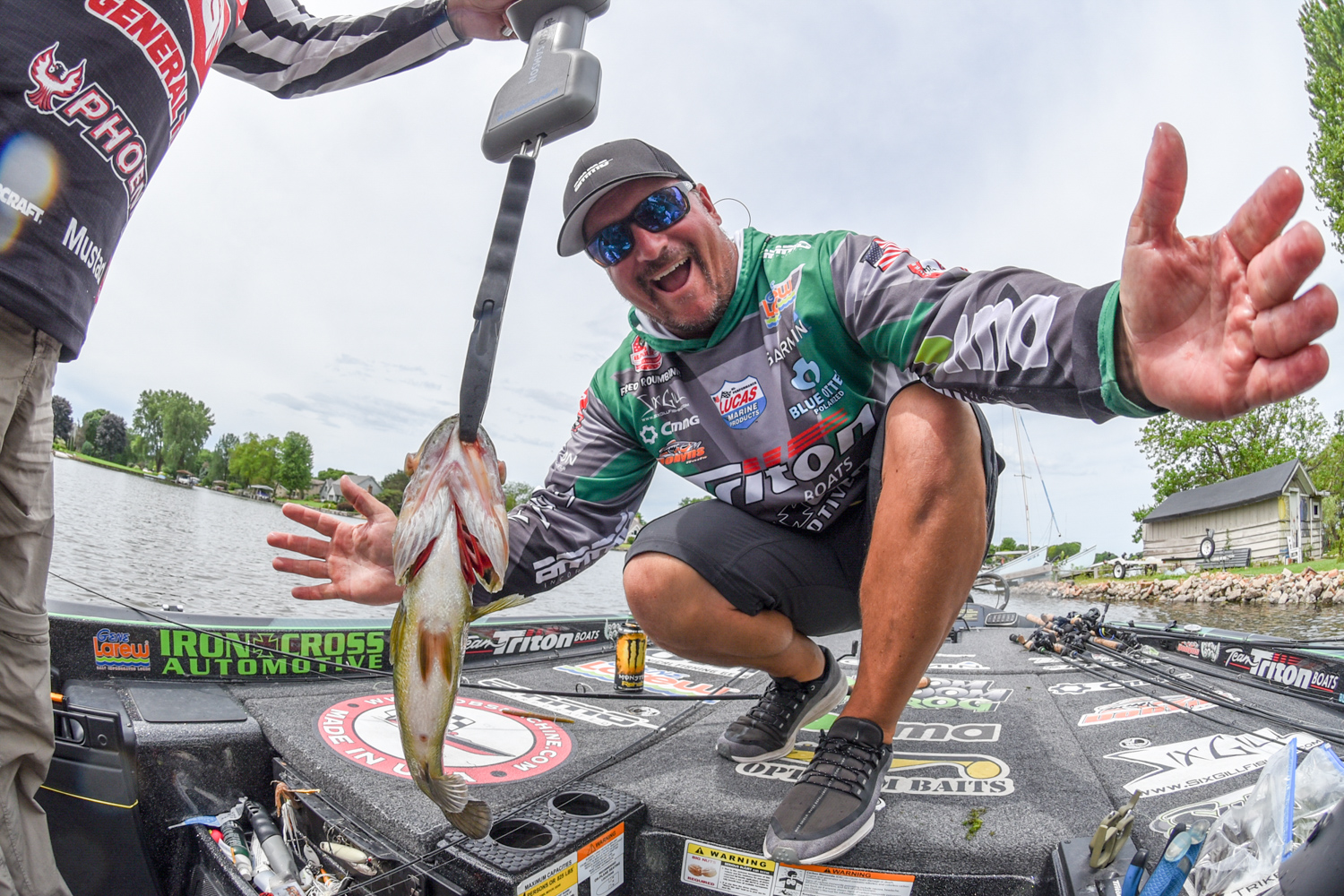 Scoretracker aids in fishing's conservation angle by eliminating the need for an end-of-day weigh-in. Once fish are scored, they are returned to the water, reducing the amount of stress they face. And once the on-boat official inputs the information into the app, competing anglers know the current leaderboard via their own apps.
MLF displays Scoretracker standings live during its broadcasts, much like the leaderboard graphics at golf tournaments.
"By having our technology do that, it's changed the way people consume the content and how we present it as well," Mulone said.
That technology is one reason MLF's Bass Pro Tour has shaken up the industry.
"The Bass Pro Tour had 80 spots open and all 80 spots were filled—60 anglers left Bassmaster and 12 left FLW," Mulone said. "From a big-picture perspective, it has really changed the industry because it has infused another tour into it. And, honestly, we've made a lot of waves. The biggest names in the sport—Kevin VanDam, Mike Iaconelli, Gerald Swindle, all the biggest names—are fishing MLF."
And those aren't the only waves the upstart league is making. In October, MLF announced that it will acquire FLW, or Fishing League Worldwide, which bills itself as the largest tournament-fishing organization with more than 290 events across five circuits.
"Our business plan always included reaching all levels of grass-roots fishing," said Boyd Duckett, MLF co-founder and President of the Professional Bass Tour Anglers' Association, in announcing the deal. "FLW does it best with the tour and grass-roots tournaments; their reputation in competitive bass fishing is remarkable and their culture has always been pro-angler, which makes this the perfect opportunity for both organizations."
2. Broadcast Buzz
As with other major competitive sports, television and live-streaming are playing key roles in bass fishing's good fortune.
B.A.S.S., organizers of the Bassmaster Classic, saw increased coverage with its 20th season of "The Bassmasters" show on ESPN. B.A.S.S. live-streamed 252 hours of programming through ESPN and Bassmaster.com this year, an increase of 27 percent in streaming hours over last year.
B.A.S.S. also gets the word out through Bassmaster Radio, a weekly program that airs on 126 stations nationwide, as well as the Inside Bassmaster podcast.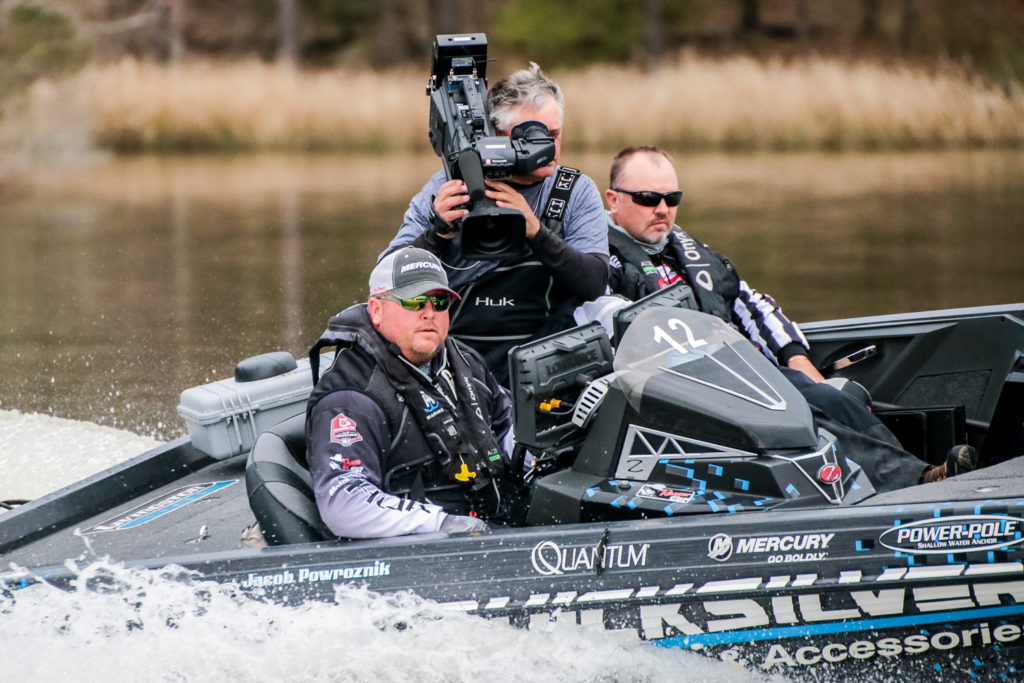 For the Bass Pro Tour, the broadcast partnership is built in: MLF is a division of the Outdoor Channel, part of Kroenke Sports & Entertainment. The network offers more than seven hours of coverage during each competition day, and more fans watch online.
"We're getting millions of page views per week with fans watching online," Mulone said. "The livestream is unbelievable; it's like watching golf now compared to watching golf 30 years ago."
Also keeping up with the current wave is Benton, Kentucky-based Fishing League Worldwide, the world's largest tournament-fishing organization. Started in 1996, FLW serves anglers of all skill levels in the United States and eight other countries.
Joe Opager, FLW director of public relations, is particularly excited about how competitive bass fishing has excelled on YouTube. "Many, many of our pro anglers have started their own YouTube channels and they're doing their own fishing series now with cameramen following them throughout the year," Opager said. "In addition to our tournaments, we have a production crew behind the scenes creating content for social media and YouTube channels."
He added, "I feel like YouTube has been a huge emerging trend for us. And we also started live-streaming our tournaments. During the actual events, we'll have six camera operators on the water shooting. Shows runs from 8 a.m. until 2 p.m. each tournament day."
3. Reeling In Younger Anglers
FLW, which recently launched a YouTube series called Varsity Bass that concentrates on high school and college anglers, is a leader in amateur participation. "The youth movement in competitive fishing is the No. 1 trend," Opager said.
FLW's collegiate competition, known as Yeti FLW College Fishing, was launched in 2009, and it has grown to more than 600 clubs. FLW Bass Pro Shops High School Fishing followed in 2011, and it also has flourished.
"We've seen states start to sanction bass fishing as a legitimate high school sport," Opager said. "As the high school fishing program grows, it's exposing young anglers who never had the chance before to get out on the water, to put a rod and reel in their hands and catch some fish."
Opager said that many of the FLW professionals have made their way up through high school and collegiate ranks. He added that young women are making a splash and "we soon could see one advance to the pro level."
Bassmaster offers college, high school and junior level competitions, and teamed up with ESPNU for nine hours of programming from the Carhartt Bassmaster College Series, as well as the Mossy Oak Fishing High School Series.
Another expanding competitive series, the Fishers of Men National Tournament Trail (FOMNTT) of Chapin, South Carolina, holds more than 300 tournaments annually in 23 states, including the UBC (Ultimate Bass Challenge) High School Series.
"One of the biggest trends that's happened over the last few years … has been the introduction of college and high school competitive fishing," said Bobby Eads, FOMNTT's COO and senior vice-president.
The UBC High School Series employs a scoring system similar to the MLF. "We don't bring fish to the scales," he said. "We have a tournament official in the boat and our competitors catch the fish, weigh it on the spot, score it. High school anglers are really very excited about it."
Three years ago, the high school competition had about 50 boats. Today it has more than 400, he said. The Fishers of Men tour does not offer college fishing because, Eads said, "the other tours are doing such a great job filling that market."
MLF's Bass Pro Tour joined the college party this season. "We had four one-off events this year where they used our format, and we had to have a waiting list," Mulone said.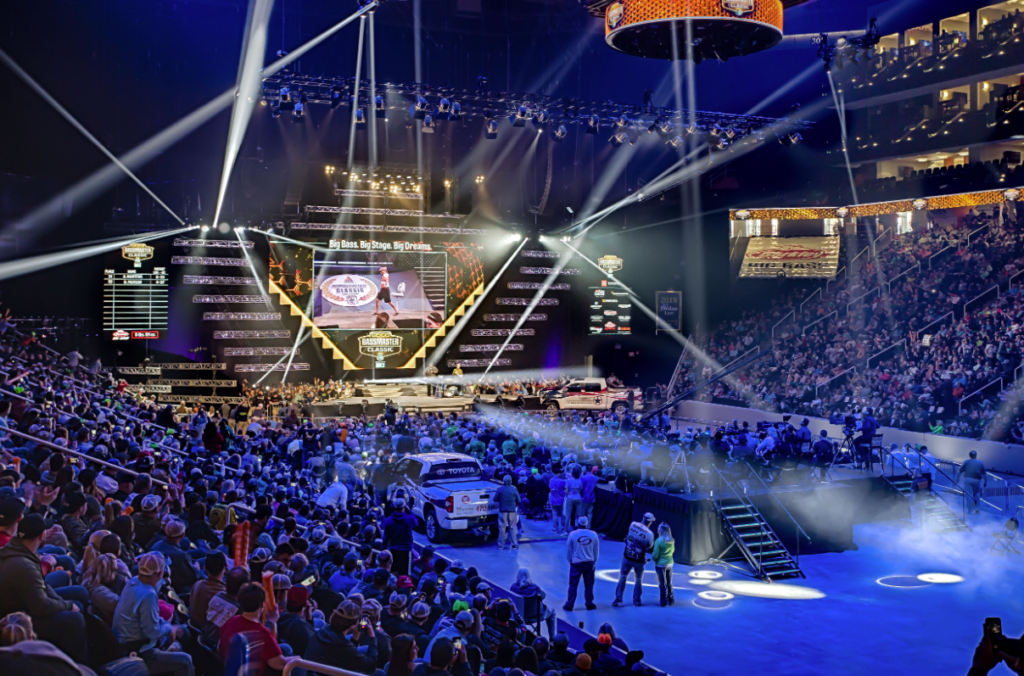 B.A.S.S. CEO Bruce Akin said younger divisions create a pipeline for professional competition. "Fifteen out our 75 Elite Series anglers came from the college ranks," he said. "Time on the water for the younger anglers, high school and college, is important."
With the excitement surrounding a strengthening feeder system of younger anglers, new technology and outstanding television/live-streaming exposure, the bold changes may be influencing competitive bass fishing fandom.
This past March, the 49th Geico Bassmaster Classic presented by Dick's Sporting Goods in Knoxville, Tennessee, proved it. A record 153,809 flocked to daily weigh-ins, an outdoors expo and morning takeoffs during the three-day event.
"It was a great event for Knoxville, for Knox County—we were able to set attendance records," said Chad Culver, senior director of the Visit Knoxville Sports Commission. "We broke the all-time attendance record by about 10,000. It was a great weekend for us. All of our partners were very happy. It was total team effort for Knoxville to make the event successful."
The event generated an estimated $32.2 million in economic impact weekend for the region. The 50th Bassmaster Classic is scheduled for March 6–8, 2020, in Birmingham, Alabama, home of B.A.S.S. And something new is set to debut at Bassmaster's annual big event.
"We plan to launch a kayak tournament series at the 50th Classic, the next thing in competitive fishing taken hold and growing," Akins said, noting that technology is playing a role there as well. "It's not the kayaks that I grew up on, these ones are loaded out with electronics."