As the demand for spaces to host sporting events continues to grow, destinations across the country are examining their inventory, identifying needs and building accordingly. They are constructing ice arenas, soccer fields and baseball diamonds, hoping these venues will serve as a one-stop shop for traveling teams and their families. Here are five new sports complexes to keep an eye on.
Panama City Beach Sports Complex
Panama City Beach, Florida
Opening July 5, 2019
This summer, visitors will have another reason to flock to Panama City Beach. The Panama City Beach Sports Complex will be one of the largest outdoor facilities in the Southeast when it opens on July 5. A $37 million project funded through a public-private partnership between the Panama City Beach Convention & Visitors Bureau, the St. Joe Company and Bay District Schools, the complex features 13 fields for soccer, lacrosse, rugby and football. Nine have turf surfaces that can be converted into baseball and softball diamonds, and two are stadium championship fields, each with a capacity of 1,500. The sports complex also will be home to three concession stands, a scenic boardwalk and more than 1,000 parking spaces.
Panama City Beach has a good track record of attracting diamond sports, but the destination is looking to branch out and bring in more rectangle-based sports, especially soccer, lacrosse and football, said J.D. Wood, general manager of the Panama City Beach Sports Complex.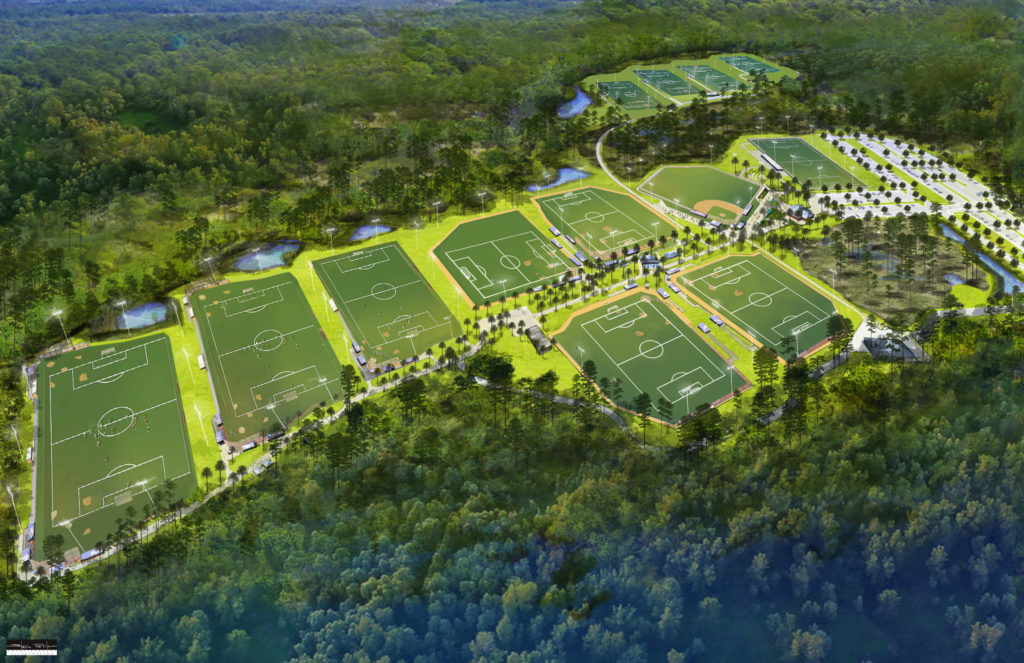 "The most unique thing is the configuration of our fields and being able to manage 13 fields for rectangle and 10 for baseball/softball diamond sports—all in one complex," Wood said. "That is something that really differentiates us. Plus being a mile from the beach is always fantastic."
The beach may attract families during the spring and summer months, but Wood hopes the new venue will make Panama City Beach a year-round destination. "This facility is designed as a year-round facility that can complement the natural attractions Panama City Beach already has," Wood said.
All events held at the complex will be sports-related since Panama City Beach does not lack venues that can host social events. The United States Fastpitch Association World Series, scheduled for July 8, will be the first event to be staged at the new complex.
Ion International Training Center
Leesburg, Virginia
Opened May 2019
The 100,000-square-foot Ion International Training Center has been highly anticipated as ice-related events have gained popularity and the demand for ice has grown in Loudon County, Virginia. The project has been spearheaded by Romanian Olympic figure skater Luiz Taifas, who was looking to bring a training facility for figure skating and hockey to Northern Virginia.
The new ice arena features stadium seating for 3,500–4,200 people, a restaurant and locker room space. It will also be able to host concerts, conventions, festivals and other non-ice sporting events. "This is more than just an ice facility," said Torye Hurst, director of sales for sports and client services at Visit Loudon. "We'll have the ability to cover the ice and host non-ice events, and that helps us tremendously because it's a market we currently don't have for lack of an indoor sports facility."
"It's truly a transformational project," Visit Loudoun President and CEO Beth Erickson said of the venue. "In one fell swoop, we will double our amount of ice to attract sports tournaments to Loudon County and, more importantly, continue to position ourselves as a world-class sports destination."
Also under construction in Leesburg is a 5,000-seat soccer stadium for Loudon United FC of the USL. The stadium is expected to host 12 home games this year. Starting in 2020, all 17 of the team's home games will be played at the stadium.
Community First Champion Center
Appleton, Wisconsin
Opening November 2019
A project that began in late 2013, Community First Champion Center will open in late November in Appleton, Wisconsin. Located on 25 acres in the town of Grand Chute, the 164,000-square-foot venue will feature three main competition spaces: one NHL-sized sheet of ice with seating for about 1,000 people; one fieldhouse with space for four basketball courts or eight volleyball courts and mezzanine seating for 800 raised about 14 feet above the playing surface; and a seasonal arena for an ice rink and four basketball courts or six volleyball courts, as well as seating for 300. Additional features include a bar, pro shop, concessions, café, meeting rooms and 10 locker rooms.
"We wanted to be a facility that would be recognized as the best in the Midwest," said Matt Ten Haken, director of sports marketing for the Fox Cities Convention & Visitors Bureau. "The amount of versatility in the competition spaces really allows us to host any type of indoor sporting event."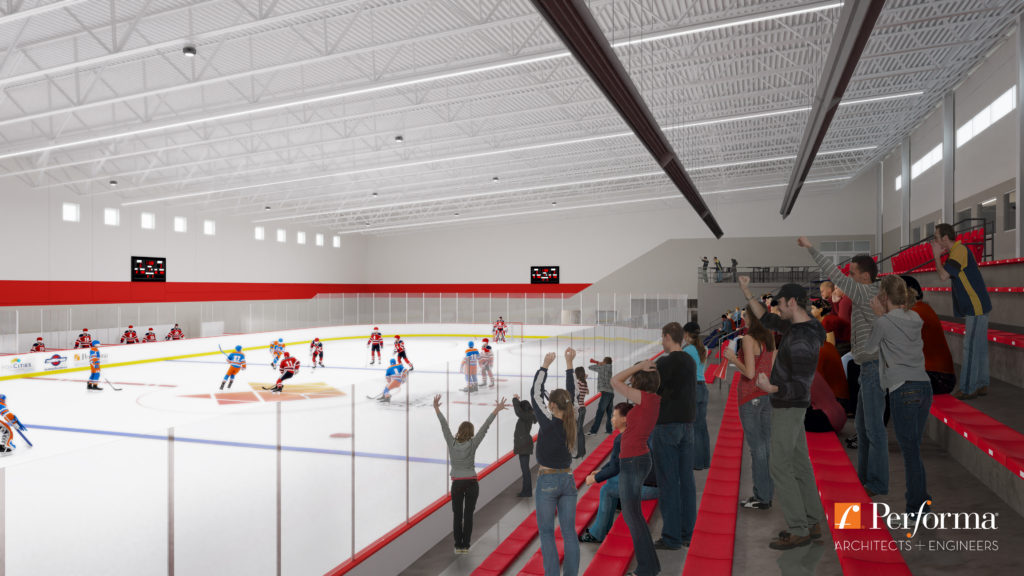 While the focus will primarily be on youth volleyball, basketball and hockey tournaments, the center could also host adult events and sports such as figure skating, curling, gymnastics, archery, cheer and dance, wrestling, futsal and more. Ten Haken also pointed out that the seasonal arena offers one of the largest continuous hardwood floor spaces in the Midwest, at 25,000 square feet. Other attractive features include the location of the venue just three minutes off a major interstate and five minutes from a minor league baseball park. Within a 10-minute drive, visitors will have access to 70 dining options and 2,000 hotel rooms, Ten Haken said.
Community First Champion Center is being funded through hotel room taxes and is managed by Sports Facilities Management. "Our latest feasibility study has the economic impact of the facility being close to $9 million in year one of operation," said Ten Haken.
Hickory Point Beach Athletics Center
Tavares, Florida
Opened February 23, 2019
Hickory Point Beach in Tavares, Florida, is home to the state's largest permanent sand volleyball complex with 21 professional sand volleyball courts that opened in 2014. To supplement the volleyball courts, the complex recently welcomed the addition of the Hickory Point Beach Athletics Center, a support building with training space, meeting space, a medical training room with treatment tables, showers and locker rooms.
"After we opened the sand venue, we heard from the county that they were interested in adding some support facilities to make it bigger and better so we could attract more events," said Steve Bishop, executive director and president of the Florida Region of USA Volleyball, who first approached Lake County in 2004 about the project. "The support building really steps up the whole game of the complex."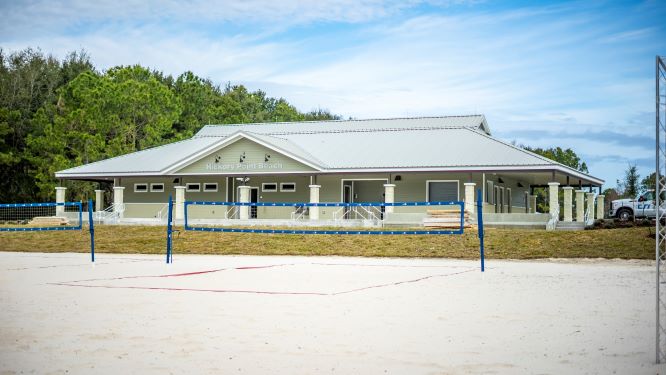 Immediately following its opening on February 23, the center hosted the 2019 Sunshine State Athletic Conference High School Jamboree. Upcoming events include a beach regional qualifier and national qualifier for the USA Volleyball National Beach Tour championships. The venue will also be rented out for other functions in between the major volleyball events.
The entire complex has already proven its value. "In the local community, it's been very beneficial," Bishop said. "It has brought people to the Central Florida area, to Tavares and the Lake County area who perhaps would have never made the journey."
Since the complex opened in 2014, people from more than 90 cities in Florida, 24 states in the U.S., and 14 countries around the world have come to Hickory Point Beach to play volleyball, and the economic impact has been more than $2 million, according to Bishop. "It's the only complex of its kind in the U.S. that's really focused on championship-level events like this," he said.
Mobile County Soccer Complex
Mobile, Alabama
Opening January 2020: Phase One
With 5,200 hotel rooms, a warm climate and a variety of restaurants and retail, Mobile County, Alabama, had the amenities to host sporting events but what it needed was the sports complex. "We have everything else in place here to host events, we just needed fields," said Mobile Sports Authority Executive Director Danny Corte. "The investment that we had to make was in the sports infrastructure itself."
So the county set out to build those fields, recently approving the construction of the Mobile County Soccer Complex, which will have 10 soccer fields when it is completed within the next few years. The first phase, with four soccer fields, is scheduled to open in January 2020. The complex will allow Mobile County to "go get those soccer tournaments that we could not get because we didn't have the fields," Corte said.
In addition to soccer, Mobile is also looking to host lacrosse, rugby and football events at the complex. Not only will this boost sports tourism in the area, but it can be a way to bring in more international business. "Some people might think that's a little bit of a stretch, but it's really not," Corte explained. "When a company looks to relocate somewhere, one of the things they ask about are the recreational opportunities for their children and even themselves. That's another attribute we think could come out of the complex."
Mobile United Futbol Club will manage the complex and will work with the sports authority to book tournaments. Additional soccer fields within four miles of the new complex will also be utilized.