Ah, the beginning of a new baseball season. The most committed baseball travelers will be trying to find a way to visit all 30 Major League Baseball stadiums in one summer. There is also the simpler thrill of going to your hometown stadium and finding new culinary selections on the menu, which are often more akin to what you would find at a state fair rather than at a Whole Foods. However, if you would like to combine the essence of both state fair and MLB stadium, you will have your chance in one weekend, April 21–22 in New York City, when Major League Baseball serves up its first Food Fest. A ticket to the event ($25 for food only, $40 with beer) will get you a taste from all 30 ballparks.
A review of the selections being offered up by each MLB team is illuminating. There are, of course, the predictable—lobster rolls from Fenway Park, Chicago dogs served up by the Cubs, and cheddar beer bratwurst brought to you by the Milwaukee Brewers. There is also an East Coast vs. West Coast battle of crabs between the San Francisco Giants' Crazy Crab Sandwich and the Washington Nationals' Crab Grilled Cheese. Hopefully this rivalry of crabs will end better than the East Coast vs. West Coast rap rivalry back in the day.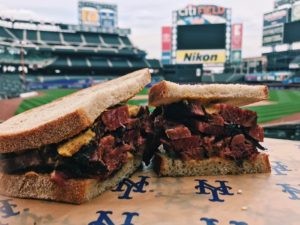 Some MLB teams seem quite purposefully to have set out to lead the league in calories. For instance, the National League clogged-artery competition should be fierce between the Atlanta Braves' Pig Pickin'—"BBQ spiced tortilla shell stuffed with curly fries, mac 'n' cheese, pulled pork, coleslaw and roasted corn pico de gallo with fried pork rinds on the side"—and the Arizona Diamondbacks' Churro Dog, described as a "churro topped with frozen yogurt, chocolate sauce, caramel and whipped cream inside of a chocolate iced donut." In fact, most of the offerings evoke memories of Joe Pesci's inquisitive line from "My Cousin Vinny" at a diner in Alabama: "You guys down here hear about the ongoing cholesterol problem in the country?"
Surprisingly, and without doing any particularly scientific analysis, the healthiest offering would seem to come from Detroit (yes, Detroit), whose Tigers will serve up Chicken Shawarma Nachos—"pita chips topped with chicken, lettuce, tomatoes, pickles, hummus and garlic sauce." Not bad, especially compared to the Los Angeles Dodgers' Cheeto-Lote, which is corn on the cob "covered with chipotle mayo, Parmesan, Tajín seasoning and Flamin' Hot Cheetos."
In the category of simple description but inexplicable selection are Seattle's toasted grasshoppers, which is the one entry that comes with no details to highlight the ingredients. But it does give rise to another thought. Perhaps MLB could combine its Food Fest with the annual July 4th hot-dog eating contest in Coney Island. Who would not want to see Kobayashi in the lead over Joey Chestnut after a round of toasted grasshoppers, only for Chestnut to come back and take the title by powering down more of the Texas Rangers' chicken-and-donut sliders?
---
Bob Latham is a partner at the law firm Jackson Walker, L.L.P., and a World Rugby board member. A compilation of his best columns titled "Winners & Losers: Rants, Riffs and Reflections on the World of Sports," is available for purchase at amazon.com.