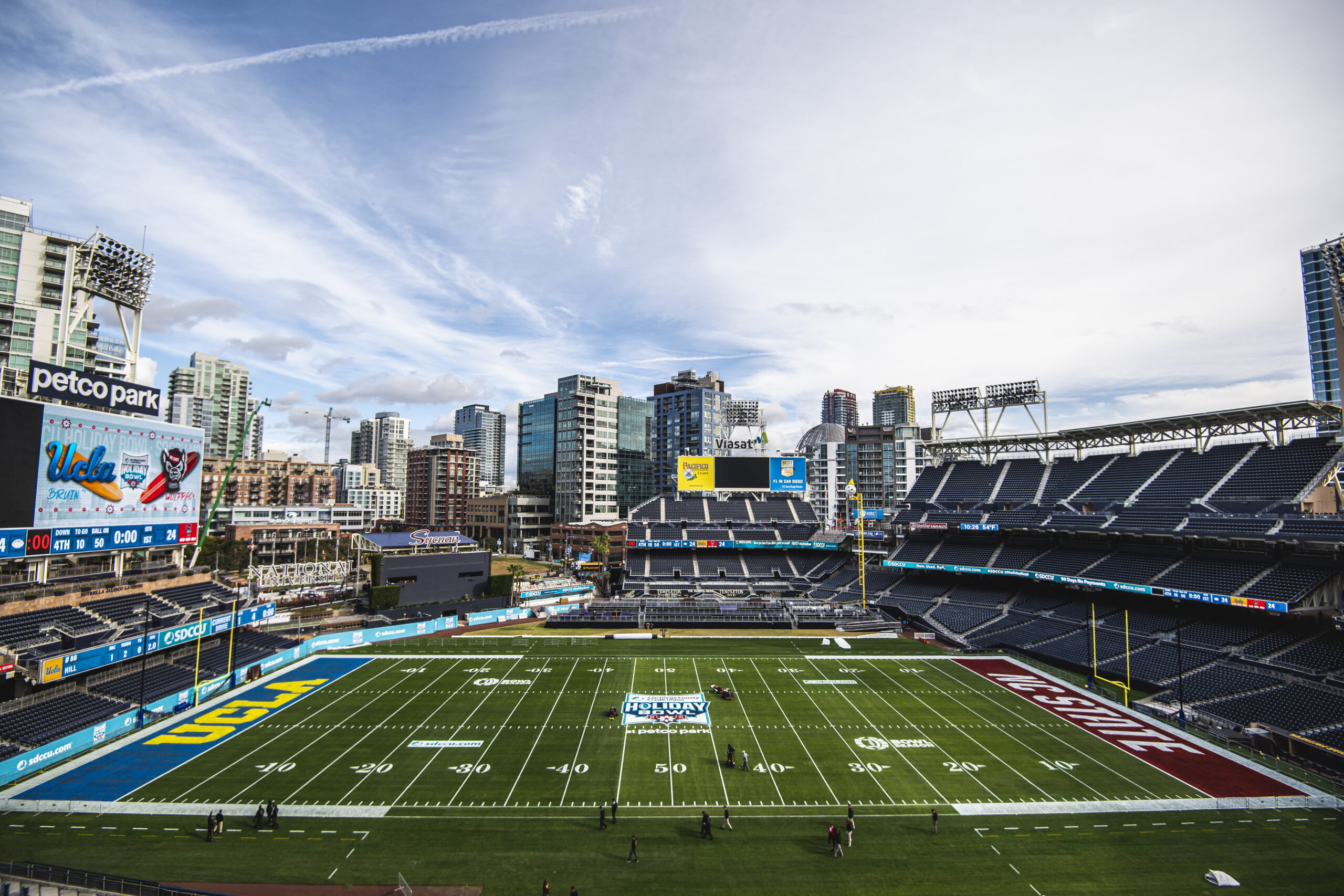 The Holiday Bowl was in a bind. Known as one of the most entertaining games of bowl season, it was looking for a new home, knowing the demolition of Qualcomm Stadium had been scheduled.
So over coffee in 2018, organizers of the bowl game and one of the city's professional franchises started talking. And next week when Oregon and North Carolina kick off, the Holiday Bowl will be reborn in a sense at a new site — Petco Park, home of the San Diego Padres and one of four games this bowl season played in Major League Baseball stadiums.
"I've been to Petco Park many times as a fan and going to watch a baseball game," said Holiday Bowl Chief Executive Officer Mark Neville, who also doubles as chief executive officer for Sports San Diego. "Once we started having these conversations, I started imagining at it as a football stadium. … seeing the final product, I would say it even exceeded my expectations. The visual experience for fans is going to be great."
The Holiday Bowl's debut at Petco was scheduled for last year before the game was cancelled hours before kickoff after a COVID outbreak left UCLA short-handed. This year on December 28, the Ducks and Tar Heels will be out in full force with the fan bases and bands all staying downtown near the ballpark.
"We love the idea of having a traditional bowl game here," said Jaclyn Lash, the Padres' vice president of special events. "It truly is a multi-use stadium — we've done basketball, we've done tennis, so adding football was something that excited us. We wanted to give this San Diego tradition a home since they were looking for one."
The Holiday Bowl is not the only bowl game debuting at a baseball stadium this year. The Fenway Bowl, postponed in 2020 because of the pandemic and then in 2021 when Virginia had to withdraw with COVID issues, finally had its inaugural game on December 17. A reported 15,000 in attendance saw Louisville beat Cincinnati. While it was the first bowl game at Fenway, the venerable park did host college and AFL games in the past. In 2015, Fenway hosted the annual Notre Dame-Boston College game, the first football game at the park since 1968; Fenway also hosted the 2018 edition of Harvard vs. Yale.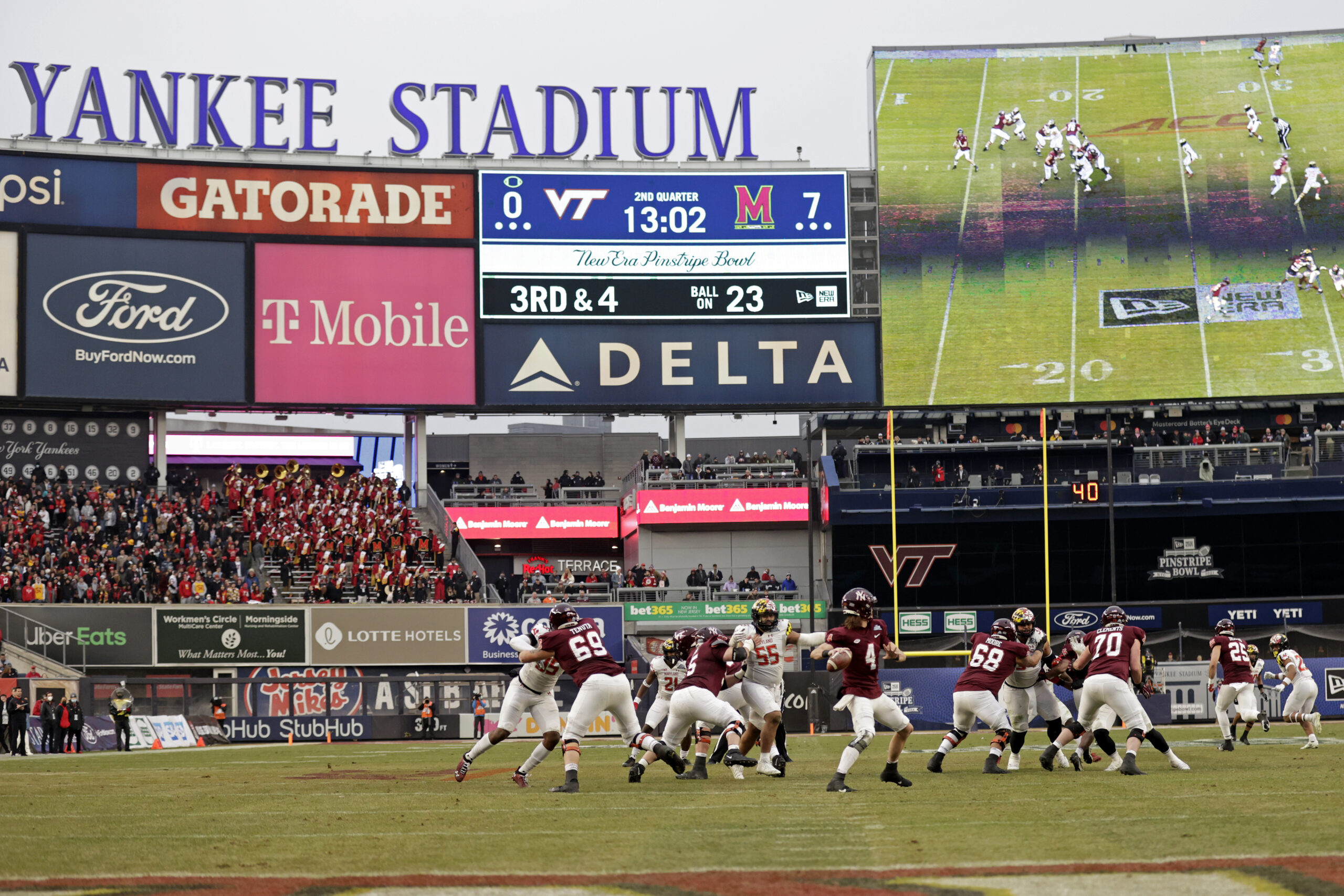 Another AL East franchise with a long history of hosting college football at its ballpark is the New York Yankees. The original Yankee Stadium first hosted college football in 1923 and after a nearly four-decade hiatus with games, the modern Yankee Stadium started in 2010 hosting the Pinstripe Bowl, which this year on December 29 will see Minnesota and Syracuse face off. The Yankees have hosted six regular season games as well since Notre Dame and Army played in 2010.
Whether old stadiums or newer builds, the ability to host events during baseball's offseason is valuable — and not always in financial terms.
"It is definitely a branding and showcase play more than a focus on revenue," said Arizona Diamondbacks President and Chief Executive Officer Derrick Hall, whose team plays host to the Guaranteed Rate Bowl at Chase Field. "It also places the building on a large television and global stage that shows the rest of the entertainment and event world what a world class host Chase Field can be."
Chase Field this year saw Oklahoma State beat Wisconsin on December 27. The venue first hosted the bowl game from 2000–2005 before it returned in 2016.
"Our venue is in high demand now for nearly every weekend in the offseason, so we automatically put a placeholder on the calendar annually for the bowl game because we enjoy hosting it," said Hall, who said it also provides a boost for the stadium's concessions provider and nearby restaurants and sportsbook located outside the stadium.
The Diamondbacks are different than the other three bowl game teams in that it changes the field surface. Hall said the team lays real grass over the existing synthetic turf before painting the field, installing bleachers and goal posts in a process that takes less than two weeks.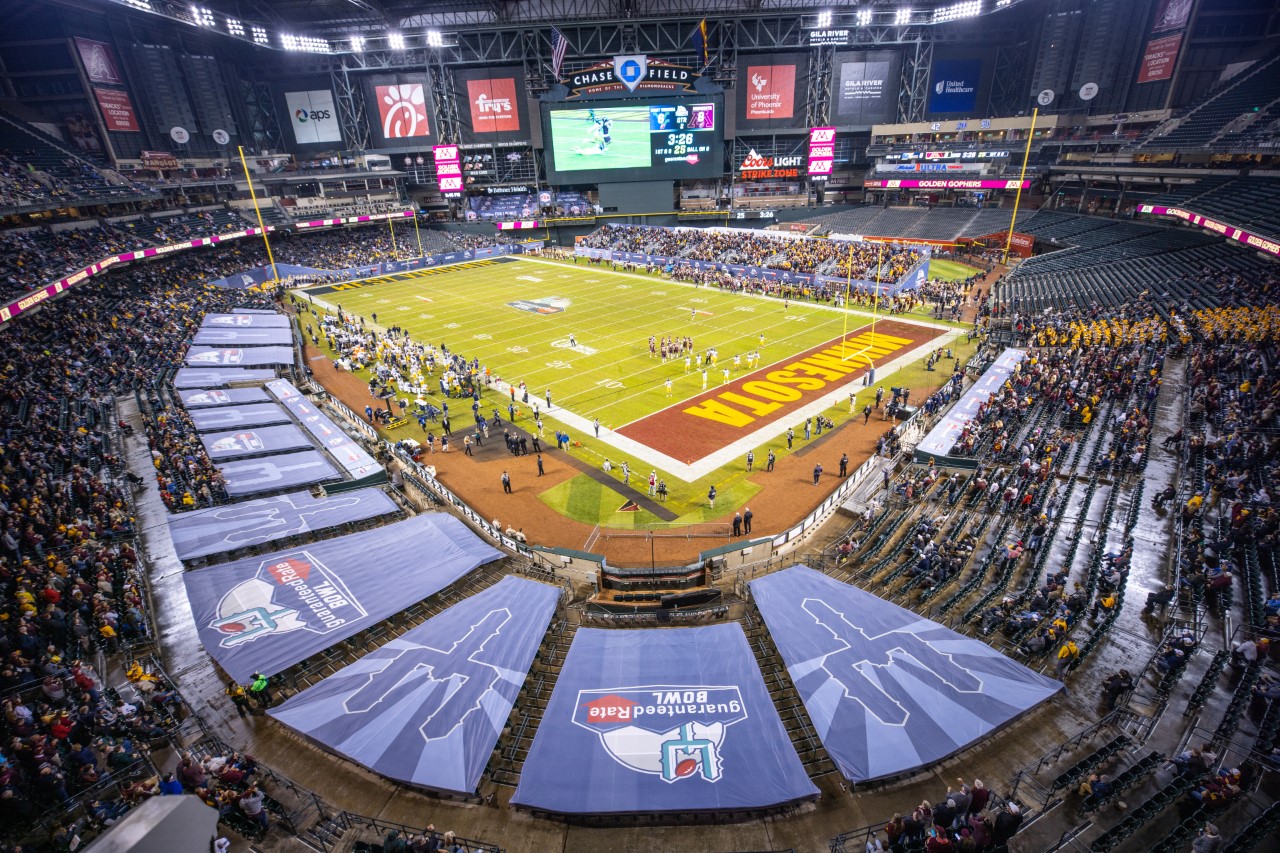 Being the team with the longest-running bowl game at home, Hall said the team has "shared best practices with other MLB teams, such as field layout and added value to existing corporate partners and their assets inside the building."
Lash said the biggest challenge for the Padres was retrofitting the field to make sure football's dimensions would fit. "We operate so many events here, whether it's concerts or other kinds of sporting events, that we're really well-versed in transforming the ballpark to having a different event than a baseball game," she said. "It reconfirms that we're truly a multi-use venue."
Petco Park's location also allows it for all events, baseball and otherwise, to be the social center of San Diego's downtown: "It's really unique in that way," Lash said. "It's a gorgeous ballpark and we're surrounded by tall buildings, hotels, the convention center. Primarily it's giving back to the city and offering a lot of unique experiences and opportunities with this venue. That was our promise to the city when it was built and we take it really seriously."
For any of the MLB stadiums hosting bowl games, the timing is also right during the offseason. Asked if they would ask the Padres to have a football game at the start of the season instead of the end, Neville said "it wouldn't happen. They're a winning team and they're a contender — they don't want to mess up their field, I don't want them to mess up their field as a Padres fan. The timing for this is ideal for them and ideal for San Diego in general, it's one of the slowest weeks of the year for tourism and we fill that void with the game."
A game that, this year, will be played for the 43rd time but feels like a new event.
"This year's fan experience will be the best we've ever had since 1978 when we started," Neville said. "The game is a classic Holiday Bowl matchup — two high-scoring teams, they'll be a lot of yards and a lot of points scored. Then you throw in the stadium itself and doing this all downtown is going to make this experience for both fans traveling to follow their team and local fans amazing."