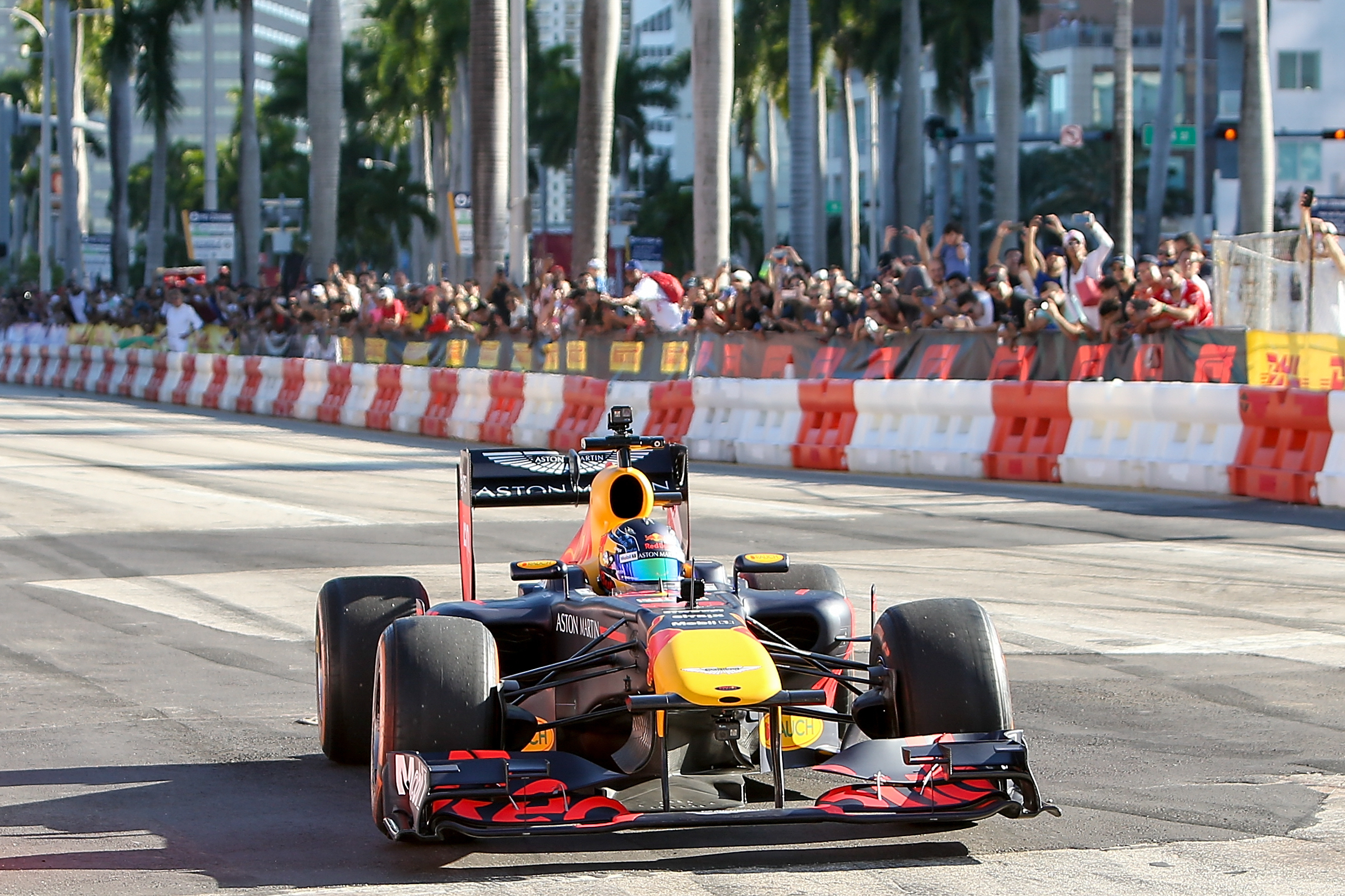 Formula One racing is proud of its standing as the most popular form of international motorsports. Now the sport's leaders have their sights set on conquering a long-elusive market: the United States.
In the two years since the Formula One Group (valued then at $8 billion) was bought by Liberty Media, one of its goals has been to grow its presence in a country still dominated by NASCAR. That explains F1's October 20–21 weekend schedule in two different states. In Austin, Texas, the seventh annual U.S. Grand Prix ran October 21 at the Circuit of the Americas (COTA), capping off a weekend that featured concerts by Bruno Mars and Britney Spears and plenty of other fan activities. Meanwhile, in Miami, a free Formula One Festival brought F1 cars—and famed drivers to pilot them—to Bayfront Park, as well as racing simulators, a free concert by Diplo and Mark Ronson and a live broadcast of the Austin race. Here are three points central to Formula One's plans for the U.S. market.
1. Events Push the Product
The Austin and Miami weekends drive home the belief that a Formula One event must be a mix of spectacle and speed. Citing previous superstar acts at the track, COTA Chairman Bobby Epstein noted the advantage of "adding a Taylor Swift or a Justin Timberlake—or a Bruno Mars this year—to the weekend." For some racegoers, he said, "F1 might not be the primary reason for their attending, but they'll get exposed to the sport and it gives a chance for them to experience it and become a fan. And people get incredible value for their ticket because the concerts are included."
In addition to the 20-turn, 3.4-mile track, the COTA experience also includes the Austin360 Amphitheater, go-kart racing, the Audi Driving Experience and tours of the pit and paddock buildings.
"Austin knows how to put on a great show," said Ellie Norman, Formula One's marketing director. "The racing is the core aspect, but actually the show around that is just as important. Our fans want this overall experience, to spend a weekend with the entertainment, the music and food, and every aspect is increasingly important to satisfy that base."
Norman said city center events, such as the one in Miami, allow locals—and city officials and other stakeholders—to enjoy close contact with the cars and drivers (including legendary champ Emerson Fittipaldi) and witness a bit of racing down Biscayne Boulevard and entertainment at Bayfront Park.
Plans to add a Miami race to the schedule have been controversial in the city, but F1 execs remain hopeful. "Many people have never seen or heard of Formula One cars," Norman said. "For us to put on a festival show and a live car run and have entertainment and esports around that, it's a brilliant way to reach a larger audience."
2. The Big Online Restart
"Prior to Liberty Media, there was very little of what we'd call digital access points," Norman said of F1's online presence before the 2016 sale. The idea since has been to satisfy longtime fans and cultivate new ones through digital initiatives. Norman said ideas include the introduction of F1 TV, a subscription service that provides depth beyond television broadcasts, including live stats and the ability to choose among a multitude of in-car cameras. "You can get as close as possible to what drivers go through," Norman said. In addition, a half-hour Twitter show called "F1 Live" features commentator Will Buxton interviewing drivers after each race.
The digital push appears to be working. "We were the fastest-growing sports brand in social media in 2017, and we've got a very high growth trajectory so far this year," Norman said. "We're topping out with 18 million followers."
3. The Racing Dream: Hometown Favorites
The sport's top executives agree that the best way to breed fans in the United States is to give them a local hero. "How do we get to the next generation of fans—if they won't naturally connect with it—when there's not an American driver?" Epstein asked. "My life would be so much easier to have a driver from every single country we raced in."
Without a Dale Earnhardt Jr. or Danica Patrick in the paddock, Norman intends to make the best use of the dynamic drivers they have, starting with British racer Lewis Hamilton, who this season became that rare champion with five titles. "He's making great traction and has an incredible fan base in the U.S.," said Norman, citing his recent fashion collaboration with Tommy Hilfiger. There are also Red Bull racers Daniel Ricciardo and 21-year-old Max Verstappen—the youngest Grand Prix winner—as well as the talented hopefuls Pierre Gasly and Charles Leclerc.
The advantage of the younger stars is their comfort with social media and the personal stories that the next generation of fans has embraced across all sports. "I don't think it's about which country you live in or where you're from, but having people you can connect with," Norman said. "And people want to know what it takes to be an F1 driver."