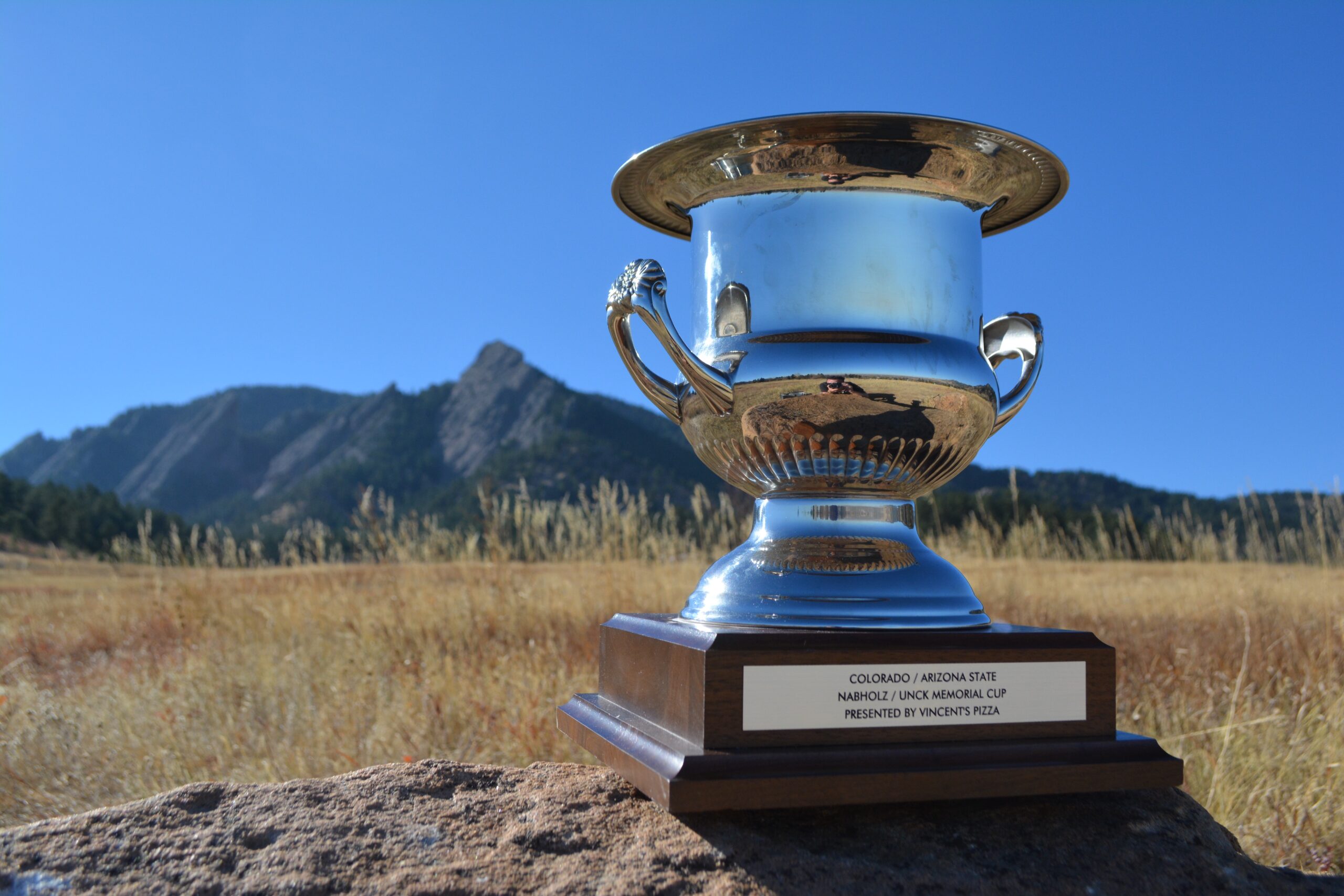 The most recent wave of collegiate conference realignment has been unsettling for sports fans in general, but even more so for the fans of the specific teams on the move.
The recent raid of Pac-12 teams by the likes of the Big Ten and Big 12 hit home with special resonance for me when my own alma mater — the University of Colorado — made one of the first moves. On the surface, my school's move to the Big 12 didn't have a terribly emotional effect. When I attended school there and marched in the band (where I met my wife), CU was in the former Big 8, and a powerhouse at that. Road games for us were to Lawrence, Kansas, and Stillwater, Oklahoma, among others. A move back to the Big 12 brought back some fond memories of the CU teams we rooted for as students, when it all seemed to mean even more.
Still, when the Buffs left the original Big 12 in 2011 for the newly formed Pac-12, I was all in on the move. The primary reason had nothing to do with tradition. It had everything to do with starting a new one.
My younger brother, Eric, is a proud alum of Arizona State. Before Colorado joined what was then the Pac-10, I supported ASU by nature of my brother's allegiance. And heck, our teams had almost no chance of playing each other, so who cared? Go Sun Devils!
But when our schools suddenly became opponents in what became the Pac-12 South, things changed. A rivalry was born.
And like all great rivalries, this one needed a trophy if it was going to be worth anything at all.
Birth of a Tradition
"I got it," my brother mentioned to me shortly after the Pac-12 was born.
"You got what?" I recall asking him.
"I got a trophy."
Indeed, he had. And not just any trophy. He had somehow commissioned a glorious monument to a football game that only two people on the planet could care anything about on a go-forward basis. The trophy was also way more than it needed to be. It was essentially a large champagne bucket with handles sitting atop a wood base. But the kicker was the plaque commemorating its official name on its base: The Colorado/Arizona State Nabholz/Unck Memorial Cup Presented by Vincent's Pizza.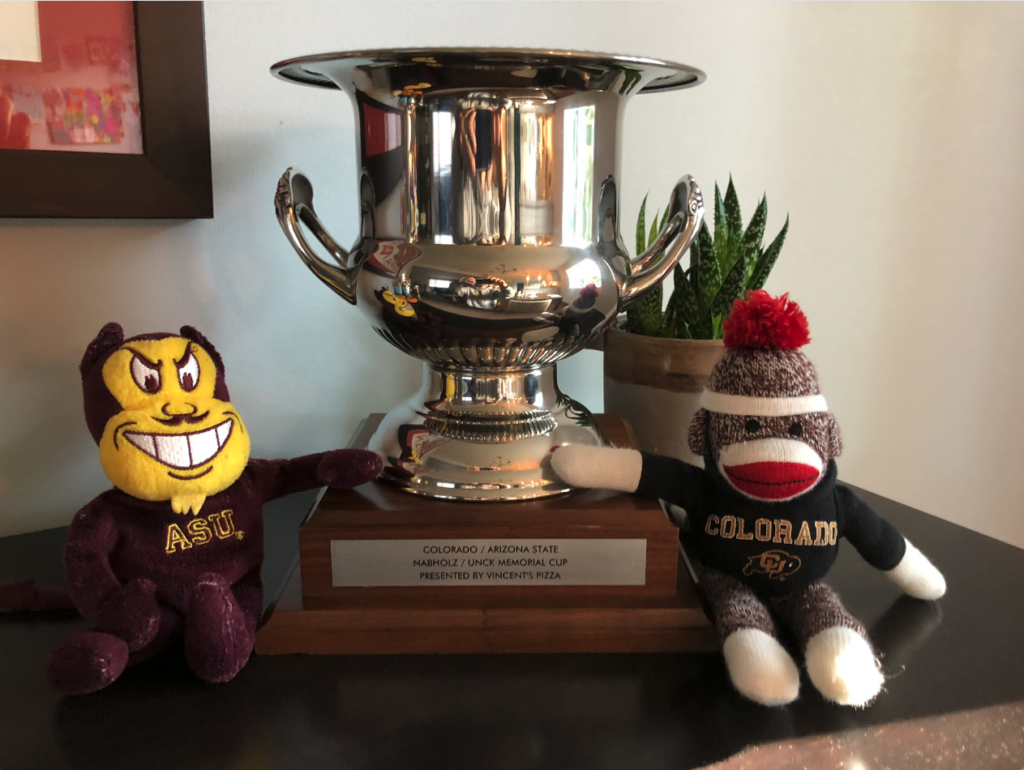 Even die-hard fans of CU and ASU would be forgiven for not getting the reference. Jeff Nabholz was my favorite player at CU in what started as a bit of a joke but evolved into something real. Nabholz played here and there on special teams, but his time on the bench right in front of the band allowed us plenty of opportunity to watch him interact with players and get excited when he got on the field. My wife and I adopted him as our unsung hero. And on a road game to Lawrence when CU played Kansas in 1994, we held up a sign for him, which caught the eye of his parents who were at the game, which caused us to meet him in person on the field after a CU victory. He couldn't have been nicer. A legend was born. (Do I also own a No. 54 Colorado jersey with "Nabholz" on the back? I won't answer that … )
Mason Unck held a similar lore for my brother during his time at ASU. He was the unsung hero that my brother adopted as his own. He may not have been the team's biggest star, but his name alone was begging to be on some kind of trophy. He was a natural and well-deserving counterpart to have his name commemorated on some hardware.
As for Vincent's Pizza, that's our favorite pizza joint in Albertson, New York, near where we grew up on Long Island. In the sweetest deal in the history of sports sponsorship, we granted Vincent's the naming rights in perpetuity.
A Parade Down the Cul-De-Sac
Now that we had a trophy, the standing rule was for the loser to mail the cup to the winner depending on which team won the game each fall. With Eric in New York and me in Colorado, this became way more expensive than it needed to be. But these are the things sports fans do for their teams.
It's hard to admit this, but the mailing wasn't much of an issue for a while. While my family was graciously given the trophy to start as a goodwill gesture during a holiday gift exchange before the series began, ASU won the first five games against CU, meaning we went years without the cup at our house. But when CU finally pulled it together in 2016, a 40–16 win in Boulder, it was one of the greatest nights of our lives. When the trophy arrived, we arranged a parade on our cul-de-sac, where our neighbors had bought into the rivalry as well. My wife and I brought out our band instruments (drums for me, tuba for her) and we had ourselves a parade on the street.
But we didn't stop there.
Calling in a favor from a former newspaper colleague who now works at CU, the trophy and I went up to Boulder after the win and toured the athletic department. There was our trophy next to Rashaan Salaam's Heisman. There it was with the championship trophy from CU's 1990 season. There was our trophy at the top of Folsom Field with the Flatirons in the background. The trophy even made it across the city and into the foothills west of Boulder for some B-roll that I still drop on social media at appropriate times. It was glorious.
Of course, CU eventually lost and the trophy was shipped back to New York. Eric took plenty of B-roll of his own with his team's mascot, Sparky, peeking out with his sinister smile from the top. His kids enjoyed taking photos with the cup and taunting us good-naturedly on video calls with the trophy positioned ever so in the background.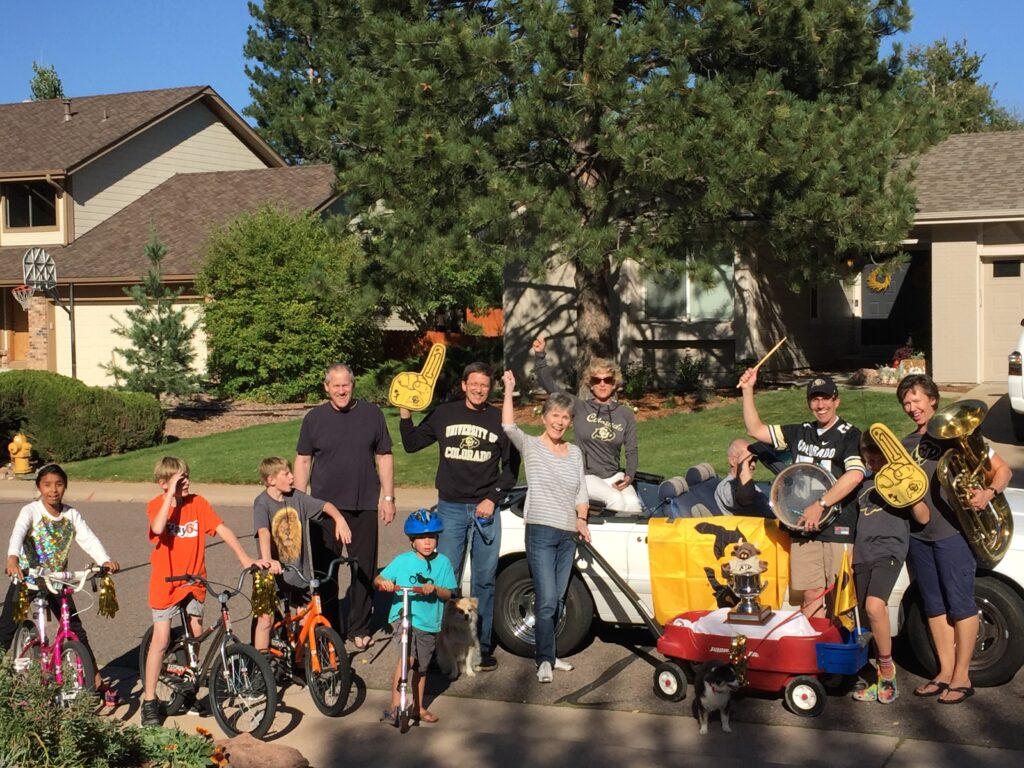 When the cup came back to us a few years later, we upped the stakes with another parade. This time, our neighbor, Jim, offered his convertible and we made our next-door neighbor, Laura Ellen, our grand marshal (with her daughter attending CU at the time). Laura Ellen sat on the trunk with the top of Jim's convertible down, waving to those who joined the parade route around the cul-de-sac on their lawns. The trophy came behind, pulled on a Radio Flyer wagon. Kids followed the procession on bikes. More drums, more tuba. It was the best.
Cross Country Hand-Wringing
All of this is to say that when reports surfaced in late July that Colorado might leave the Pac-12 for the Big 12, there was more than a bit of hand-wringing in two households in Colorado and New York.
"Here we go?" I texted Eric when the first reports of CU's potential departure surfaced.
"Oh no!!!!" was the reply.
The reality started sinking in for us both. Early reports said ASU might still join the Big 12, along with their actual rival Arizona and Utah. But nothing was guaranteed other than Colorado looked like they were about to be gone, and along with it the likely end to a brilliant tradition.
The next day, my phone pinged again. It was Eric, concerned about a particular implication of the trophy: "If CU bolts, and ASU doesn't — I'm not sure how to break the news to our trophy sponsor."
"That's the least of our troubles with the trophy," came my reply, a realization that if one team left and the other stayed, this year's game would be the end of the line — with the winner keeping the trophy virtually forever.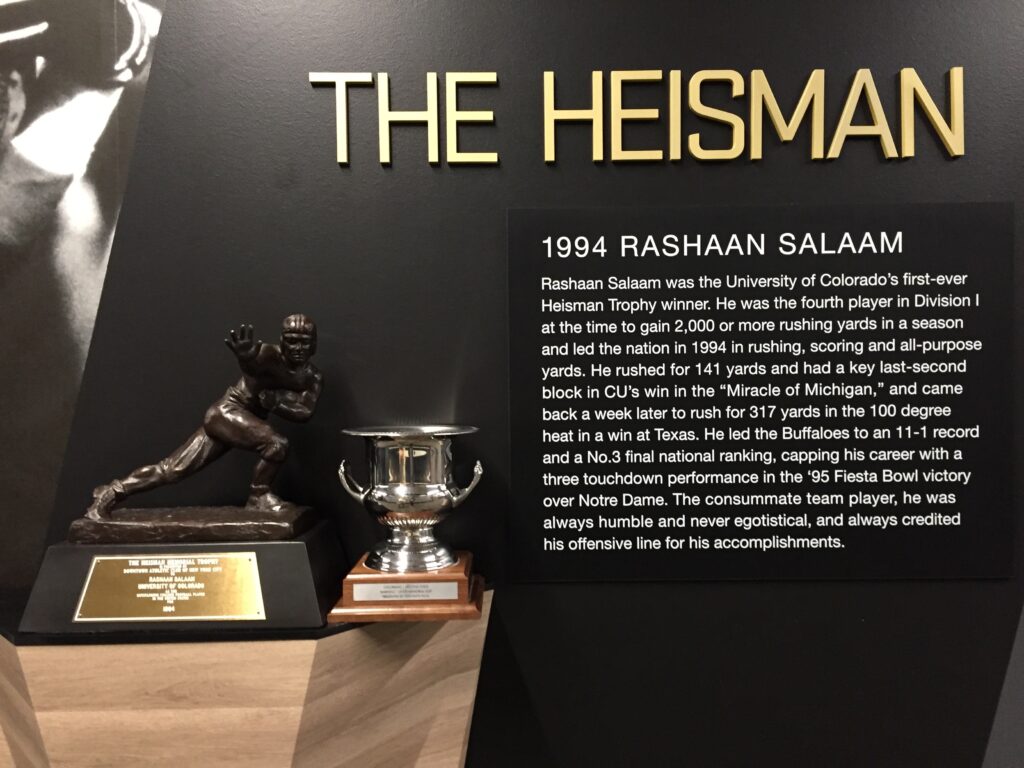 That night, CU made it official: They were leaving.
"And so it is…" came the text from New York, followed: "Alas…" "Sigh…" "I'm SO not okay with this."
The feeling was mutual. I was relieved my school had made its move to stay relevant in the new college football landscape, but as a fan of one particular game that appeared wiped off the annual calendar, it was heart-wrenching.
Then, less than a week later, another text:
"Arizona board of regents just called an emergency meeting for tomorrow. This could be a vote for both public universities to leave Pac-12"
"There we go!" came my reply. "Looks like Oregon and Washington are off to the Big Ten. I think this is it."
"How crazy is all this!?!?"
"Total madness!"
More texts copying tweets from national pundits came from Eric.
"This is it," came one tweet from a national writer. "ASU and Arizona are very close to exiting the Pac-whatever."
"Amazing," came my reply. "So much respect for the trophy. That's the real story."
And it was … until it wasn't.
Arizona was for sure leaving for the Big 12 by the end of the day, the school announced. Arizona State? Not yet. It was a night of fitful sleep.
When morning came, the news was not good. ESPN reported: "Oregon not expected to join the Big Ten, which could persuade Arizona to end potential deal with Big 12."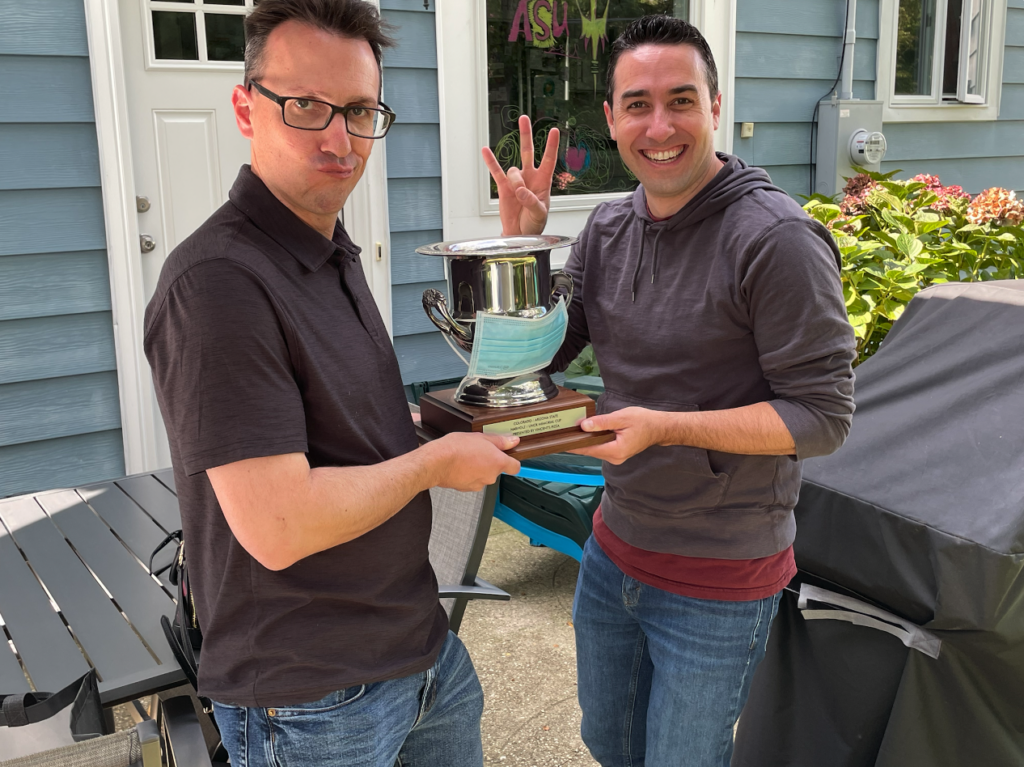 No Arizona, no Arizona State. No ASU-CU rivalry. No more need for a cup. No more parades. No more amusing video calls with the trophy positioned just so in the background.
But as we know, within hours, the reports proved untrue. And on August 4, everything played out to its inevitable conclusion: Oregon did join the Big Ten, along with Washington. By mid-afternoon the Arizona schools and Utah were joining Colorado in the Big 12. Games back on. For good. (Or at least until all the new TV contracts end and more realignment changes the picture again years down the road.)
"I prayed to sparky and my desires were met!" came the text.
"Yes!!! If college football has to be a complete mess," I replied, "at least we're in it together!"
The Emotional Cost
For my brother and I, it was a sense of relief. We can now continue to spend inordinate amounts of money shipping an oversized trophy to each other's houses (although when we organized TEAMS '21 in Atlantic City, New Jersey, and ASU won the weekend before, I did hand-deliver the thing to Eric's house on Long Island, which really should become the new standard of delivery … )
Yet we know we're not alone in having to ride the rollercoaster of emotions that have played out for fans everywhere the last few weeks, and will still play out when more teams inevitably move. While these moves are made with major financial implications for the universities involved, lost in the shuffle is the emotional and quite real toll these decisions make on the fans — emotions built on years of history. Those emotions also have a value that is hard to quantify, or at least harder to quantify than the checks the schools will get from their new television deals. But they, too, have a cost.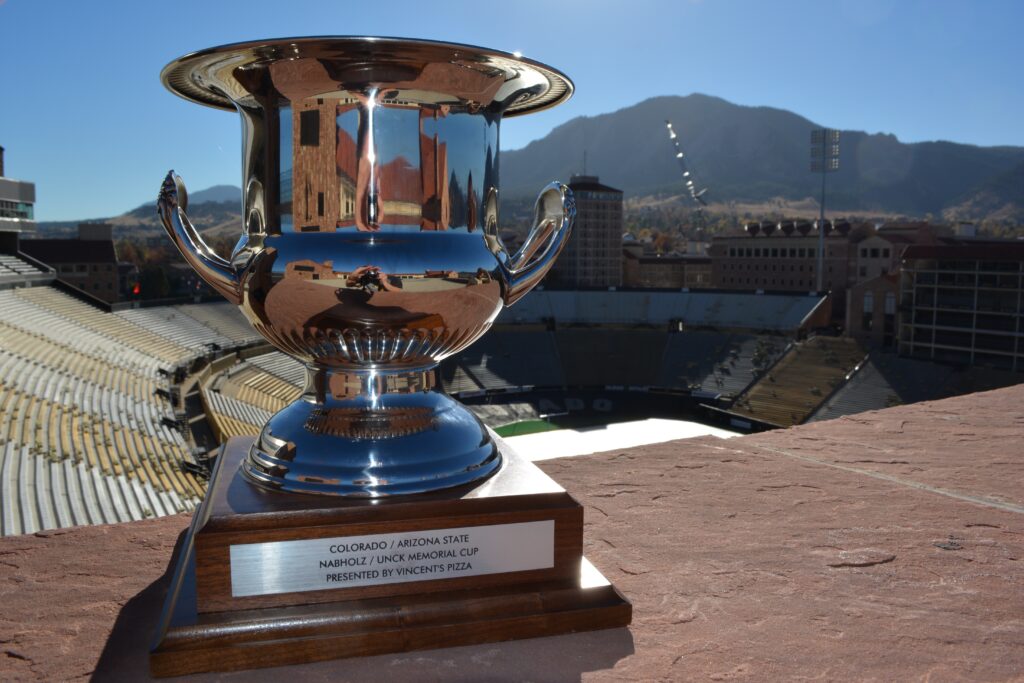 I feel deep sympathy for those distraught over the loss of the Oklahoma–Oklahoma State Bedlam series next year. Same for Oregon–Oregon State and their Platypus trophy. No Apple Cup for Washington–Washington State? The loss seems hard to imagine, and is no doubt devastating for those fans.
Those all may be more historic rivalries, but for my brother and I, the battle for the Colorado/Arizona State Nabholz/Unck Memorial Cup Presented by Vincent's Pizza is held in no less regard.
And we still have the trophy to prove it.
---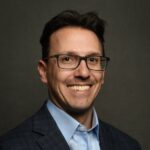 Jason Gewirtz is vice president of the Northstar Meetings Group Sports Division and executive editor and publisher of SportsTravel. He is hoping this year will bring a return of the most coveted trophy in collegiate athletics.